the song rapidly rose to number one on the iTunes downloads chart in a matter of hours
2016 has undoubtedly been a good year for former One Direction star, Zayn Malik.
The Bradford-born Asian lad has dropped a number one album, published an autobiography and won 'New Artist of the Year' at the American Music Awards (AMA).
Now the pop heartthrob has surprised fans with some more new music by teaming up with none other than Taylor Swift for a sizzling duet.
The sultry song, 'I Don't Wanna Live Forever', is part of the soundtrack for the upcoming film, Fifty Shades Darker.
Both Zayn and Taylor teased the unexpected track on their social media pages on Friday 9th December 2016, urging fans to buy the song on iTunes.
#IDONTWANNALIVEFOREVER @taylorswift13 @FiftyShades https://t.co/29qTancSJT@AppleMusic pic.twitter.com/yxXL739E9R

— zayn (@zaynmalik) December 9, 2016
Needless to say, the song rapidly rose to number one on the iTunes downloads chart in a matter of hours.
An Unexpected Collaboration?
It is safe to say that no one saw this collaboration coming.
While Zayn has already teamed up with the likes of Snakehips with 'Cruel' earlier in 2016, most fans assumed that his only connection to Taylor Swift was due to their mutual girlfriend/best friend Gigi Hadid.
But with sightings of Taylor walking arm-in-arm with Fifty Shades Darker actress, Dakota Johnson, during a girls night out, it seems they had us all fooled!
Interestingly, Zayn posted up a polaroid of himself and Taylor on his Instagram page. Zayn held Taylor's adorable cat in his arms while Taylor posed for the camera.
He captioned the photo with the hashtag '#idontwannaliveforever' before posting a 30-second clip of the song.
Unsurprisingly, fans went absolutely wild.
Damn this song ???
A song to dance on with your partner ???? — listening to I Don't Wanna Live Forever – Zayn Ft Taylor Swift

— Manisa Das (@Pretty_Manisha) December 10, 2016
Zayn's vocals in 'I don't wanna live forever are insanely amazing as always #IDontWannaLiveForever #FiftyShadesDarker

— crazy mofo (@Sonalikareddy_) December 10, 2016
#TaylorSwift feat #ZAYN – #IDontWannaLiveForever is so awesome.. On repeat for the last 2 hours! #LOVE

— Pêpê Correia ?? (@pepecorreia) December 10, 2016
American musician Jack Antonoff reveals that he had a big part to play in writing the song with Taylor Swift and hip-hop songwriter Sam Dew. He revealed the story behind the duet on his Twitter page, tweeting:
"I Don't Wanna Live Forever came together very quickly. Wrote it with Taylor and Sam Dew and produced it at home mostly on paper sounds."
He continued that Taylor recorded her vocals for the track at Antonoff's house, while Zayn sent his parts from LA:
"We did it in a week basically. I've never had something come out that quick. Loved making this song with Taylor, Sam and Zayn."
'I Don't Wanna Live Forever'
The track itself fits in well with the sultriness of the Fifty Shades series, and seems to be more attune with Zayn's raunchy and stripped back style of music. It wouldn't be amiss on his first solo album, Mind of Mine.
His falsetto suits the track well and Taylor also shows off a new side to her own musical style.
However, while Taylor did have a hand in writing the song, some fans have compared it to her 'Out of the Woods' track which follows a similar rhythm.
Lyrics of the track include: "I'm sitting eyes wide open and I got one thing stuck in my mind/Wondering if I dodged a bullet or just lost the love of my life."
The track has done well to raise anticipation for the second instalment of the Fifty Shades series, which is due to release on Valentine's Day (14th February 2017).
Watch the latest trailer for Fifty Shades Darker here: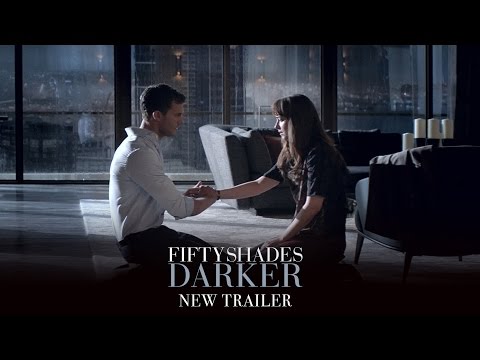 Starring Dakota Johnson and Jamie Dornan, the films are based on the bestselling erotic romance novels by E. L. James.
You can purchase Zayn and Taylor Swift's 'I Don't Wanna Live Forever' from Apple iTunes.