"Just be in a playful mood and you'll have a giggle."
Actor and comedian Humza Arshad, Britain's Badman is back. This time with his first ever published book, Little Badman and the Invasion of the Killer Aunties.
The British Pakistani first gained popularity after he uploaded his video series, Diary of a Badman, onto YouTube in 2010.
The infamous series garnered over 96 million views, awarding Humza the title of one of Britain's most popular online comedians.
The online show became an instant hit, with Humza reaping online stardom overnight.
After working on several other projects, Humza has unveiled his children's book, courtesy of publishers, Penguin Random House.
DESIblitz caught up with the Badman himself for a candid interview, where he reflected on some key areas, which eventually led him to co-author his first book.
Diary of a Badman
The quirky comedy sketch shot to fame soon after its release on YouTube.
The mini-series documents the life of Humza, "a troubled young man with the mentality of a seven-year-old."
The drama graduate reveals that the idea arose from his own surroundings, drawing inspiration from his social circle and family life:
"I looked around in my own little bubble and looked at the crazy 'aunties,' my crazy dad and mum and all my friends.
"I would exaggerate their characters and use them in the world of Diary of a Badman."
Whilst his YouTube fame emerged rather suddenly, behind the scenes Humza had been working towards his big break for a long time.
Having studied performing arts for four years, he had already built strong foundations in the world of acting:
"I went to drama school and my teacher was Tom Hardy, so I had proper training.
"After that, I was auditioning, but I always found myself getting really stereotypical roles, like 'Terrorist Number 2."
He facetiously remarks: "At least give me the role of 'Terrorist Number 1' and I'd get more money.
"I wanted to be creative and I couldn't just sit there waiting for a phone call that was never going to come.
"I knew I was brown, I'm Asian, it's hard to break through in the mainstream when you look different and that's just fact."
It was this grim realisation that led Humza to create the comedy skits, Diary of a Badman, that soon went on to become a nationwide success."
"I just wanted to put something out there, to be creative."
"But at the same time, get someone's attention like a casting director or an agent, or just anyone who could point me in the right direction.
"I didn't know it was going to go viral. I'm so grateful."
Meaningful Comedy
Despite wanting to make people laugh, the sober-minded star reiterates that he endeavours to spread a "positive message" through entertainment:
"It's one thing to join the fame but it'd be better to actually give back so that God can see I'm appreciating the opportunity He's given me."
He was one of the thousands vying for the position of 'Creators For Change,' a YouTube ambassador role striving to create social change and foster a friendly environment, promoting healthy discussion.
Humza used his platform to raise awareness around bullying, toxic masculinity and was recruited by East Midlands police to prevent the growth of extremism within British Muslim communities.
His short film, Bullying (2017), garnered over 800,000 views, where thousands of viewers sought sanctuary and shared their heartbreaking experiences.
As the poignant feature ends and the screen fades to black, the words 'Dedicated to a special fan' appear on the screen.
On first making his Diary of a Badman series, he received a message from a young girl requesting a video addressing bullying, after having fallen victim to it herself.
He made an earnest promise to her that he would one day fulfil her request:
"Even though it was years later, I still remember that promise I made.
"So many of my friends who have children said that they saw my video and that they opened up to them about being bullied.
"I was getting tons of messages, my friends who are teachers said so many children are starting to open up about being bullied.
"I just realised that the power one video can do is immense."
Humza dabbled in many creative art forms throughout his career, also building a platform on BBC3 through his series, Coconut (2017), and comedy short on Sky Arts, Humza Arshad's Xmas (2017).
Though he has waded in and out of various platforms, he stays close to his roots:
"YouTube is in my blood, I could never leave YouTube.
"But you can't put all of your eggs in one basket. You have to realise that if you're in a certain position, there are other opportunities out there.
"I just want to keep busy and do as much as possible.
"I believe that you should know your worth and what you're capable of. If you've conquered one thing that great, but what's next?
"You should never be complacent, you've got to keep going and then one day you'll be like, 'Wow, did I do this?' Yes. Because you can."
With Diary of a Badman taking the YouTube world by storm, Humza decided to change the game completely by writing his first ever book, Little Badman and the Invasion of the Killer Aunties.
Little Badman and the Invasion of the Killer Aunties
After eight years of creating fresh content for his YouTube channel, Humza Arshad made a swift shift in platforms and, together with comedy writer, Henry White, has written his first book – Little Badman and the Invasion of the Killer Aunties.
The book was published by Penguin Random House on March 7, 2019.
The Richmond Drama School graduate's urge to write a book derived from an unsettling statistic that of all books published in the UK in 2017, only 1% featured a protagonist of a minority ethnic background:
"I thought about my childhood, when I was growing up all the books looked the same to me.
"I had to make my own story.
"I thought, if I was younger and, in the library, and saw a young kid who looked like me, I could read stuff that I could relate to. I think that's so important."
Little Badman revolves around Humza Khan, a quick-witted 12-year-old with aspirations of becoming a "ninja-rapper-gangster."
With such high hopes, Humza is certain that he will reach immense levels of fame and success, "like Jay-Z, or that old White man from KFC."
The playful story begins with Humza and his best friend Umer, two underachieving, frivolous students, ready to brave Principal Offalbox, their tyrannical headmaster.
Whilst he has his own struggles at school, at home Humza is faced with Mohammad and Nausheen, his austere Asian parents who fail to see the benefit in his dreams of becoming a rapper.
After their teacher, Miss Crumble is taken ill from an allergic reaction to a bee sting, other teachers suddenly fall sick and pave the way for the community 'aunties' to take their place.
As a result, Humza is left to solve the mystery behind 'the invasion of the killer aunties' and decipher the whereabouts of his supposedly sick teachers.
When asked on the inspiration behind the peculiar plot, he responds, deadpan;
"I think we can all agree that 'aunties' are the most dangerous creatures in the world.
"Too many times they pinched my cheeks or threatened me about marriage or called me fat in a 'polite way.' I thought, 'wow I've had enough, I need to write a book.'"
The book is a prequel to Diary of a Badman, using the same characters and concept but representing the character throughout his childhood years.
Much like the YouTube series, Little Badman also addresses weighty issues in a light-hearted manner.
"I think it's really hilarious and funny, but at the same time it has heart and warmth and touched on family values.
"People will laugh out loud but they'll also feel the warm fuzzy feeling at the end."
"The reason I started comedy was because life, in general, is tough.
"As humans, we go through so many different emotions – sometimes we're happy, sometimes we're sad, sometimes we're on a high, sometimes we're on a low.
"If I make a joke and someone laughs, it doesn't matter how sad they were in that time or whether they were going through hardship.
"For those 10 seconds they forget everything and that's the most beautiful thing you can do for another person."
The vibrant and colourful illustrations by Aleksei Bitskoff would suggest that Little Badman is directed at younger audiences.
However, Humza tells DESIblitz that he wrote the book in such a way that allows all readers to indulge"
"Just be in a playful mood and you'll have a giggle."
The cynical humour prevalent in the YouTube series reemerges in Little Badman, making it suitable for readers of all ages.
Whilst there are no other books on the horizon as of yet, Humza teases a potential sequel, revealing that the book deal "definitely won't be a one-off."
Watch our gupshup with Humza Arshad: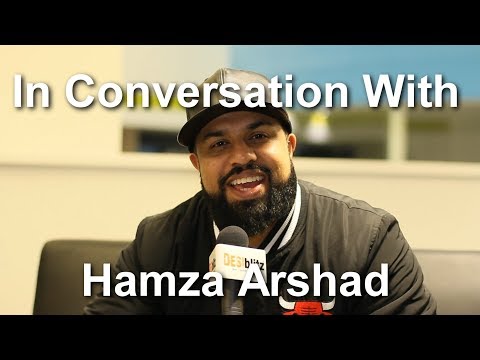 Make sure to get your hands on a copy of Little Badman, available here in both paperback form and on audiobook.
And if you have not already, like his page on Facebook, and follow him on Instagram and Twitter to keep updated on all of his latest projects.