"there were many legal and financial issues in the film."
Legendary Indian actor, Dilip Kumar was part of several films, which took off, but did not materialise.
He began his career with the film Jwar Bhata (1944). This was the beginning of an acting career that spanned over five decades.
Dilip Sahab is known as the star who brought realism and method acting to Bollywood.
In the 50s, he became famous for his tragic roles, earning him the title of 'Tragedy King.' He went on to play lighter and comedic roles in the 60s.
From the 80s, he started his second innings with mature characters in classics such as Shakti (1982) and Saudagar (1991).
He has an amazing legacy. However, across his lengthy career, Dilip Kumar had actually signed several more films, which the audience did not get to see.
Many can familiarise Dilip Kumat as an actor and producer. But how would he have been as a director or an editor?
DESIblitz presents some Dilip Kumar films, which were incomplete and unreleased.
Jaanwar
In the early 50s, Madhubala, Nargis and Meena Kumari were top Bollywood heroines. Dilip Kumar had worked with all of them.
But one actress started her career before all of them. She was an influential acting talent, along with being a great singer. Her name was Suraiya.
Her songs resounded in cinemas before Lata Mangeshkar or Asha Bhosle had made their mark.
It is obvious that with such huge credentials, any male actor would yearn to work with her. Dilip Sahab was no exception.
He was over the moon when renowned director K. Asif signed Suraiya opposite him for the costume drama Jaanwar. 
Dilip Kumar and Suraiya were cast as love interests for the film.
However, Asif reportedly kept shooting a particular scene with the pair, which Suraiya did not like.
In the scene, Dilip Sahab has to suck a snake's venom from Suraiya's leg. Furthermore, the producers insisted on a kiss between the two stars.
Suraiya was unhappy and she knew the censors at the time would not allow it.
When she complained to her family, her uncle allegedly tried to hit Dilip Kumar.
The singing star ultimately abandoned the film. Thus, with the project remaining incomplete, the pairing of Dilip Kumar and Suraiya was never seen on-screen.
Despite not working together, Dilip Sahab and Suraiya met warmly at social gatherings, a few years later. This showed their mutual respect.
It is a shame that two of the greatest stars from the Golden Era of Bollywood never appeared together in one film.
It would have made for a spectacular cinematic experience.
Shikwa
During the Golden Era of Bollywood, Dilip Kumar never appeared on screen with Nutan Behl. She was a reigning Indian actress at the time.
However, it's wrong to assume that this was because they never had the opportunity to work together.
In the 50s, Ramesh Saigal had signed them both for the film Shikwa. Ramesh had previously worked with Dilip Sahab in Shaheed (1948).
Shikwa was a romantic drama. In the film, the King of Tragedy plays the disgraced army officer, Ram. Meanwhile, Nutan stars as his love interest, Indu.
Unfortunately, financial constraints meant that Shika never made it to the eyes of the audience.
In 2013, a clip was released on YouTube that showcased nine minutes of the film. Indu seems to be Ram's rock.
As a despondent Ram suffers behind bars, a teary-eyed Indu tells him:
"Bahadur hai mera Ram" ("My Ram is brave").
At the time, Nutan and Dilip Sahab were two of Bollywood's most sought-after and popular actors.
Imagine the anticipation for the film, followed by the subsequent disappointment of its incompletion.
Years later, Dilip Sahab and Nutan Ji appeared together in character roles.
They shared screen space in films such as Karma (1986) and Kanoon Apna Apna (1989).
Aag Ka Dariya
Dilip Kumar was playing a naval officer in the 1995 film Aag Ka Dariya. The SV Rajendra Singh Babu directorial was also meant to feature Rekha, Rajiv Kapoor and Padmini Kolhapure.
Despite the film being completed, it remains unreleased.
During the 90s, in an interview with WildFilmsIndia, Dilip Sahab divulges into the delay of Aag Ka Dariya:
"As I said earlier, there were many legal and financial issues in the film.
"And these issues were not just with the producers but also the financiers of the producers."
The incompletion of Aag Ka Dariya did not mean that the star cast never worked together.
Dilip Kumar and Padmini Kolhapure starred in Vidhaata (1982) and Mazdoor (1983).
Whilst Rekha appeared with the legend of Bollywood in the film, Qila (1998).
The film was set for release in 2014. However, this did not happen. If the film is ready, fans of Dilip Sahab will love to see him onscreen again.
Watch a collection of scenes from the film here: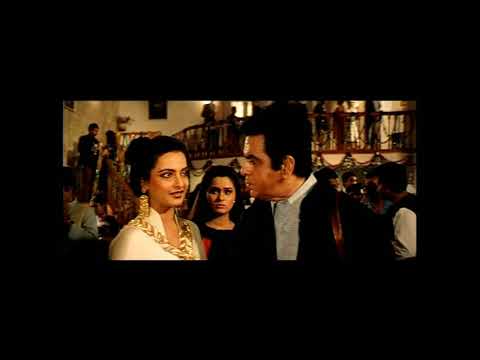 Kalinga
Dilip Kumar has undoubtedly cemented his place among the greatest actors in Indian cinema. But imagine him in the director's seat.
He had written and produced Gunga Jumna (1961). He had also allegedly ghost-directed portions of Dil Diya Dard Liya (1966) and Ram Aur Shyam (1967).
But in 1995, he was going to make his official directorial debut with Kalinga. He had also completed a substantial amount of shooting.
According to IMDb, the star cast of Kalinga included Raj Kiran, Amjad Khan, Sunny Deol and Meenakshi Seshadri.
Bollyy discusses Dilip Sahab's role in Kalinga in detail:
"Dilip Kumar himself was to play Justice Kalinga, a father who is ill-treated by his children when he retires and how he takes revenge on them."
They also reveal that the director had shown the rushes of the film to acclaimed filmmaker Vijay Anand. The latter thought the film was "very bad."
This was probably why Dilip Sahab decided to discontinue the project.
The film reportedly has a similar premise to the Ravi Chopra direction of Baghban (2003), starring Amitabh Bachchan.
It would have been intriguing to see Dilip Sahab behind the camera as well as in front of it. Fans as well as the industry would have admired him all the more.
Asar – The Impact
In 2001, Dilip Kumar had started working on a film with Ajay Devgn and Priyanka Chopra. It was called Asar – The Impact. 
The director of the film was Kuku Kohli, with Nadeem-Shravan responsible for the music.
It would have been the first time Dilip Sahab worked with all of them. The filming had started, with songs reportedly recorded too.
Priyanka explains that she was dropped from the film in her 2021 memoir Unfinished.
Bollywood Hungama cites Priyanka being axed from the project due to her "botched nose" surgery.
This was a massive loss for Priyanka. For her to work with a legend like Dilip Sahab was an invaluable opportunity.
Asar – The Impact was a social drama. Ajay and Priyanka were apparently playing love interests. Meanwhile, Dilip Sahab was a figure of authority.
However, soon after Priyanka was asked to leave, the film was abandoned.
Despite the forgotten project, Ajay Devgn and Priyanka Chopra respect Dilip Kumar immensely.
Priyank has visited Dilip Sahab several times and was present at his autobiography launch event in 2014.
Like many actors, Dilip Sahab too has many projects that are gathering dust in camera rolls. However, he was a performer known for his ability to pick his films wisely.
But sometimes, insufficient resources or scripting issues can stop movies from reaching the big screen.
Even though the aforementioned films did not come to fruition, Dilip Kumar remains an evergreen respectful star.