"Salah is something special that I've never seen before."
Liverpool striker Mohamed Salah has achieved an incredible goal record, with his football qualities having attracted fans globally.
Salah joined Liverpool Football Club back in June 2017, after leaving Italian side AS Roma.
Previously, he had spent two years at Chelsea in 2014, but his ability was brought into question after struggling to adapt.
However, he has since graced the Premier League by breaking numerous records for Liverpool.
His first season was inspirational for Liverpool, as the club returned to competing with the top sides. His attacking ability had a huge boost with the arrival of strikers Sadio Mane (SEN) and Roberto Firmino (BRZ).
In his first season, he scored forty-three goals across all competitions, gifting him the golden boot. In result, he also won the 2018 PFA and Writers Player awards in the same season.
Having been at Liverpool for more than two years, his goal tally arguably labels him a Liverpool legend.
Furthermore, Desi fans particularly are very fervent about Salah, often voicing their opinions of his greatest moments.
We look back at his top 20 goals across all competitions including the Premier League, UEFA Champions League and pre-season.
Mohamed Salah vs Watford (PL: 2017)
On August 12, 2017, Liverpool began their Premier League campaign at Vicarage Road, hoping for a good start.
Mohamed Salah was making his Premier League debut up front against Watford.
Although the result was not a win for Liverpool, Salah made an instant impact. Whilst the score was level at half time, Liverpool kept attacking.
Eventually, they took the lead through a long pass from defender Dejan Lovren (CRO). His pass shook the Watford defenders and put them on edge.
The attacking intent by Liverpool was evident as Roberto Firmino latched onto a long ball from Lovren. Firmino tried to chip the goalkeeper Heurelho Gomes (BRZ), whilst Salah used his pace too great effect.
He ran alongside Firmino as support, beating defender Miguel Britos (URU) to guide the ball in.
Devoted Liverpool fan Raj Gandhi was very optimistic about the potential of Salah. His complimentary words on Facebook read:
"The start of something special from a top player. Great run on goal."
Consequently, his debut had shown he was worthy of the thirty-four million pound price tag.
Watch the debut goal of Mohamed Salah here: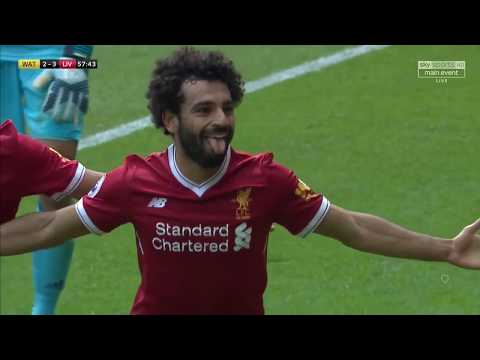 Mohamed Salah vs Arsenal (PL: 2017)
Liverpool fans were to witness a clash between two Premier League heavyweights at Anfield on August 27, 2017. All eyes were on Mohamed Salah, as he was making his home debut.
Arsenal was looking to improve on a dreadful season 2016/2017 campaign.
As things were standing, Liverpool was leading 2-0 comfortably at half time. Goals from Roberto Firmino and Sadio Mane instantly gave the home fans something to smile about.
Liverpool constantly put pressure on a vulnerable Arsenal defence. A poor corner from Arsenal gave Salah a chance to pounce on the break.
With defender Hector Bellerin (ESP) misplacing the ball, Salah took advantage. He then ran half the length of the pitch, to eventually place it comfortably beyond goalkeeper Petr Cech (CZE).
The Kop end went onto passionately celebrate the goal from their new signing. Ultimately, Liverpool won the game with a 4-0 victory.
Watch the home debut goal of Mohamed Salah here:
Mohamed Salah vs Sevilla (UCL: 2017)
On September 13, 2017, Liverpool was starting their Champions League campaign at Anfield. Having lost their previous European encounter with Sevilla, Liverpool were out for vengeance.
The arrival of Mohamed Salah was a sign of transition within the team.
This match saw a close encounter after Sevilla took an early lead. However, Liverpool immediately bounced back, to retake the lead.
Salah put Liverpool ahead through a strike from outside the box. Successfully tackling midfielder Steven Nzonzi (FRA), his powerful strike took a wild deflection off defender Simon Kjaer (DEN).
After the game, midfielder Jordan Henderson (ENG) spoke about their performance, including Salah and his drive to win.
Henderson heaped praise on his goal instincts when talking to BT Sport as he stated:
"He reacted brilliantly to come back and score."
Unfortunately for Liverpool, they did not take full points after a brave fightback from Sevilla.
Watch the deflected strike by Mohamed Salah here: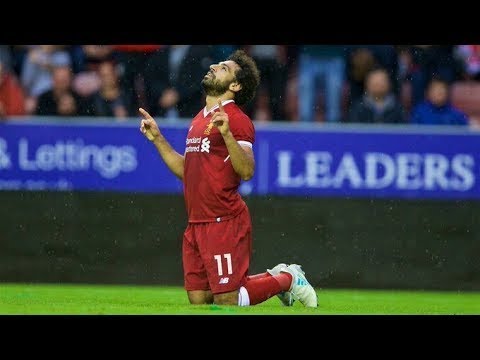 Mohamed Salah vs Stoke City (PL: 2017)
Liverpool faced a difficult away trip to Stoke City, whilst chasing the top four on November 29, 2017. With Liverpool dropping points to Chelsea before this match, an improvement was essential.
However, on the day Liverpool was the better team. An early lead gave them breathing space until Mohamed Salah took to the main stage.
Although he got on the score-sheet twice, one goal stood out in particular. This was after a cross from Sadio Mane found the powerful left-footed volley of Salah.
Liverpool fans were in full harmony when praising Salah for his goal.
On the official Liverpool Facebook page, loyal fan Dina Rakhin went on to admire his goal:
"What can I say… amazing volley from Salah. He caught the volley so sweetly, creating an exquisite strike."
His brilliant solo effort gave Liverpool an emphatic 3-0 victory.
Watch the spectacular volley by Mohamed Salah here: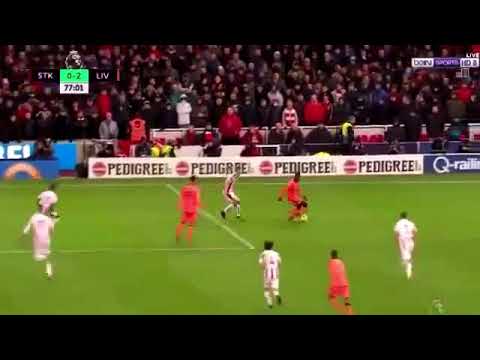 Mohamed Salah vs Everton (PL: 2017)
A momentous occasion such as the Merseyside derby at Anfield gave players like Mohamed Salah the perfect opportunity to showcase their skills.
Whilst making his derby debut on December 10, 2017, Salah was hopeful of closing the gap to Chelsea in the table.
Once again he was the star man, after having a great individual performance.
His strength and ability stood out having shrugged off midfielders Idrissa Gueye (SEN) and Cuco Martina. Once he approached the box, he skillfully guided the ball into the far left corner.
With comments from fans circulating, they were quick to congratulate Salah. A passionate Liverpool fan Rupie Fowler showed great appreciation for his technical ability, saying:
"The technique was unbelievable, but scoring against your local rival always stands out."
Additionally, this particular goal went on to win the 2018 FIFA Puskas award.
Watch the derby goal by Mohamed Salah here: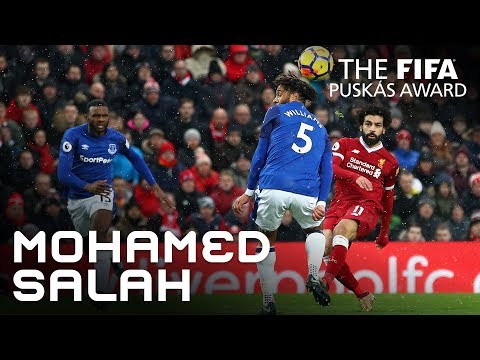 Mohamed Salah vs Arsenal (PL: 2017)
This highly competitive match at the Emirates Stadium took place at the halfway point of the season on December 22, 2017.
Arsenal and Liverpool were both intensely chasing the top four. Mohamed Salah at the time was creating a strong connection with his fellow attacking players.
In a match full of twists and turns, the goal by Salah was outstanding. He was showing plenty of confidence and balance on the ball when attacking.
The Liverpool goal came from a dangerous counter-attack from Salah. Hector Bellerin and defender Shkodran Mustafi (GER) were both unsuccessful in dealing with the danger.
Salah saw his shot take a fortunate deflection off Mustafi and then eventually bouncing into the goal.
Much to the disappointment of their fans Liverpool ended up sharing a point with Arsenal after an extraordinary comeback from The Gunners.
Watch the devastating finish by Mohamed Salah here: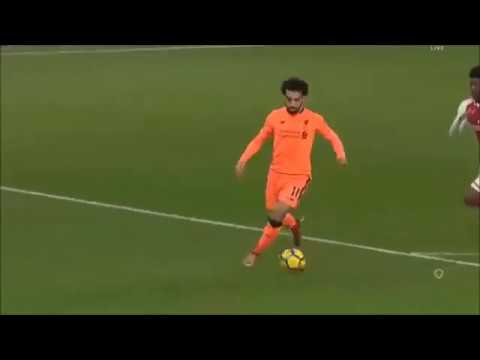 Mohamed Salah vs Manchester City (PL: 2018)
On January 14, 2018, fans saw a highly eventful and entertaining game at Anfield. Two of the best-attacking sides went head to head.
Mohamed Salah and striker Sergio Aguero (ARG) were the two-star players competing with each other.
Salah was grabbing the headlines, as his devastating strike damaged hopes of Manchester City.
The goal had seen City goalkeeper Ederson (BRZ), clearing the lines outside of his box. However, as Salah reached the ball, he lobbed the keeper with a long-range chip.
In a match that saw plenty of drama and top quality football, a bundle of goals were scored. A final score of 4-3 to Liverpool, shocked football fans.
Despite a late fightback from City, Liverpool claimed a historic win. They managed to end the twenty-two game unbeaten streak by City.
Watch the long chipped goal by Mohamed Salah here: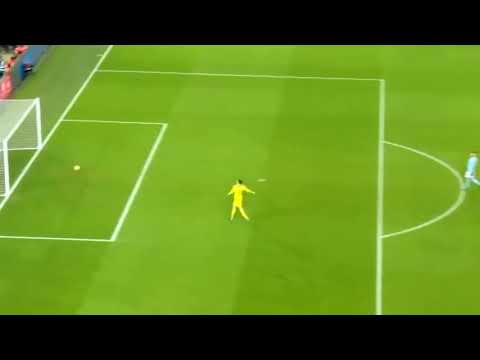 Mohamed Salah vs Tottenham Hotspur (PL: 2018)
In a controversial and entertaining game, Liverpool and Tottenham Hotspur came face to face at Anfield on February 4, 2018.
Once again, the pre-match build-up was about whether Mohammed Salah or striker Harry Kane (ENG) would deliver the goods.
They both went on to score in the 2-2 draw. Though it was Salah who received the plaudits, following his moment of magic at the end.
His goal illustrated pure class, dribbling past three players and then slotting the ball past goalkeeper Hugo Lloris (FRA).
The individual brilliance of Salah did not go amiss. Liverpool fan Nisha Bellal hailed Salah and his goal:
"Salah is something special that I've never seen before. If Messi scored that we'd be talking about it for years!"
Sadly for Liverpool, a late Tottenham penalty gave Spurs a point.
Watch the magical goal by Mohamed Salah here: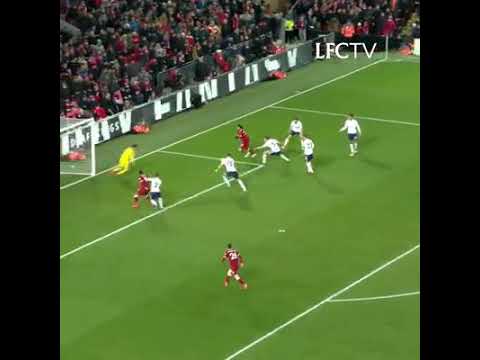 Mohamed Salah vs Porto (UCL: 2018)
On February 14, 2018, Liverpool endured their first knockout match of the Champions League. They locked horns away with Portuguese side FC Porto.
Liverpool progressed to the last sixteen, after claiming a rampant 5-0 victory.
Although Sadio Mane stole the show with a great hat-trick, Mohamed Salah was also impressive.
He went onto double the lead by getting the better of Porto goalkeeper Malheiro de Sa (POR).
As midfielder James Milner (ENG) had his strike hit the post, Salah took advantage of the rebound. Performing dazzling trickery through kick-ups, headers and control, he scored beautifully.
Once again, the passionate fans were full of joy, particularly with their front three.
Watch the great technical goal by Mohamed Salah here: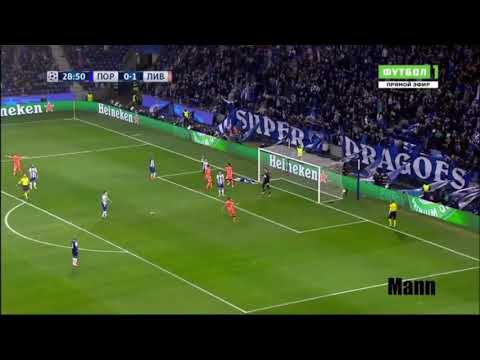 Mohamed Salah vs Watford (PL: 2018)
On a customary Premier League matchday, Mohamed Salah took his football to the next level at Anfield.
Liverpool came up against Watford on March 17, 2018, with the hope of reaching the top three in the table.
Boldly marking their territory, Liverpool won the game 5-0.
A remarkable four goals scored by Salah granted him the man of the match award. His third was the best of the bunch.
A strong run from Sadio Mane on the right-wing found a pass to Salah. A tremendous show of strength to fend off midfielder Abdoulaye Doucouré (FRA), allowed Salah to tuck the ball away.
Commenting on YouTube, Liverpool fan Eslam Adam praised Salah and alluded to the fact that he was being compared to the great Lionel Messi:
"People talk about if Salah should start or stay on the bench…people now talk about comparison with Messi."
His terrific goal record gave fans something to cheer about.
Watch Mohamed Salah grab his hat-trick here:
Mohamed Salah vs Manchester City (UCL: 2018)
A match full of high stakes was held at the Etihad Stadium on April 10, 2018. Liverpool's rampant side and Mohamed Salah emerged into the game full of confidence.
This was after claiming a 3-0 win in the previous week at Anfield, over Manchester City in the Premier League.
As this match was progressing, City was looking to stage an astonishing comeback.
But Salah pushed doubts aside with a class finish, to ensure Liverpool made it to the semi-final.
His goal saw Liverpool attacking a suspect City defence. A tangle between City keeper Ederson and Sadio Mane left the Manchester side in a mess.
Then a delightful chip over the last defender Nicolas Otamendi (ARG) sliding in, gave Salah all the credit. Millions of fans watching the game were quick to celebrate this excellent goal.
Animated fan Riaz Vadia was extremely overwhelmed by watching the chipped goal by Salah, as he said:
"Was just a pure class finish, against a solid goalkeeper in Ederson."
At the whistle, the final score was 2-1 in favour of Liverpool, with the aggregate being 5-1 over two legs.
Watch the class finish by Mohamed Salah here: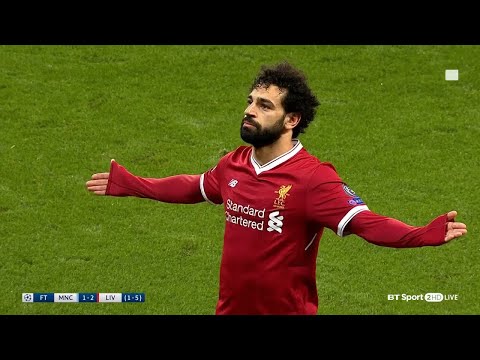 Mohamed Salah vs Bournemouth (PL: 2018)
On April 15, 2018, the Premier League was gradually building to a close. Mohamed Salah made the headlines, by scoring his thirtieth league goal in this game against Bournemouth at Anfield.
Liverpool was certain to finish in the top four, regardless of the result.
This match was another day in the office for Liverpool, following their magnificent home record. A 3-0 win for Liverpool gave them all three points.
The headed goal by Salah showed his natural quality and ability to be able to adapt, especially considering that he has a short height.
It was defender Trent Alexander-Arnold (GBR) who whipped in a beautiful cross, which eventually allowed Salah to head the ball, and cap off a brilliant finish.
With his back against the goal, he managed to flick the header beyond Bournemouth keeper Asmir Begovic (BIH).
Watch the delightful header from Mohamed Salah here: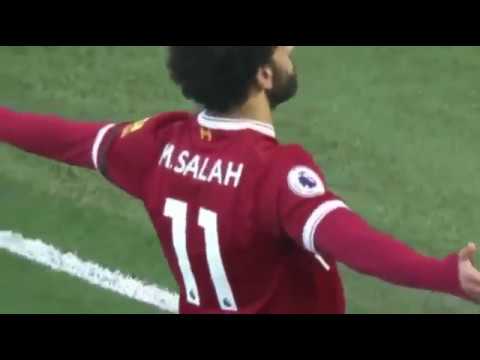 Mohamed Salah vs Roma (UCL: 2018)
A trademark European night full of atmosphere and entertainment occurred at Anfield on April 24, 2018. Mohamed Salah inflicted damage to the hopes of AS Roma, after scoring twice.
After a 5-1 aggregate win over Man City in the quarter-finals, Liverpool encountered Roma. All eyes were on Salah, as he came up against his former team.
Whilst the psychological factor may have potentially affected his confidence, Salah proved that he could rise to any occasion.
A personal masterclass from Salah put Liverpool one step closer to the Champions League final.
His first goal especially was superb and memorable. Whilst attacking on the front foot, Roberto Firmino managed to find a pass to Salah.
As Salah found space, he unleashed a brilliant strike into the top left corner. Liverpool manager Jurgen Klopp (GER) was very pleased with the performance of Salah.
Speaking in a press conference after the game, he applauded his first goal, saying:
"The first goal is just a genius strike. He's scored many like this."
Two sensational Salah goals gave Liverpool a helping hand in thrashing Roma 5-2 in the first leg.
Watch the curling strike from Mohamed Salah here: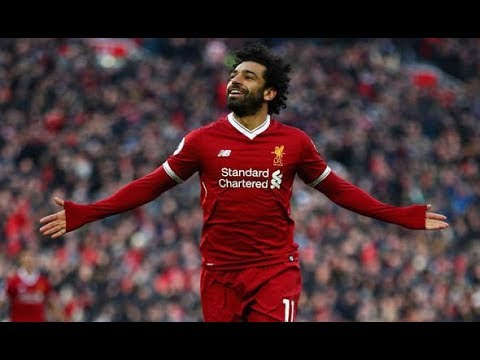 Mohamed Salah vs SSC Napoli (PS: 2018)
Despite this pre-season match being less significant, fans were eager to see Mohamed Salah play in Dublin.
After a dismal Champions League final through a shoulder injury, Salah was hopeful of responding positively.
This encounter saw Liverpool take on a young SSC Napoli side on August 4, 2018. In a match that featured some star players, Liverpool took charge.
Liverpool claimed a thumping 5-0 victory, with five players on the scoresheet. The game saw some great goals, with Salah getting into the mix.
The Salah goal came from pressure inside the penalty area. The ball floated into the box and reached Sadio Mane who headed to Salah.
Meanwhile, after Salah received the pass, he neatly curled the ball into the top corner.
Watch the clean finish from Mohamed Salah here:
Mohamed Salah vs Bournemouth (PL: 2018)
As the calendar year was drawing to a close, December was proving to be a busy football period.
Mohamed Salah demonstrated his sheer talent by scoring a fantastic hattrick on December 8, 2018, at the Vitality Stadium.
Liverpool approached this game knowing that Manchester City was hot on their tails. However, a fine performance from Salah helped Liverpool to gain three valuable points.
His third goal was something special. An error in the Bournemouth defence gave Salah freedom for a one on one chance.
As the keeper tried to dive out, Salah showed tremendous balance and control.
Dodging the Bournemouth keeper Asmir Begovic, Salah slotted the ball into the net. Trying to guide the goal, defenders Steven Cook (GBR) and Nathan Ake (NED) were unable to do anything.
Fans were extremely ecstatic with Salah as he was awarded man of the match. Liverpool fan Satrya Sabeni paid respect to Salah ateams's teams style of play:
"That was a classic Salah destruction, and a typical Liverpool attack."
James Milner, speaking to Sky Sports also gave kudos to Salah for his performance:
"When you've got players of the quality of this guy next to me, he can win you a game on his own."
Salah also gave his view on the game. In reply to a question about being back amongst the goals, Salah happily expressed:
"Not a bad way at all. We're top of the table, I score three goals, a fantastic win and a clean sheet."
Liverpool maintained their solid form with the 4-0 win. As a result, they remained top of the league.
Watch the composed finish from Mohamed Salah here:
Mohamed Salah vs SSC Napoli (UCL: 2018)
A classic European night took take place at Anfield on December 11, 2018. A cute finish by Mohamed Salah was enough for Liverpool to qualify.
Liverpool needed a win against SSC Napoli after suffering three defeats during the group stage. Winning this match 1-0 or by two clear goals, would ensure qualification for Liverpool.
This pulsating tie saw end-to-end action, creating an unpredictable match. However, Salah made a crucial intervention.
Rolling off defender Mario Rui (POR) and gliding past defender Kalidou Koulibaly (SEN), Salah found the net as he kicked the ball between the legs of keeper David Ospina (COL).
An ardent Liverpool fan Ryan Gill was fascinated by Salah nutmegging the goalkeeper as he wrote on YouTube:
"To nutmeg the keeper from a tight angle, illustrates pure skill from Mo Salah."
With this 1-1 triumph, fans celebrated joyously as Liverpool advanced to the knockout stages of the Champions League.
Watch Mohamed Salah nutmeg the goalkeeper to score here: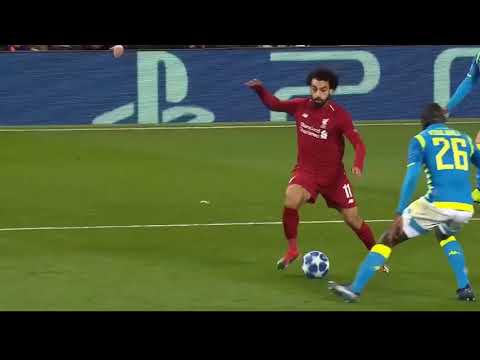 Mohamed Salah vs Bournemouth (PL: 2019)
Prior to this match, a tight battle was commencing at the top, between Liverpool and Manchester City.
On February 9, 2019, Mohamed Salah combined forces with Roberto Firmino to take three points at Anfield.
Liverpool knew they had to be clinical. Showcasing their talent and attacking abilities Liverpool went on to achieve a comfortable 3-0 win, with Salah being amongst the goals.
The goal of Salah began from a deadly Liverpool attack, as midfielder Naby Keita (GBS) played a beautiful long through ball for Firmino.
Firmino then played a skilful backheel into the path of Salah, leading him to place the ball beyond Bournemouth keeper Artur Boruc (POL).
With Liverpool coming out as worthy winners, they shifted the pressure back on Manchester City. From this point onwards, Liverpool and City had extended winning streaks.
Watch Mohamed Salah place a cool finish here:
Mohamed Salah vs Southampton (PL: 2019)
With five games remaining to the end of the season, the two title contenders were battling it out.
Despite his slightly hesitant ability in front of goal, Mohamed Salah finally scored to relieve some pressure off himself.
Liverpool required three points to regain the top spot. On April 5, 2019, they travelled away to Southampton, with the hope of Salah ending his goal drought.
With Southampton taking the lead, just when nerves began kicking in, Liverpool struck back, courtesy of Salah.
It was a great solo effort from Salah as he attacked the Southampton defence. A fortunate deflected goal aided Liverpool to a 3-1 victory.
Liverpool fans were overjoyed by his return of form. Strong Liverpool fan Fareed Naeem went on Facebook to describe the goal and Salah:
"What a finish that was. Cool and calm. He is truly a man of steel."
Rupie Fowler also weighed in on Salah, stating:
"Three players chasing him, followed by a delicate chipped finish that made everyone fall in love."
Significantly, it was a landmark moment for Salah, as he became the fastest to reach fifty goals for Liverpool. His record eclipsed the number previously held by Fernando Torres (ESP).
Watch Mohamed Salah score to end his goal drought here:
Mohamed Salah vs Chelsea (PL: 2019)
Mohamed Salah scored his best goal in this particular fixture at Anfield. On April 14, 2019, fans got to witness a match between two big teams, as Liverpool faced Chelsea.
The title race went down to the wire between City and Liverpool. With a few games remaining, Liverpool were hoping for three points against a challenging Chelsea side.
Sadio Mane and Salah proved they were strong enough to compete. Incidentally, the strike from Salah became one of the best goals of the season.
A chipped ball from defender Virgil Van Dijk (NED), found Salah on the right-wing. He then unleashed an unbelievable twenty five yard rocket strike into the top left-hand corner.
Liverpool fans were quick onto social media, to share their opinions on this great goal.
Young Liverpool fan Raja Imran referred to his goal drought as being non-existent, as he posted a comment on Facebook:
"An unbelievable goal just completely overshadowed his goal drought."
Rupie Fowler also commented on the bullet strike, mentioning:
"A rocket against the team that rejected him – that made it even more special and silenced the away fans."
Watch the stunning strike from Mohamed Salah here: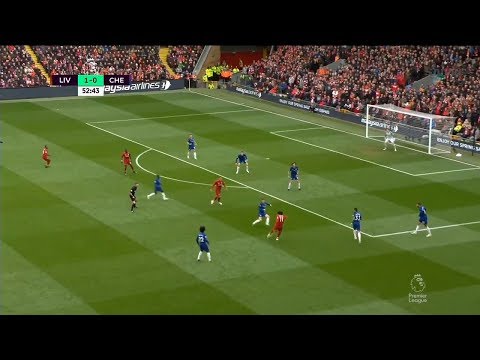 Mohamed Salah vs Tottenham Hotspur (UCL: 2019)
On June 1, 2019, Liverpool played Tottenham Hotspur in an all English Champions League final at Wanda Metropolitano in Madrid.
Mohamed Salah was optimistic of a good performance after a heartbreaking final, the season before.
Fortunately for Liverpool, they won the Champions League as Salah scored a high-pressure penalty.
Although his goal came from a penalty, it had great significance. Having suffered an injury during the 2018 Champions League final, Salah did not get his fairy tale ending that he deserved.
However, his goal in 2019 inspired Liverpool to win 2-0, as The Reds won their 6th Champions League title.
Liverpool fans were jubilant after winning becoming champions of Europe. Elated with the win, a YouTube fan felt the penalty was the turning point:
"As soon as Salah scored the penalty, I knew we had won it."
This was the first major success for Salah as a Liverpool player
Watch the defining goal for Mohamed Salah here: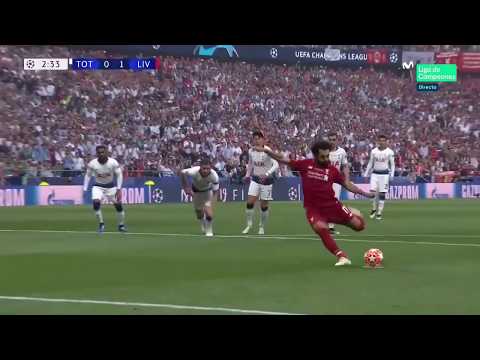 Mohamed Salah continues to evolve at Liverpool Football Club as he constantly scores many goals.
Desi fans have compared him to footballing legends as he strives to achieve even greater things at Liverpool.
He has received the 2018 and 2019 Golden Boot in the Premier League.
Having won the UEFA Champions League and the UEFA Super Cup in 2019, the power of Mohamed Salah cannot be underestimated.