"I've always dreamt of this big, lavish Bollywood-style wedding."
An Indian-Australian couple married in extravagant style as they hosted their Indian wedding reception in Australia.
After marrying in India, they continued the celebrations in Sydney.
Divya Dhingra and Gurjap Singh Kohli planned five different wedding celebrations, taking place in the last six months. The reception took place in March 2017.
They first married in a traditional ceremony in Delhi.
The December 2016 wedding witnessed the couple wearing traditional clothing.
Divya wore a breathtaking red and gold lengha, with lavish jewellery and beautiful mehndi designs. Her husband Gurjap also looked handsome in his groom outfit, displaying a similar colour scheme.
However, the fifth event, an Indian wedding reception in Australia, acted as the big finale to their stunning wedding. With thrilling entertainment and a romantic atmosphere, it truly reflected a big fat Indian wedding.
Held at Rosehill Gardens in Sydney, they invited 1,500 guests to the festivities. The couple arrived in a unique way; by helicopter! With drummers heralding their arrival, the Indian wedding reception began.
Divya Dhingra wore a beautiful wine-red gown, detailed with gold embellishments. With her hair pinned back into a regal up-do, the bride looked utterly glamorous. She added beautifully-crafted jewellery to her dress.
Meanwhile, Gurjap Singh Kohli wore a Western-inspired groom outfit. Co-ordinating with his newly-wedded wife, he wore a wine-red tie and waistcoat.
With the Indian wedding reception well underway, guests looked set to enjoy a night of music and dancing, a la Bollywood style!
Divya later revealed that their final celebration took great inspiration from Hindi cinema. She said: "I've always dreamt of this big, lavish Bollywood-style wedding so we had numerous functions across India and Australia."
During the Indian wedding reception, it featured Brazilian dancers, fireworks and even a two-metre high cake!
The centrepiece cake reflected the luxurious style of this celebration. It contained lace icing and even precious crystals from Swarovski. The couple had to cut the cake with a long sword!
Since their lavish Indian wedding reception, the couple has been interviewed by SBS Insight. They revealed more details about their wedding, in that they decided against a dowry.
Divya explained that they wanted to focus on the love and romance behind their marriage, rather than finances. She revealed:
"We believe that marriage is a bonding of two hearts, and money should absolutely not come between such pure relationships of unconditional love."
The couple also explained how they wanted to create a traditional, yet modern approach for their wedding celebrations.
Watch the interview here: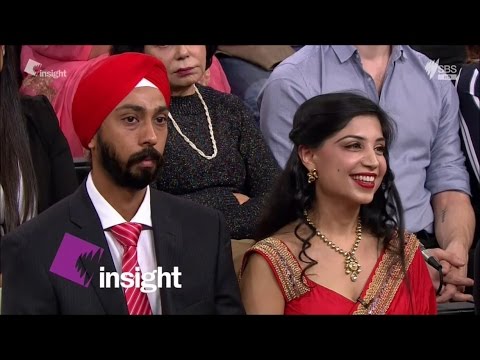 By creating such a wonderful Bollywood-inspired wedding, it has become a memorable one for all of Australia and India.
Congratulations to Divya Dhingra and Gurjap Singh Kohli!