"[Salman] is the best producer but most difficult person to satisfy."
With a new wave of actors arriving in Bollywood, the much awaited debuts of Athiya Shetty (Sunil Shetty's daughter) and Sooraj Pancholi (Aditya Pancholi's son) has arrived.
Launched by the superstar himself Salman Khan, Hero is the official remake of the 1983 Jackie Shroff and Meenakshi Sheshadri love story of the same title.
Revamping the 80s love story with a modern twist, director Nikhil Advani promises a fast-paced romantic drama.
Hero follows the story of two star-crossed lovers who are separated by destiny. Sooraj (played By Sooraj Pancholi) is a gangster of Mumbai who meets Radha (played By Athiya Shetty), daughter of the city's Chief of Police.
One day, posing as a policeman, Sooraj takes Radha, telling her that he must take her away from city for some time. It is only later that Radha finds out she's been kidnapped.
Sooraj decides to leave Radha. But by then, both of the young individuals have fallen in love. Will Sooraj and Radha be able to unite again?
Even prior to release, the film faced some censure by critics. Many have accused Bollywood showing favouritism to the sons and daughters of leading stars, who get easily cast into big production films.
However, Salman Khan decided to clarify why he took the star kids and how hard both of them had to work before getting the movie.
He stated: "People are saying that we have launched them Athiya and Sooraj because they are star kids. But it is not like that. I have many friends, who have children, but I have not launched them."
He went on to add how hard both the star kids worked to get the role, saying: "They had to go through several tests and auditions from action to dancing to acting. After all that they were finalised."
Wanting to keep the atmosphere light and fun during the shoot, close sources say that mentor and producer Salman Khan never visited the set of Hero even once.
Being misinterpreted with the idea that Salman was too busy with his own acting projects, the actual reason for his absence was endearingly revealed by a source, who said:
"The idea was not to intimidate the youngsters, who can't help but be enamoured by his presence. He would directly coordinate with director Nikhil Advani, if he had any inputs.
"Salman comes from the school of thought where being a hands-on producer means giving his actors and director their space."
Despite not being there in person, Salman admitted that he spent a lot of time making sure the film would have the big budget that his other movies enjoys:
"The kind of budgets that I work on, we've done the same budget for Athiya and Sooraj because their journey starts from this film onwards, so we didn't want to leave any stone unturned," he said.
Nikhil Advani adds:
"Making this film was the simplest thing ever. I had a great story to tell, a great script. But the most difficult person to handle was Salman Khan."
"He wanted everything bigger and better. 'I don't care, spend more money', he would say. He is the best producer but most difficult person to satisfy."
Salman continues: "We paid attention to everything from the music to selection of the director to Nikhil spending days and nights with these two, and they going through their training in dancing, action and other such things.
"I was working on Bajrangi but my concentration was more on this than Bajrangi because I've seen my life journey but their careers start now, it shouldn't be that fingers should point at me, that I've put them into trouble," Salman says.
It seems the pressure to deliver a blockbuster also continued onto the shoulders of young hero and heroine of the film.
The pair have rapidly become the new 'IT' couple of Bollywood and audiences have taken a liking to the two star kids, appreciating their sizzling chemistry on screen and off screen.
Nikhil Advani described the equation between the two actors equation saying: "Sooraj and Athiya came to me as one. They were always looking out for each other and encouraging one another.
"They were each other's biggest critics. So today, when everyone else sees the chemistry and the compatibility they share, it's not surprising at all."
Making sure that the music of the film was nothing less than sheer perfection, Salman even stepped to add his own vocals to a few of the Hero tracks.
Ever since a 20-second snippet of 'Main Hoon Tera Hero' made an appearance in the movie trailer, fans have been going crazy over the romantic number.
With the original sung by Armaan Malik, Salman Khan has also produced his own version. The slow, melodious number has beautiful mixture of violins and guitars.
Watch the video for 'Main Hoon Tera Hero' here: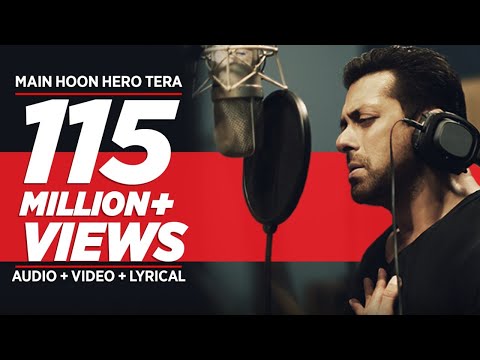 The album features a number of other outstanding tracks composed by music directors, Amaal Mallik, Meet Bros Anjjan and Sachin-Jigar.
Dance track, 'Dance Ke Legend' is a fun and peppy song with a hint of Punjabi vibe to it. And 'Yaadan Teri Yaad' is a slow heart wrenching track, signifying the distance between the two protagonists in the soulful voice of Rahat Fateh Ali Khan.
Could this film be the biggest launch for newcomers Athiya Shetty and Sooraj Pancholi? Could they be the new Alia Bhatt and Tiger Shroff of B-Town?
Hero releases from September 11, 2015. Watch the trailer for the film here: