A perfect combination of Dil, Dum, and Dhokha in this film.
From the trailer and first looks, Vishal Bhardwaj's next directorial, Rangoon (2017), promises to be an unconventional Bollywood film.
Applauding Vishal's Haider (2014), Anupama Chopra writes: "Vishal handles the Oedipal undertones with exquisite daring and understanding."
Set to release on the 24th February 2017, DESIblitz brings you all the reasons why Rangoon will be a ravishing movie to watch!
Saif Ali Khan & Shahid Kapoor
In 2016, we were quite surprised to see Shahid Kapoor and Kareena Kapoor Khan, featuring in the same film, Udta Punjab. Once again, it is quite interesting to see that, Saif Ali Khan and Shahid Kapoor will be starring together in Rangoon. 
According to The Hindustan Times, the handsome hunk Shahid Kapoor will be playing the role of Nawab Malik, an Indian troop leader, set to protect Miss Julia (Kangana Ranaut). Whereas, Saif Ali Khan, who looks dapper in his 'Liam Neeson' style tuxedo, essays the character of an A-list film director. 
In addition, drawing from the trailer, media reports have even suggested that, the plot follows the concept of 'friends-turned-foes.' Therefore, it seems like there'll be a perfect combination of Dil, Dum and Dhokha in this film.
Kangana Ranaut
When we talk of the leading male actors, how could we leave behind our leading lady, Kangana Ranaut?
Her last appearance on celluloid was in Katti Batti (2015). It's been almost two years and we've missed seeing the actress on-screen.
In this period drama, Kangana portrays the role of 'Julia', a 1940s action heroine. Watching her in another fiery and fun avatar will make us say 'bloody hell' – quite literally! This role will not only be raunchy, but we will also see comical nuances from Kangana.
Following the trailer, Saif Ali Khan says to Kangana about being 'war-time' and reminds her of 'Germany' and 'Hitler'. In response to this, she asks him: "Hitler Hindi picture dekhta hai Kya?" (does Hitler watch Hindi films?)
It is also interesting to see this very talented, class united pair on-screen, for the very first time. We can't wait to see their chemistry on-screen!
World War II Setting
We have seen many period dramas in Bollywood. Whether it's 1947: Earth (1998) or even Lagaan (2001), these films, reminiscing the various time periods, have set a legacy in Hindi cinema.
However, many of these films depict the British Empire or the ancient royals. As evident in films like Jodhaa Akbar (2008) and Bajirao Mastani (2015).
But, there has not been a Bollywood film, which represents the second World War. Hollywood has given us several classics based on this setting, especially with films like Schindlers' List (1993), Inglorious Basterds (2009) and Saving Private Ryan (1998). Including the romantic film, The Pianist (2002), set during the period of conflict.
It will be interesting to see India's angle in the backdrop of World War II. Seeing the vintage posters, there is a strong resemblance with the 1942 classic, Casablanca. Therefore, the prominent theme of war vs love in this venture is drawing a lot of curiosity amongst the audiences!
Director & Composer: Vishal Bhardwaj
It has been proven that Vishal Bhardwaj is a fine director, especially with projects, such as Maqbool (2004), Omkara (2006) and Haider (2014).
Rangoon producer, Sajid Nadiadwala, also praises the director: 
"Vishal Bhardwaj is an incredible director and one will get to experience a plethora of emotions as his vision translates onto the big screen."
Like Vishal's previous works, it is expected that this film will also encapsulate quirkiness with dark humour. Therefore, one will definitely see realistic characters on screen!
Music
Recently released, the soundtrack of Rangoon has exceeded expectations.
As such, all the tracks have a strong '40s feel to them. Certainly, Vishal has done a fine job with all the songs!
Our favourite songs include, 'Bloody Hell', which has already become a sensation, with Sunidhi Chauhan's distinct voice variations. Additionally, 'Yeh Ishq Hai', is crooned by the most-loved, Arijit Singh. It has a soft mellow tone. 
Remember the classic, 'Mere Piya Gaye Rangoon Kiya Hai Vahan Say Telephone?' Well, the song has been adapted in this film as, '"Mere Miyan Gaye England'. In which, Rekha Bhardwaj's authentic voice adds a zing to this upbeat track. You can't get enough of this one!
Moreover, Rekha Bhardwaj's vocals are equally impressive in 'Chori Chori'. The recurring accordion sound seems like a composition from a black and white Raj Kapoor film. This one needs to be played on repeat!
Watch the trailer for Rangoon here: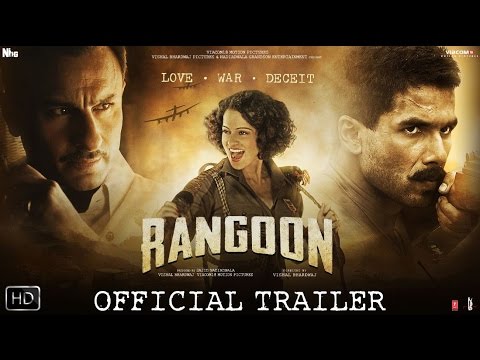 Overall, it appears that Vishal Bhardwaj has taken both his roles very excellently, as a composer and as a director.
Rangoon looks like a film which should not be missed.
So, witness love, war, and deceit, as Rangoon releases at a cinema near you, on the 24th February 2017.