"Back 2 Love is all about spreading love through and with my music."
Ustad Rahat Fateh Ali Khan, the global singing legend, returns after a seven-year album break with Back 2 Love.
The album, which features an incredible collection of love songs and collaborations, has already gained great reviews from fans worldwide, and shows the Pakistani Qawwali singer at his musical best.
Of course, nothing less can be expected from this modern music star. Khan Saab comes from a legacy of great music, as nephew to the renowned Ustad Nusrat Fateh Ali Khan, where Rahat sang as part of Ustad-ji's troupe.
In fact, Rahat explains that his family has '600 years of music heritage', and performing live was a basic skill that he was taught from a very early age.
The late Ustad mentored Rahat from the age of three, and encouraged his devotion to the Qawwali and Sufi genre of music:
"I was the only one that had to wake up at 5am to do music practise (with my uncle.) Something at the time that I found to be unfair.
"But today I look up at the sky and thank Ustad for putting me through such vigorous training which still helps me today."
When asked if he thinks his family's great interest in music will continue, Rahat admits: "My son is showing a lot of promise and interest. The rest is up to him and his destiny, but yes for sure, it would be a very proud moment if I was able to see my son continue the family legacy."
Rahat says about his Qawwali troupe: "I classify them to be my family. A lot of them, including my younger brother, cousin and others have even performed with my uncle, and are still there in the group."
His album, Back 2 Love, features 10 new songs, and exhibits a fusion of techno, bass, and traditional Asian themes.
The lead track 'Zaroori Tha' has also become globally popular and the music video features the likes of Gauhar Khan and Kushal Tandon from Bigg Boss.
Both song and video have had an incredible response, gaining over 13 million views on YouTube and VEVO:
"'Zaroori Tha' has been named as the biggest love song of 2014. So I am overwhelmed by the response, I am lucky to have a very good team with me."
Speaking about the rest of the album, Rahat explains: "Back 2 Love is all about spreading love through and with my music. It is testing times for a lot of my fellow brothers and sisters and all I want people to do is love each other and get rid of hatred. Life is too beautiful to waste."
When asked how the album came to be produced, he says: "[Back 2 Love] was a thought and perhaps a belief of me and my producer. It all happened in the last year in New York when we thought about it and then dedicated about 9 months to it. It is amazing to see the way that it has been loved."
The album was initially unveiled at the IIFA Awards 2014 in Tampa Bay, Florida, and was attended by the crème de la crème of Bollywood including Anil Kapoor, Priyanka Chopra and Sonakshi Sinha.
Rahat also gave an incredible hour-long performance at the event and impressed the audience with his 11 piece band and mixture of new and old songs.
Later in June 2014, the album was officially launched in Dubai by director Mahesh Bhatt. Bhatt, who is a great fan of the artist, has recruited Ustad-ji's vocals for a number of his films including Kalyug (2005) and Blood Money (2012).
The majority of Rahat's songs for Indian cinema have been instant hits, and some of his career highlights have included: 'O Re Piya', 'Tere Mast Mast Do Nain', 'Sajda', 'Dil toh Baccha Hai' and 'Teri Ore'.
Bollywood and Lollywood have previously played a large part in Rahat's exposure to the masses, outside of the Qawwali genre. He has previously created award winning tracks for films such as My Name is Khan (2010), Dabaang (2010), and Son of Sardar (2012), to name a few.
His previous collaborations have included work with artists such as Derek Trucks and the composer James Horner. So are there any new film projects or collaborations from Rahat that we can look forward to?
"[Film soundtracks] have been instrumental for my career, especially in the last decade. I have recently done a song with Mahesh Bhatt Sahab for one of his upcoming films, one with Sajid-Wajid for a film of Arbaaz Ali Bhai, a duet with Kailash Kher and have another half a dozen songs in the pipeline."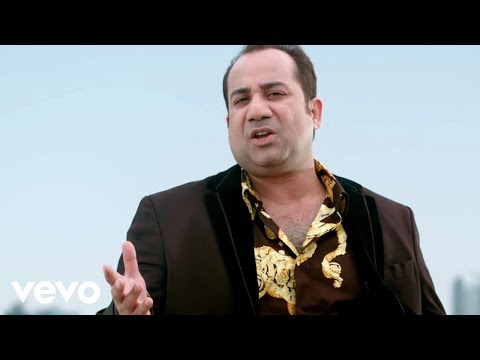 Rahat clearly believes that hard work and dedication to your art will ensure that you succeed in life, something that he learned from Nusrat Saab himself.
Rahat's advice to youngsters who love music: "One thing, hard work! Whether it be practice, concerts, playback… belief and hard work are the formula. I know nothing else in life but to just sing… Something I love!"
His album Back 2 Love was released on June 9th and is available on iTunes now. Rahat is currently touring the UK with the album and will be in concert on Sunday 24th August at London Wembley, Monday 25th August at Birmingham LG Arena, and Saturday 30th August at Leeds First Direct Arena.