"We have similarities in the fact that we two women stood alone in a male-dominated field."
Mary Kom sees Priyanka Chopra take on an incredible new role as an inspiring female boxer. Based on a true story, the film is directed Omung Kumar under Bhansali Productions.
Mary Kom is a 5 time world boxing champion. She is the only female boxer to have won a medal in each of the 6 world boxing championships.
She is the also only female Indian boxer to reach such a high calibre, with her latest achievement being the bronze medal at the London 2012 Olympics.
Based on the life of the boxer, the film Mary Kom archives her journey, who at the peak of her sporting career, gave it up to embrace motherhood.
After giving birth to two beautiful children, she made her return into the boxing ring and went on to grow both as a woman and a boxer.
Audiences have seen and appreciated Priyanka Chopra playing powerful unconventional female-centric roles in the past, in films like Fashion (2008) for which she even won a national award for, along with critically acclaimed films like Saat Khoon Maaf (2011) and Barfi (2012).
However, Mary Kom will be her one of her most challenging films to date-both physically and emotionally.
Mary Kom is a film that Priyanka had to dedicate much of her time and patience to. However, this was not easy for a celebrity who was balancing an international music career, being a brand ambassador of fashion brand Guess and her other films commitments.
In addition to this, Mary Kom was shot at a time when Priyanka had just been struck with the loss of her father, Ashok Chopra, with whom she was extremely close to.
This affected Priyanka deeply yet she did not let this affect her commitment towards Mary Kom. She went on with the scheduled shoot only 3 days after the death of her father, showing true professionalism towards this film.
Priyanka needed to fully immerse into the life of Mary before shooting commenced. This involved several visits between Mary and herself, where she had the chance to learn about Mary's lifestyle first hand.
Mary revealed: "I gave her tips as a mother and a wife, how I went about managing my home and profession, how I live with my family."
Also, to make Priyanka's role as a boxer look more believable, she needed to have the look and the physique of a boxer.
Samir Jaura, the instructor of Farhan Akhtar for Bhaag Milkha Bhaag, trained Priyanka Chopra for 5 months to gain the required strength, endurance and stamina required for a female boxer. She was put on a diet of low-carb, high-protein diet and trained for two to three hours daily.
Speaking about her experience, Priyanka said: "I didn't realise how difficult it would be for my body."
"As a woman it is hard to get muscles the way boys do. Through this film I personally learnt a lot about dedication, strength, family and I hope the audience does the same."
Priyanka's look in the film also required intricate makeup and dressing. For the makeup, the solution was used to make her eyes smaller and three shades on the eyelids were used to give them a northeast-Indian appearance.
Her eyebrows were lightened, pinkish tones were used to replicate the famous 'apple cheeks', and it was also decided to add freckles that Mary Kom does not have.
The costume designer used photographs from Mary's childhood to date, as well as patterns and colours that are common of local Manipur tribes, to dress Priyanka for Mary Kom.
Priyanka believes that Mary is an inspiration to young people and that they actually share more similarities than one would expect:
"Mary's life is extremely inspiring. She is feisty, someone who stands for her rights and fights for what she believes in. We have similarities in terms of our upbringing and where we come from and the fact that we two women stood alone in a male-dominated field," she said.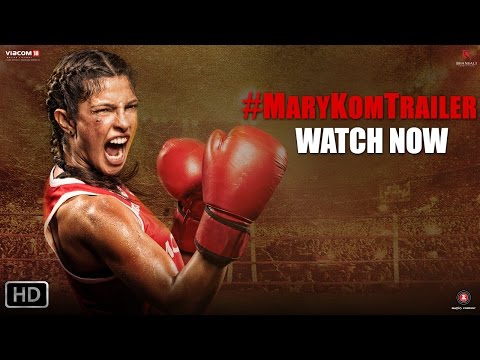 Kom herself is so pleased that someone 'as beautiful and talented' as Priyanka is playing her that the boxer even gifted Priyanka her pair of boxing gloves that she wore when she won her first world championship.
What's also interesting is that though habitually a film attains the tax free status in a city or state after the release, the upcoming sports biopic has already been declared tax free in Maharashtra and UP and waiting on Delhi to declare the status. This will expand the reach of the film to a wider audience.
Like Mary Kom, Milkha Singh has made India feel proud in the arena of international sporting platforms such as the Olympics. Bhaag Milkha Bhaag was also a biopic on the legendary sporting personality.
Not only did the film touch the heart of the audience, but critics too. It was touted as Farhan Akhtar's best work till date and the film scooped up every 'Best Film' award last year.
Will Mary Kom also follow in Bhaag Milkha Bhaag's successful footsteps? We shall have to wait and see how Priyanka fares. The film releases from September 5, 2014.