"I have been involved in every single step. I have injected my personality into the designs."
Noreen Khan is a popular voice on BBC Asian network, hosting one of the most listened to Asian radio shows in the UK. This well established DJ turned radio presenter and host has now stepped into the world of fashion design and signature collections.
The bubbly presenter has released her own unique couture line called Noreen Khan Couture, which is modelled and designed by Noreen herself. In an exclusive Gupshup with DESIblitz, Noreen explains:
"I teamed up with a bespoke designer, called Gaby Manchanda, so it's a joint collaboration, and I have had loads of input into the creations, the designs, and it is something that I've always wanted to do."
A Birmingham-based talent, Gaby has been involved in bespoke designing for 12 years, and specialises in saris, bridal wear and embroideries.
Noreen first met Gaby when she chose to wear her creations to exclusive concerts and parties and fell in love with them. Gaby later encouraged Noreen to start her own fashion line, and it felt instinctive for them to eventually pool their creative ideas together.
One of Gaby's signature pieces is the Lycra sari, a style commonly seen on Noreen. This design has been incorporated into the collection and really shows a unique style, that also reflects Noreen own personality:
"The unique one-piece sari dress, even though looks like a sari, you could quite easily wear that to a non-Asian function," Noreen tells us.
The one-piece sari dress sees subtle lace embroidery and loosely draped sari pleats. It is an elegantly chic piece and truly shows the kind of original fashion Noreen loves to express.
Noreen Khan Couture is an extension of Noreen as a person. Each piece is carefully crafted to illustrate her sense of style. She admits that she wanted to create a fusion line that everyone could wear but wasn't available everywhere:
"I have been involved in every single step, you know I have injected my personality into the designs. Gabby helped me, and you know, we both created the final look together," Noreen says.
Noreen's collection consists of several signature outfits. From a vibrant raw silk corset and lehenga, to a floor length anarkali. She also has lace fitted jackets and delicate embroideries on all the pieces:
"We're using fabrics like raw silk, we are using lycra. We're very particular about the kind of embroidery that we are using as well. Each piece – because it does have to be individually created – we do try to offer something different. And we do offer bespoke as well."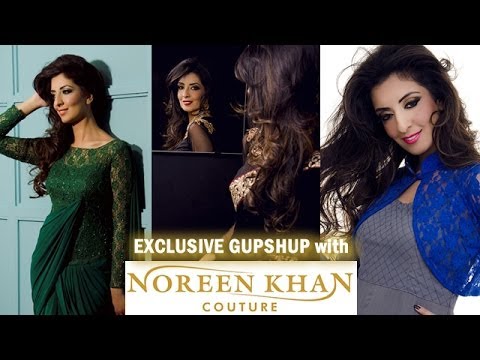 Noreen has created this collection for the modern woman of today; a woman who wants to stay in touch with her roots but also excel in the modern environment. Noreen wanted to give the fashion conscious woman a stand out look but also to incorporate comfort through quality.
The embodiment of Asian clothes and the modernity and functionality of Western lifestyle is key for today's British Asian woman:
"I'd say Noreen Khan Couture is for the woman who just wants something unique, but not too in your face. It's about making a subtle statement."
"So we want it to be a little understated but at the same time, for you to a little bit of that wow factor, and to feel really good in what you are wearing," Noreen says.
Noreen has also cleverly created a special 'How to wear a sari' video tutorial on her on-line boutique, alongside a made-to-measure service, with instructions on how to measure yourself correctly. A really personal feature to the on-line couture label. Customers can pick their favourite designs and choose their own colours, and have their couture outfit delivered directly to their doorstep.
Noreen also tells us that the Couture line is only just the beginning: "The whole thing is not going to stay as couture, we're going to proved ready-to-wear, because some clients want things immediately."
Noreen has always had her head in the fashion field, even before her radio career. Interestingly, she had her own boutique in her home town of Bedford at the age of 21.
Her career as a radio presenter started in 2003 through commercial radio stations but by 2007 she was doing the Chart Show, Weekend Breakfast and the Drive Show.
She regularly interviews top names in media, music and sport and has her own show on the BBC Asian Network. But with fashion always in the background, it's only natural she reignited her first love.
Noreen broke the news to her followers earlier in 2014 by tweeting a picture of blue lace and her name sewn on a label: "So for the past year I have been quietly working on something… Can't wait to show you all x."
Noreen is passionate about her fashion career and DESIblitz believes that this talented lady will continue to wow the crowds. You can purchase Noreen Khan Couture directly on Noreen's website.