"The way it has been written is very funny and relatable."
August 2017 is jam-packed with some promising Bollywood films. From an action-comedy like A Gentleman to an intense crime caper like Haseena Parkar, the audience is spoiled for choice.
On 18th August 2017, both A Gentleman and Haseena Parkar release on the same date as Bareilly Ki Barfi, a simple and sweet romantic-comedy depicted in Uttar Pradesh. The film stars Ayushmann Khurrana, Kriti Sanon and Rajkummar Rao in the main leads.
Further to our interview with Kriti Sanon, DESIblitz presents you with details on Kriti's character in Bareilly Ki Barfi.
Bitti Mishra ~ The Vibrant Character
Kriti plays the free-spirited Bitti Mishra, who works at the electricity board.
Dealing with the complexities of getting married and feeling pressured, Bitti decides to run away from home and at the railway book stall, Bitti finds a book called Bareilly Ki Barfi.
Surprisingly, the female protagonist in the novel strongly resembles Bitti. Therefore, she embarks on a journey to find the author Pritam Vidrohi (Rajkummar Rao) with the help of the printing press owner and publisher of the novel Chirag Dubey (Ayushmann Khurrana).
Kriti describes the film as:
"A very funny romantic film and is a little quirky. The character that I'm playing is very interesting It's very away from what I've done so far. It's completely opposite to what I've done in Raabta."
Whilst Sanon is dons a Punjabi suit and Desi clothing, the character Bitti is quite dynamic and certainly differs from her previous characters. Describing her character, Kriti says:
"I play a small-town Bareilly girl (called 'Bitti') who is a little tomboyish, little bit of a brat and lives on her own terms. Even in a town like Bareilly, she hides and smokes. She's the only girl in Bareilly who does break dance!"
Kriti Sanon on Female-Centric Movies
Undoubtedly, Kriti Sanon's role seems like one that challenges the conventional image of a pristine girl-next-door character.
With ventures like Queen, Noor and most recently Mom, Bollywood seems to be on a wave for producing and developing female centric films. The 27-year-old actress shares her view on these projects: "I'm glad they are happening now and made in large numbers."
However, she objects to films with a lead female protagonist to be called 'female centric' films:
"We never a call a movie (with a male lead) a 'male centric film.' It doesn't matter who the main protagonist is unless the story is really good. If it's a guy or a girl, it doesn't really matter."
She adds:
 "I'm glad people are making scripts and stories where a woman is the main protagonist of a film."
Bareilly Ki Barfi's Talented Film Crew
Another promising factor of Bareilly Ki Barfi is its remarkable team behind the film.
The movie is directed by Ashwiny Iyer Tiwari (Nil Battey Sannatta) and marks the debut of the grandson of filmmaker B R Chopra, Juno Chopra as the creative producer.
What Kriti likes the most is the story penned by Dangal writer-director Nitesh Tiwari and Shreyas Jain:
"The way it has been written is very funny and relatable. I love the way Nitesh (Tiwari) has written scenes between mother-daughter and father-daughter. Seema Pahwa and Pankaj Tripathi play my parents. It was a pleasure acting with them because they are fab actors."
Watch the trailer for Bareilly Ki Barfi here: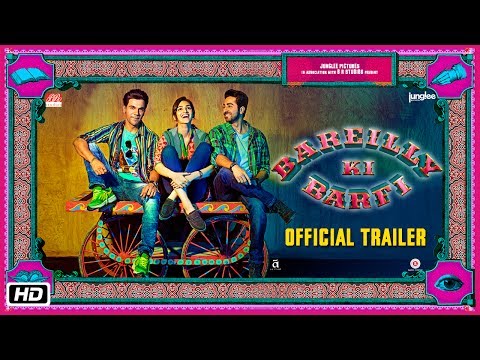 Not only does the film boast of cinematic excellence, but the soundtrack is also loveable, especially the tracks, 'Sweety Tera Drama', 'Nazm Nazm' and 'Twist Kamariya'.
Composers Tanishk Bagchi (with Vayu) and Arko Pravo Mukherjee leave no stone unturned to deliver an upbeat and catchy album.
Overall, Bareilly Ki Barfi promises to be a fresh and colourful rom-com. The fact that it pairs together the Rajkummar-Ayushman-Kriti trio for the first time itself is an appealing factor.
Go and grab a bite of this barfi as the film releases on 18th August 2017.