Across the country, people are jumping out of cars and buses in their Kiki challenge
Indian Youtubers Shyam Sharma, 24, Dhruv Shah, 23 and Nishant Shah, 20 were sentenced by magistrates in Maharashtra to clean Vasai rail station, in Mumbai, after performing the Kiki challenge.
The men regularly upload comedy sketch style videos to their channel, Funcho Entertainment, which has over 230,000 subscribers.
Also called the In My Feelings challenge, it involves people dancing to a song by artist Drake from his album Scorpion.
The three men filmed the challenge and uploaded the footage to YouTube.
Their video portrays how people in different Indian states would perform the Kiki challenge.
The YouTube video racked up over 2.5 million views after it went live.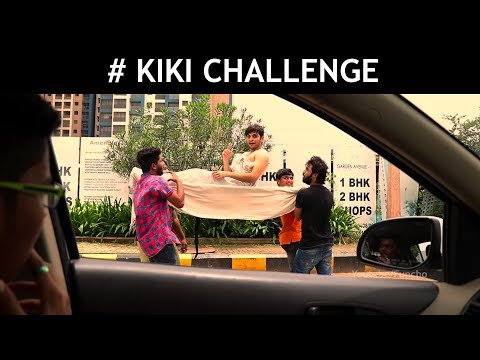 In the video, one of the men steps off the train and starts dancing to the song while his friend films it on a mobile phone.
When the train starts to move, he runs alongside it while dancing.
The video also shows his friend partially hanging out of the door of a moving train and attempting a dance move.
The massive following of the video led police to track down the three men and arrested them.
Police charged them under sections 145 B (indecency or nuisance), 147 (entering railway premises or damaging property) 154 (endangering safety of passengers) and 156 (performing stunts) of the Indian Railway Act.
The charges usually carry a jail sentence of up to one year and a fine of Rs 500 (£5.70).
Officials ordered Sharma, Shah and Shah to clean their local rail station for three days.
They also have to spread awareness to people warning them about performing such stunts.
These tasks must be performed from 11 am to 2 pm and from 3 pm to 5 pm.
Senior Western rail commissioner Anup Shukla said: "This is a one of a kind task assigned by the court."
"It will help create awareness among commuters against the dangers of the Kiki challenge."
It is not the first time India has seen dangerous interpretations of the Kiki challenge.
Across the country, people are jumping out of cars and buses in their interpretations, inspired by the lyric in the song, "Are you riding?".
The Kiki challenge is a worldwide phenomenon, named because in the song Drake addresses a woman named Kiki. It is the latest in a long list of world-famous viral challenges.
Celebrities are also attempting the Kiki challenge such as Bollywood actor Ranveer Singh.
Many people have uploaded the Kiki challenge online, however, they show people getting out of moving cars and dancing as someone films.
The growing trend has sparked several warnings in India and around the world.
We love your safety and can't leave it to be decided by Kiki! #GetInToTheCar #kikiChallenge #InMySafetyFeelings pic.twitter.com/OqOgmPgJA6

— Mumbai Police (@MumbaiPolice) August 2, 2018
This comes after a series of casualties in major Indian cities where people have injured themselves attempting the Kiki challenge.