"Long after they've retired, we will see a Sourav vs Sachin encounter once again."
The inaugural edition of the Indian Super League (ISL) final will feature Kerala Blasters FC against Atletico de Kolkata in Mumbai, India on 20 December 2014.
Kolkata will be without their charismatic striker Fikru Teferra after suffering a hamstring injury.
David James, manager of Kerala and Sourav Ganguly, co-owner of Kolkata realise the magnitude of winning the first edition of the ISL football title.
Both teams reached the final, having upset quite a few favourites along the way, including Chennaiyin FC and FC Goa. The title clash is not just a battle between two co-owners, but two ex cricketers – Ganguly (Kolkata) and Sachin Tendulkar (Kerala).
In reply to a question about whether he would be sitting next to Tendulkar on Saturday night, Ganguly said:
"I have opened with him for 200 games I can sit next to him for one last time."
There has been a lot of anticipation about Ganguly and Tendulkar facing off each other, with Sourav vs Sachin and Sachin vs Ganguly trending heavily on twitter.
Tweeting about the two Indian Gladiators, a fan named Sarah Waris said: "Long after they've retired, we will see a Sourav vs Sachin encounter once again @IndSuperLeague."
Cricketer Ravindra Jadeja also described the final as a match between the two former greats of Indian cricket. He tweeted: "People see it as Kerala vs Kolkata in ISL final. #SirJadeja see it as Sachin vs Ganguly. #LetsFootball."
Chandrika G. however downplayed the rivalry, tweeting: "It's not Sachin vs Sourav Ganguly its a football between KOLKATA AND KERALA go #ATK we can do it."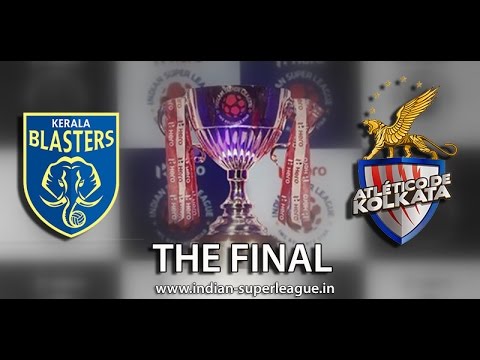 Kerala will be going into the final very confident, especially having produced a remarkable comeback against table toppers Chennaiyin FC to win their semi-final clash 4-3 on aggregate.
Scottish footballer Stephen Pearson scored the winner for Kerala in what can be best described as the game of the tournament. The Chennai based franchise were shown three red cards during the match. The high tensity match was witnessed by over 25,000 people in the stadium.
Kerala will be banking on Canadian striker/winger Iain Hume who has already scored five goals in the tournament.
Kolkata reached the final after defeating FC Goa 4-2 on penalties in the second leg of the second semi-final. Kolkata successfully converted all their penalties as Andre Santos and Clifford Miranda missed crucial spot kicks for Goa.
Kolkata however suffered a set back ahead of the final as they released Ethiopian Striker, Fikru Teferra from their line up because of a hamstring injury. This is a huge blow to the team from West Bengal, considering Teferra was their top scorer with five goals.
With the number of online viewers peaking over 1.1 million during the second leg of the first semi-final, one can expect the final to break further viewership records for a football match played in India.
Many fans and celebrities are expected to attend the final, which takes place at the D.Y Patil Stadium. The match will start at 19:00 IST (1:30pm BST) on 20 December 2014.
The final could really awaken India as the new sleeping giants of world football. Who will be crowned the champion of the 2014 Indian Super League? We shall wait and see.