"Are you looking at my boobs? Then, here, have a good look."
A new video which showcases the realities of Indian workplace harassment has gone viral.
Written and directed by Sana Ahmad and produced by Bombay Diaries, the video shows a female worker discussing her work with her male boss.
However, throughout the conversation, he gives her unwanted attention by touching and staring at her.
But rather than see the Indian woman bow in submission to his lewd comments, the video takes an empowering turn as she publicly calls him out on his sexual harassment.
The short film begins in an ordinary Indian office. A male boss calls for his female co-worker who he nicknames as "Madonna", having seemingly spent the afternoon ogling her Facebook pictures on his computer.
When she arrives, he makes up an excuse about a misplaced file and asks her to look for it.
During their conversation, the viewer witnesses how the male worker deliberately touches her by brushing against her hip. He also obnoxiously stares at her and offers unwanted comments such as: "You're smelling deliciously fragrant."
The woman, who tries to keep the conversation professional, soon grows tired and begins to call the male worker out on his disgusting behaviour. The tables have turned as she embarrasses him by loudly revealing his actions towards her.
She says: "Are you looking at my boobs? Then, here, have a good look."
Soon, the whole office stands up to listen in on the accusations. While her male co-worker tries to shush her, she refuses to let him get away with the workplace harassment.
She even compares her own figure with that of her male co-worker's wife. She continues:
"I know that my skin is a little softer, but it's not like it's cream, is it? That you can just dip a spoon whenever you like and sneak a taste."
She even reveals she chooses her clothes carefully because of his workplace harassment. The female worker then returns back to her desk, leaving a stunned office and her male boss now feeling ashamed.
Watch the Workplace Harassment video here: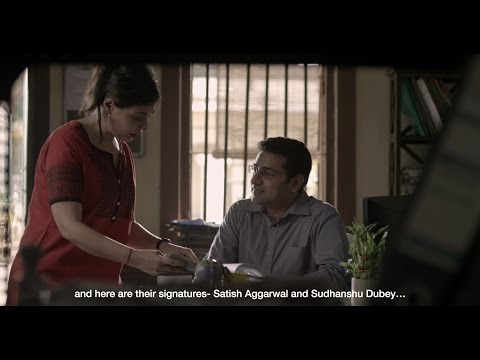 With a message of "This Time … Let The Voice Be Yours", the video aims to support women who face workplace harassment on a daily basis.
The short film was released on 7th March 2017, to coincide with International Women's Day (8th March). Since then it has generated over 4 million views, along with almost 10,000 likes.
Many viewers have praised the video online. Raven Smith wrote on YouTube:
"Woman has the freedom to wear anything she prefers….we as men hv no right to interfere..This video makes us think..may this bring about some change.."
Bentolingo added: "Very, very good video. Short but impactful!"
The simplicity of the everyday work environment makes the video very relatable to some women, who will be reminded of similar events happening to them.
It will no doubt hit home for many viewers and perhaps even inspire them to take action. And hopefully, it will allow others to think twice before they make lewd acts or comments.
Workplace harassment should never be tolerated and as this video shows, in this modern day, women should not be belittled.