"It's mainly guilt and shame they pass down."
YouTuber, rapper and spoken word artist and author, Kanwer Singh, popularly known as Humble the Poet, made a return to the UK in 2019, following a 2015 visit.
This time he came back, with a self-help guide, Things No One Else Can Teach Us, published during October 2019.
Humble was born in Toronto, Canada on July 12, 1981.
The Canadian Indian rose to fame after making appearances in videos featuring fellow YouTuber and close friend Superwoman. He then started creating his own content online.
Despite initial qualms, his videos proved a success with audiences, gaining over 14 million views on his channel to date.
DESIblitz exclusively caught up with the Leh rapper for a candid conversation about spoken word, book and social impact.
Humble Beginnings
Growing up, Humble The Poet indulged in writing and poetry. This passion was eventually channelled into spoken word, a relatively contemporary addition to the world of liberal arts.
Humble believed this was right up his sleeve after witnessing another person doing spoken word:
"After seeing someone perform spoken word, I realised that I could do that.
"It was accessible. It didn't require any equipment or training.
"I had so many ideas but didn't know how to let them out. Spoken word was like that crack in the door to let me in."
To reach his goals, Humble had to leave his full-time role as a primary school teacher.
"I didn't want to, more so I had to. We all have callings, so often we plug ourselves in the template and do what we're expected to do, even if it doesn't match with who we are."
The unusual screen name of the Toronto bred artist stemmed from his outlook on life and his values. He reveals:
"'Humble' came from the concept of our ego being a challenge…'poet' came from the idea of trying to evolve hip hop and lyricism.
"It's not very humble to call myself humble but when I started, I didn't think I'd come this far so I just kind of stuck with it."
Besides storytelling and musical talents, the former teacher also adds directing to his list of skills.
He directed his music video for the single H.A.I.R, starring Superwoman as one of the actresses for the shoot.
Celebrating women of all body types and styles, the video caught the attention of many with its very risque themes. Speaking about direction and creativity, Humble expresses:
"Directing music videos is great because it's a way of bringing my ideas to life.
"I was obsessed with all these cool videos like Busta Rhymes and Missy Elliott. It's about bringing this into the world.
"Videos will keep getting weirder and weirder so that I can tell stories in creative ways."
Humble continues saying creating visuals are his favourite in terms of artistic outlets. Laughing, he remarks:
"It's like having kids. You're not supposed to pick favourites but obviously, you've got favourites. But I still love them all nonetheless.
"My next project is music in the form of a short film. It will be a 20-minute music video. I'm working my way up to make a full-length feature film.
"All of my writing is adding up to make that script. Everything will slowly meet in one place."
Being a multi-gifted artist is what makes Humble The Poet unique and stand out.
Things No One Else Can Teach Us
Things No One Else Can Teach Us is a self-help book by Humble The Poet.
Previously his book, Unlearn: 101 Simple Truths For A Better Life, also proved to be a hit, with the readers.
Talking of Things No One Else Can Teach Us, Humble says:
"I wanted people to realise that they can find value in the pain they feel.
"Coming from an immigrant household, there are only so many tools our parents can provide for us.
"It's mainly guilt and shame they pass down. To revisit past pain and trauma means you'll be more equipped when new pain and trauma chases you."
The theme of immigrant struggle is often revisited several times in his art, particularly because he is able to draw parallels with his own life.
He describes the difficulty endured when battling between pursuing his dream career and appeasing his parents.
"My parents, being the immigrants that they were, their definition of support was just staying out of the way and they were pretty good at that.
"They still haven't come around, but I don't hold it against them."
"Who can really prepare parents for having a child who is an artist in a world where 0.01% of artists can actually pay their bills?
"They just want some safety, stability and security for the children, so I don't blame them for that at all.
"But I've shown them that it's possible and hopefully I can set a good example for kids moving forward.
"They can understand that it's not just fun, it's a lot of hard work and more than your standard 9 – 5 hours."
Written and narrated by Humble The Poet, Things No One Else Can Teach Us was published by Harper Collins on October 15, 2019.
Social Impact and Performing
Other than having more than 189,000 YouTube subscribers, Humble The Poet also has a vast following on Instagram, with over 478,000 followers.
Whilst his YouTube content is mainly visual, the prolific artist chooses to focus his Instagram content on writing:
"I'm happy I'm one of the few people who has a strong following who doesn't have a lot of pictures.
"People follow me for my words and ideas which is great because I'm always coming out with words and ideas.
"I think YouTube is great but it does have its own community who can be very young. Sometimes it's hard to connect with them on a deeper level which matters to me more.
"YouTube was a much younger audience. Whenever I did anything live they were much more concerned about getting a selfie-and I think I'm on a deeper mission than just being a celebrity."
That being said, the IVIVI singer values human connection, showing an unwavering commitment to fans – especially whilst performing.
"The most exhilarating part about being on stage is when everyone is singing along and on the same page.
"Having that moment where we're all part of something that's bigger than ourselves."
"Being on stage you can create a safe space where everyone is more comfortable being themselves and it's not about being you anymore, it's about you, the crowd and the moment.
"You can't achieve that every night but once you do, it's magical. I feel privileged when I have the opportunity to make it happen for me."
Returning to the spoken word element, Humble had a successful 9-city tour of the UK during November 2019. He had an equally successful tour of Canada in October 2019.
With a strong social media presence and touring different parts of the world Humble The Poet will continue to increase his already huge following.
Watch an Exclusive Interview with Humble The Poet here: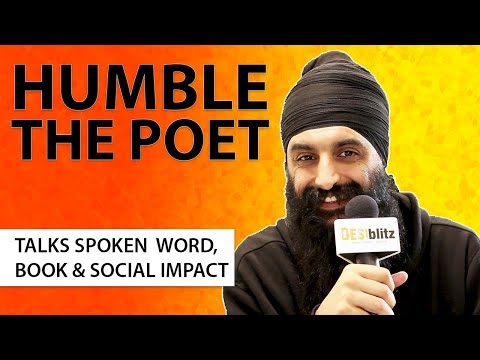 Meanwhile, Things No One Else Can Teach Us is available via Amazon here in hardback form and on Kindle and audio.
The book can also be purchased as a hardcover or ebook through Harper Collins UK here.
Fans can keep updated with Humble The Poet ON his official Twitter, Instagram, Facebook and YouTube accounts.