"Poetry has given me an avenue to voice my experiences in a way that takes people on in an internal journey."
A British Asian activist living in London, Mizan the Poet stands out from the crowd.
With his enthusiasm for expression and love for creativity, he has fashioned dynamic poems to address sensitive issues that surround British Asian society.
In an exclusive interview with DESIblitz, Mizan shares his story of being a poet for a good cause.
After graduating with a degree in computer science, Mizan decided to pursue a career in the community sector. Being an activist and a community worker gave him a lot of experience to understand the voices of the helpless.
Mizan volunteered with a number of key charities in the UK such as Stop the War and The Muslim Youth Helpline, all dealing with extremism, youth work and political campaigning. He even wrote a poem for War Child. It was this influence that eventually led him to dedicating himself to spoken poetry.
His inspirations include the 13th century Persian poet, Jalal al-Din Rumi, as Mizan admits that he prefers thought provoking and philosophical forms of poems, which he attempts to adopt in his own poetic style.
Mizan reveals that poetry is a way he can share his thoughts on matters often ignored in society: "I feel as if poetry has given me an avenue to voice my opinions and experiences in a way that takes people on in an internal journey," he says.
"In my community we are told that we have to suppress these feelings. But me talking about it, I don't need to suppress it. I can talk about it. I feel good that people know the way I feel. So that's what the poet side of me represents."
Sharing similarities with rap, spoken poetry focuses more on words rather than on rhythm. Defining spoken poetry he explains: "It's not a poem to be read but a poem to be performed on stage," Mizan tells us.
In history, spoken word poems were ways of protesting against injustice. The African-American Civil rights movement inspired civilians to adopt spoken word poetry for good causes.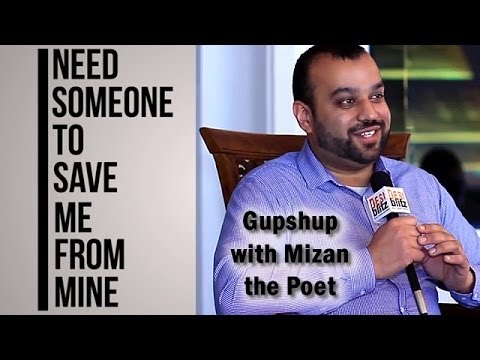 Used by The Last Poets in 1960, this form of poetry was even used by notable individuals such as Martin Luther King's 'I have a dream' and Sojourner Truth's 'Ain't I a woman?' On the power of words, Mizan feels that they can truly 'change the world'.
Passionate about justice within society, his work contains aspects of religion and politics. To create an immediate effect, sometimes Mizan speaks from the victim's point of view in his poems. And if he's not using that narrative voice, he's speaking to the perpetrator. Sometimes he also speaks about his own inspirational experiences like in his title poem, 'The Fire Rises'.
A few of his notable works include, 'The Client' and 'Innocent Lost' both of which address child sexual abuse.
He also includes the female point of view in his poem to establish awareness for abuse suffered by women. In other poems, he also speaks about drug issues and of the motivation to better oneself.
Mizan is not afraid to tackle anything controversial and there are a wide variety of views and issues that he takes on. Some great examples from his vast collection of poetry include:
"As our strength is in our beauty and our beauty is in our strengths." – For Women
"Sometimes I didn't see the light at the end of the tunnel because the light shined from within." – The Fire Rises
"I wonder how you sleep at night while you prescribe drugs that induce psychosis." – Success
"Can't even dial 999, they're busy saving everyone else's lives. But who's going to save me from mine?" – The Client
However talented Mizan is, he admits that line between his work and his poetry is often blurred: "Sometimes I feel that my poetry side of things are taking over my work and sometimes I feel that my work side of things are taking over. Life is about balancing; it's about who you are," he explains.
So far, Mizan has proved to be committed in performing poems and has even mastered the art of crafting poems as seen in his work. On tips of how to perform spoken poetry, Mizan states:
"Make sure your poems are structured. Don't use sophisticated and complex words that people might not understand in the first place. When it comes to poetry, write it in a way that you feel comfortable with it but follow the structures as well at the same time."
Mizan has weaved stories into his poems and performs them with vigour. His poems are filled with powerful emotions. Gifted in selecting the right words, Mizan uses them in an inventive and unique context.
An egalitarian at heart, Mizan's poems are popular with fans especially loyal followers on twitter. He has performed in events with Lyrically Challenged, Dark Sea Scrolls, and Lost 4 Words.
He was also featured on London Hott Radio Café. His poems are also featured on YouTube. He has even worked with Director Troy Kamal (Ego Free Music) for the Streethands organisation, a charity for children.
Mizan has also expressed that he would love to work with other artists such as George the Poet, Sophia Thakur and other underground artists like Logic and Low Key.
Due to high demand, he is currently performing at Hope 'n' Mic nights in London. A spoken word artist with incredible talent and imagination, Mizan plans to continue working as an activist for the community and perform more of his poems to a wider audience.