"This was the most humbling experience"
The House of iKons February 2020 was a spectacular event which celebrated their historic collaboration with China showcasing the immense "creativity, talent and fashion."
The show took place during the prestigious calendar fashion week in London, in association with the International Art Fashion Council.
Founded by CEO Savita Kaye, under Lady K Production, the House of iKons launched in September 2014 and has touched down in eight cities across the globe.
These include LA, Beijing, Dubai, Abu Dhabi, Amsterdam, Budapest and Cannes.
The House of iKons September 2019 show broke the world record for the most expensive dress ever to be made.
The February 2020 show took place at the Millennium Gloucester Hotel, London. The two-day event was held on Saturday, February 15 and Sunday, February 16, 2020.
The designers from the House of iKons have dressed celebrities like Paris Hilton, Michelle Obama, Beyonce, JLo and many more.
As well as the stellar fashion on the runway, musicians were also given a chance to showcase their fantastic talent.
This season's show also saw special guests from international government officials, celebrity stylists and celebrity singer/producer in attendance.
Also, Simon Cowell's friend, Sinitta made a special guest appearance in the evening.
As a key media partner, DESIblitz brings you the two segments, highlights and music performances that took place at the event.
House of iKons London Fashion Week
Segment One
A. Renee Fashion
A. Renee Fashion kick-started the evening with her brand new and exclusive designs on the House of iKons runway.
A gorgeous parade of predominantly white ensembles mixed with an array of blue and gold gowns delighted the ramp.
Her handcrafted ensembles featured various length dresses for the women and sartorial attires for the men.
Bashayer Al-Khaleej
The Bashayer Al-Khaleej collection by MD Muhammed bought modesty to the runaway.
The collection featured various abaya designs in a range of colours and cut.
Hilltribe House Fashion
Having appeared in international fashion shows since 2011, Hilltribe House Fashion took to the House of iKons show with their alluring designs.
Their captivating collection was inspired by and crafted with vintage fabric from the hill tribes of China, Vietnam and Laos.
An array of colours like red, blue, black and green took over the ramp complete with intricate prints and frills.
Also, the addition of extravagant neckpieces heightened the splendour of the ensembles.
Undoubtedly, the Hilltribe House Fashion's designs tied perfectly with Savita's vision of global diversity.

After an amazing performance from Lydia Singer, who is no stranger to the House of iKons, there was a short break before segment two.
Tony Visions
Tony Visions bought luxury streetwear to the runway at the House of iKons February 2020.
They aim to push boundaries as a means of self-expression to be bold, exclusive and different.
The collection included a range of ensembles including dresses, jackets, denim created with a touch of modernity and sophistication.
BC Munich
Up next was BC Munich who dazzled the audience with gorgeous gowns and dress. Sequins, lace and frills were the focus of the evening.
A striking sequin dress captivated the audience with its two-tone red and black ombre effect.
This stunning design featured a figure-hugging silhouette, plunging v-shaped neckline and an overall unique and enticing look.
The exclusion of accessories allowed the ensembles to take command.
Ana De Sa
It was all about the loud prints with this beautiful collection by Ana De Sa.
Having enticed audiences with her eye for fashion in House of iKons September 2019, Ana De Sa was back again to showcase her powerful vision.
Featuring trails, tassels and asymmetrical designs Ana De Sa's collection struck a chord with the audience.
In particular, the gorgeous mermaid-like dress with a one-shoulder sequin design took the audience on a magical sea adventure.
Bladimir Sigua
Following suit was designer Bladimir Sigua who made a picture-perfect statement on the runway.
He bought couture to the event showcased through magnificent gowns complete with elaborate ruffle detailing.
This stunning designer created the perfect fit and flare ensembles which evoked a contemporary outlook.
Bladimir ensured each of his designs were unique, full of charm and perfectly emphasised his perception of fashion.
Marie Belle Couture
Elegant, joyful and luxurious are the three words used to perfectly describe Marie Belle Couture.
The brand was back once again to ignite the House of iKons February 2020 show.
The audience witnessed the adorable 'Mommy and Me collection' which bought fashion and sentiment to the ramp.
The collection consisted of complementary designs for the 'mommy' and daughter.
Each ensemble was designed with exquisite craftsmanship and attention to detail.
The child's ensemble incorporated the same embroidery and embellishment on the mothers with a twist to suit children.
Segment Two
Joan's Bridal Couture
After a short intermission, segment two went underway with the grand opening from designer Joan's Bridal Couture.
Her designs were a celebration of eccentric and innovative bridal couture.
Undoubtedly, her theme was being bold yet elegant. Her designs included sheer sequin bodysuits, a lavish white gown and more.
Her showstopper featured a striking ruffled satin dress, a straw-like skirt and a straw-like hat to match.
Joan's collection is perfect for those who are not afraid to experiment with design.
Chavez
Toronto-based designer Chavez was up next. His collection consisted of black, silver and gold ensembles throughout.
His designs are a reflection of wearable works of art which incorporated enticing diamond and sequin detailing.
The ensembles were enhanced with striking accessories like sunglasses which provided futuristic vibes.
Shaco
Bringing thirty years of experience to the House of iKons' ramp, Shaco by Sharon Cox-Cole elevates a woman's fashion profile with her designs.
Her collection incorporated an array of stylish dressed which featured a saree-like pallu, jacket styles as well as strapless designs.
Fouzia's Couture by Rehan Ahmad Baley
Dubai-based brand, Fouzia's Couture by Rehan Ahmad Baley was up next to portray his elegant collection.
The gorgeous designs included extravagant dresses complete with bell sleeves, beaded embellishment and feather hems.
These stunning prom and party gowns are hand-tailored which promise the finest ensembles.

Musician Shola was next on stage to entertain the audience with her soulful voice.
Emre Tamer
After the short break, Austrian-Turkish designer and artist Emre Tamer presented her unique fashion sense.
Emre Tamer commanded the attention of the audience in a magnificent way in a royal carriage.
The devil is in the detail with Emre Tamer's design. The medusa inspired headwear enhanced the sinfully beautiful creations.
Khwanta
Following suit was the brand Khwanta has gained popularity for their uniqueness in their designs.
The Thai-based brand uses Thai fabric which is transformed into formal wear.
Their unique eastern style merged with the chic contemporary style of the west created eye-catching ensembles.
The formal style proves that workwear does not need to be dull and boring.
iKons – Inspirational Women of the Decade
The special segment titled, iKons – Inspirational Women of the Decade was a treat for the audience.
The inspiration behind the design was the notion of body positivity in fashion irrespective of size.
Dresses, trousers, jackets and more were featured in the praiseworthy collection.
The iKons – Inspirational Women of the Decade collection was an aesthetic nod to the need to push for body positivity.
Will Franco
Female empowerment is at the heart of Will Franco's designs. Sexy, stunning silhouettes graced the House of iKons' runway.
The lavish designs featured floor-length gowns in various bold colours like red, white, gold, yellow and more.
Solo Segment: UK & China
After ten months of rigorous planning and preparation, the solo segment was in partnership with the UK-CHINA ARTS & CULTURE LTD.
The designs were a celebration of beauty, art, culture and fashion.
Unfortunately, with the spread of the coronavirus, China has been showcased in a negative light.
Savita's aimed to push the solo segment to the forefront to highlight that the House of iKons does not differentiate.
This is because Savita believes there is only once race and that is the human race.
The fusion of east meets west is shown in these stunning designs. The authentic prints, colours and cuts encapsulate the authenticity of China.
Undoubtedly, the solo segment received an extremely positive reception for the graceful collection fused with Chinese and western influences.
Milner wins Hearts with Lamissah Le-Shontae and Gender Fluid Model
Milner's Men & Little Gents stole the show at the House of iKons February 2020.
The brands' decision to feature actress and model Lamissah Le-Shontae and gender-fluid Somriddho Dasgupta which won the hearts of millions.
19-year-old Somriddho Dasgupta expressed his delight of Milner Men's sense of inclusivity and the need for representation. Somriddho said:
"It's absolutely amazing how brands such as Milner Men's are including androgynous models in their runway.
"I think representation and inclusivity are very important in the industry at the moment because beauty comes in different forms and people need to know that.
"I had an amazing experience working with them and I hope to inspire more androgynous people like me to feel confident enough to model."
Maz Deen of Milner's Men & Little Gents spoke exclusively to DESIblitz about his collection. He said:
"For the men's collection, we did sixteen pieces and six pieces for the little gents' collection."
Speaking about working with a gender-fluid model, Maz said:
"We are the first designers to work with a gender-fluid model. He wore one of our brocade suits with PVC trousers. It was the first time he walked on a runway for a British brand.
"We celebrated diversity and unity. Fashion is all about everybody, being inclusive so he was over the moon to walk for a British company in the city of London."
He continued to mention the details of Lamissah's outfit on the night. He said:
"Lamissah wore a red tweed three-piece with a brown cheque and the whole thing was tailored and slim-fitted with cropped trousers and a bow-tie, a lovely shirt, white boots and pocket chains.
"It was designed in England and made in Europe."
Maz went on to speak about Gabriel's outfit for the House of iKons' runway. He said:
"He wore one of our navy suits, a three-piece with a white t-shirt and a hanky with black shoes. It was different using a lot of detail with denim, hand stitching."  
iKonic Message
Audiences gathered once again for the children's show on Sunday, February 16, 2020, at the Millennium Gloucester Hotel, London.
Undoubtedly, audiences left the venue feeling inspired, re-energised and enlightened by each designers' enticing collection.
Pushing for diversity and acceptance in all walks of life, regardless of gender, age, height and ethnic background Savita Kaye successfully portrayed this message. She said:
"This was the most humbling experience walking with these beautiful strong models.
"We will continue to push the boundaries and highlight fashion is for everyone."
This season's show was also a part of a USA reality TV show called the Rising Fashion Show (2020) which will be showcased on Amazon Prime.
This House of ikons show February 2020 will be the grand season 2 opening. Not only that, but the reality show will return to London for the House of iKons September 2020 show.
Watch the Highlights of House of iKons February 2020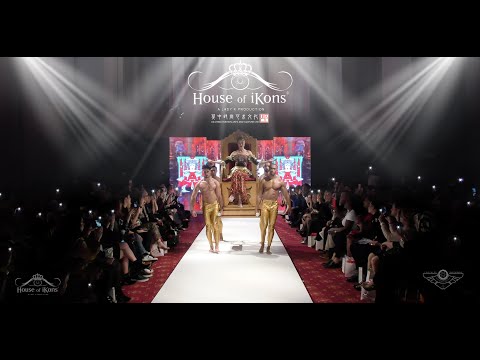 The beauty of the House of iKons is the determination to prove that fashion is all-inclusive and can become anyone's muse. Savita says:
"We will continue to showcase our iKons and shake the pillars of the fashion industry. These are the innovative voices of fashion!"
Preparations for the House of iKons September 2020 show has started. Be sure to note down the September 2020 dates in your diary.