"Coming all the way to the UK showcasing is always an amazing experience."
Ethnic glamour hit London with a vibrancy of colour and couture at Pakistan Fashion Week (PFW) 6. Entitled 'Weddings of Asia', the 3-day event saw 26 designers from South Asian welcomed with open arms into extraordinarily beautiful Russell Hotel.
As official media partners, DESIblitz were there to get all the highlights from the three days.
Since its inaugural show several years ago, PFW has rapidly become a household name and British Asians eagerly flaunt its shows twice a year.
Moving away from the usual pret and ready-to-wear designs of previous shows, Adnan Ansari the creative genius behind PFW wanted to give a bridal celebration feel to Pakistan Fashion Week 6.
In an exclusive Gupshup with DESIblitz, Adnan tells us: "This time we came up with a different theme. It's wedding season in South Asia, so we thought, okay let's give it a different name, a different style and concept.
"So you will see designers from different parts of South Asia participating. and you will see the different style of festivities, of the wedding, of ceremonies, music – it's the whole package of South Asia. This time we had more than 50 designers contact us and we chose the best 30 designers."
Adnan mentions that one of the key features that ran across each day was the element of fusion – bringing ethnic clothing to a Western audience. He mentioned that the majority of his designers were keen to showcase the best of fusion fashion within their collections; and they certainly delivered!
A common feature of PFW is the designers exhibition off-stage which is open to all. Following the show, guests were able to view able to see the stunning garments for themselves and even chat to the designers about them. Guests were happy that they could talk in detail on design, and the production of garments.
Popular designer Rizwan Ahmed who has made a name for himself with his unique flair for style created a stir at PFW 6. He was a last minute addition to the show and only finalised his collection 3 weeks prior.
Rizwan explains: "This collection and theme is purity. Main influence and who I have dedicated this collection to is my mother. She couldn't be here today as she is in Pakistan, but the live and purity of a mother no one can beat."
A dedication to his mother, the stunning collection was intricately produced and guests were mesmerised as white and crystal graced the catwalk.
After the show, Ahmed gushed: "It was an amazing, amazing experience. Coming all the way to the UK showcasing is always an amazing experience. Every time we get such a good response, so much love, we try to put it into the next collection and we come up with the energy to come here and represent Pakistan with all the love and affection."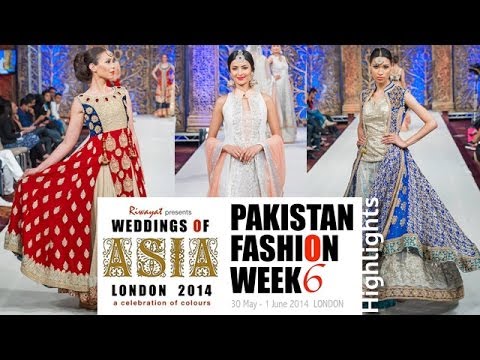 Young designer, Zeshan Bariwala, wowed audiences with his dyed collection of black, brown and cream dresses filled top to bottom with sparkling sequins and heavy black thread detail. He followed these with colourful array of vibrant dresses in peach, blue and purple all with cut-out backs adding an extra ounce of elegance. Speaking to us about his collection, Zeshan said:
"Well this time I used proper traditional colours with a very modern touch. Because now brides all want something with a very western style but a very traditional touch. So the same thing I applied to my collection. I had all colours, and I especially worked on the red and blue a lot which is very in these days."
Zainab Chottani opened with a delicate array of ivory and white encrusted gowns with peach borders and highlights. Her menswear saw sophisticated sherwani's of stone colour and bronze embroidery around the collar and shoulders. She followed this with a series of dresses with multi-coloured layers and contrasting borders.
Zaheer Abbas saw red, gold and cream. He also experimented with high kameez's, flared trousers and layered ghararas. Tayba Khan added an air of extravagance to her show.
Taking Mughal inspired royal couture, her outfits were richly embellished with meshwork and gold detailing. Contrasting net dupattas in blue and purple added vibrancy to the ivory dress.
VAVCI showcased elegant menswear from a range of sherwani's, deep blue kurtas with orange structured waistcoats and Nehru collars.
One of the most popular shows was by Rana Noman who experimented with seasonal hues. His Autumn inspired collection saw burnt orange and deep maroons matched with bright blue.
From India, Ayesha Aejaz took traditional orange as her base colour and teamed it with a modern twist, with high shalwars, high necklines and gold and bronzed embroidery.
Plans for Pakistan Fashion Week 7 are already under way for November 2014. We asked Adnan what audiences could expect, and he told us:
"We will showcasing a range if couture, Pret Wear as well as bridal. Something for everyone for all age groups and styles. Not just Asian. But we will be opening the doors for all designers worldwide to come and exhibit at Pakistan Fashion Week 7. With the international coverage and recognition received we also want to reflect this on our catwalk."
DESIblitz will continue to follow the phenomenal success of Pakistan Fashion Week and we look forward to the potential international designers who may be gracing the catwalk this November 2014.