"We try really hard to make our patients comfortable and talk."
In today's world, South Asian women strive to get the perfect body. And with various surgical and non-surgical procedures available, women can now obtain 'designer vaginas'.
The term refers to procedures that help improve the vagina. But, the cause for such procedures is not always down to vanity. Some women may have health issues, such as infections and hormonal problems, that can seriously affect their sex life.
Many Desi women can often feel embarrassed if they have problems concerning their vagina. They fear of telling others and so brush the issue to one side. But this can create further problems down the line.
There are others who feel that they do not like the look of their vagina, how it feels and desperately want to change it. This is all possible now with 'Designer Vaginas'.
To help women with these kinds of problems, Dr Sejal Desai opened up a clinic in Sarla Hospital and ICU, located in Mumbai, in India. The Chief Gynaecologist offers a range of procedures, from ThermiVa to Clitoral Un-Hooding.
In an exclusive interview with DESIblitz, she talks more about 'designer vaginas' and helping patients develop a better sex life.
Tell us about the most common issues women come to see you about?
The commonest issues are related to vaginal infections, pregnancies, hormonal problems. However, nearly all patients talk to me about their intimate sex life.
In a conservative society where sex is a taboo, and even gynecs say that: "Our patients don't talk to us about urinary leakage, let alone sex-related issues", I thankfully don't face that problem. We try really hard to make our patients comfortable and talk.
Our cabin is calming and casual, we have put up posters encouraging patients to ask questions on their sex life, the history questionnaire is also elaborate, and having a non-judgmental friendly ear definitely helps.
What are Designer Vaginas?
'Designer Vaginas' is a term catered to a combination of the various procedures according to the patient's desires, and needs, which is tailor-made to suit the patient.
The surgical procedures most commonly performed are Vaginal Rejuvenation and LabiaMinoraplasty. The commonest non-surgical ones being G Peel, Energy sources like radiofrequency, lasers for vaginal rejuvenation, urinary incontinence, etc
The other procedures are Hymenoplasty, Clitoral Un-Hooding, Labia Majoraplasty, G Spot Enhancement, etc
Why are  Designer Vaginas in demand?
The demand for  'Designer Vaginas' (Aesthetic Vaginal Procedures) has increased slowly but steadily over the years as both women and men have become more aware of genital appearance.
Also, Female Sexual Dysfunction and Incontinence are more spoken about today, spreading awareness and making people approach doctors more and more for their problems.
It may also be attributed partly to the proliferation of sexually explicit material in digital print formats as well as due to increasing prevalence of genital hair removal.
This has prompted doctors to devise and perfect surgical and non-surgical procedures to improve the genital appearance and functionality. This has further contributed to the increasing demand for improving the aesthetic appearance and functionality of the female genitalia.
Also, a lot of importance is given to a "healthy lifestyle". Correct diet, exercise, and sleep habits are always given their due importance, and people are going all out to make sure that they live up to being healthy.
"A very important aspect of a "healthy lifestyle" is sexual intimacy."
Many studies show that couples who are happily intimate till longer ages have lesser chances of hypertension, cardiac problems, diabetes, depression, and maybe even Alzheimer's. However, these issues are largely ignored by patients and physicians.
Hence, the demand for such procedures like 'Designer Vaginas', though on an uptake, is on a very slow rise.
What is Labiaplasty, Hymen Repair and G-Peel?
LabiaPlasty is of two types, LabiaMinoraplasty and LabiaMajoraplasty.
LabiaMinoraplasty, where the inner lips are refashioned [one of the commonest surgical procedures done]. A lot of patients who come, request for a 'Barbie Doll Labiaplasty' – where women desire a smooth genital surface done by the surgical trimming of the inner lips of the vulva.
LabiaMajoraplasty, which can be fashioned surgically for excess skin folds and wrinkles, or filled to restore volume by fat or fillers, or majora can be treated non-surgically too by radiofrequency devices for the folds and wrinkles.
Hymen Repair is to reconstruct the hymen when the patient desires to bleed during the intercourse. Usually, women do it for religious purposes, as it is very important for them to bleed during their wedding night. However, a few even do it as a "gift" for their partners on their milestone dates like birthdays, anniversaries, etc.
A lot of patients feel that their vulva and inner thigh region is discoloured, and of course texture. G Peel is a non-surgical procedure where a series of peels are done for the patient, to make the area of the vulva and inner thighs come closer to the rest of their skin in terms of texture, and colour.
What is ThermiVa and who can benefit from this? What is involved?
ThermiVa is a Transcutaneous Temperature Controlled Radiofrequency [TTCRF] Device.
It has what we call a disposable "magic wand" which delivers the radio frequency to the desired areas.
It is a painless lunch-time procedure, and we usually advocate 3 sittings, 3 to 4 weeks apart. The age group ranges from 18-80 years.
The patients who benefit are those who feel they have a loose vagina, decreased lubrication, orgasmic dysfunction, lack of libido, mild to moderate urinary leakage, early prolapse, and folds, wrinkles, and sagging of the vulva.
Here is a video with Dr Sejal Desai on a panel candidly talking about examples of vaginal procedures she has done for girls and women: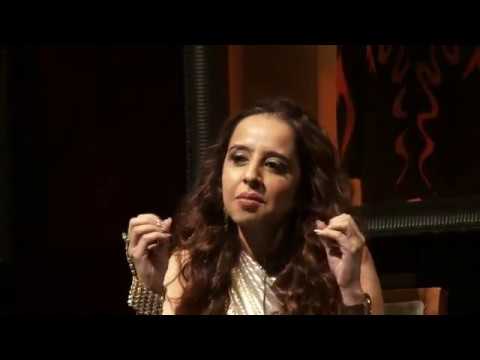 Do you have visitors from the UK coming to see you for procedures?
Yes, we do have occasional visitors from the UK who do enquire and come down.
All types of procedures we provide are requested, along with "botox" for vaginismus [a condition where severe pain and fear do not let the couple consummate marriage].
The treatment works really well, and in our little series, all our patients have been able to achieve intercourse in a short while [a week to a month].
What kind of age groups come to see you?
When girls come earlier than 18 years, [youngest I have seen is 13 years of age for large labia minora] we ask them to wait and reassess their thoughts after they turn 18 years, and then only do we take it forward.
The oldest patient for whom we are doing TTCRF is 80 years. So, it's really anything from 18-80 years. However, the majority come to us between the ages 30-45 years.
Do women have these procedures because they want them or are coerced by male partners?
Usually, it is the women themselves, especially the ones coming forward for procedures like Labiaplasty, G Peel, Hymen Reconstruction, etc.
But patient's coming forward for a vaginal rejuvenation do say that both, her partner and she feel less friction and a loose vagina during intercourse.
In case it is only the partner and not the patient who desires a particular procedure, extensive detailed counselling is done to discourage the patient from the procedure.
What is a Mummy Tuck?
"Mummy Tuck" is a procedure done during a caesarian section, when the patient is not desirous of more children.
The fact that it is not an abdominoplasty or tummy tuck where liposuction or muscle tightening is done it emphasised. It only takes care of the loose, overhanging abdomen.
The biggest advantage is that it is done during the same anaesthesia, antibiotics, pain killers and recovery phase, and hence some women readily demand it and are very happy with the results too.
What are the most common reactions post surgery?
I think the most dramatic responses have been from the young patients who have suddenly become dry after being tired of wearing pads under track pants for exercising. One of these girls nearly fell at my feet at a public place to say this had changed her life.
Also, lots of thanks and blessings have come in from couples who were finally able to consummate their marriage and conceive after using botox on them.
The women post labiaplasty initially always have a slightly mixed reaction, but later are very happy with the results and say that it really ups their confidence levels.
A lot of couples post-rejuvenation feel that their marriage has actually been 'saved', and the love regained, after the procedure.
As a doctor, it is a very satisfying experience.
Have provided treatments for celebrities?
Yes, we have provided support for the celebrities too, however, they totally shy away from this topic.
I remember when one of the girls was visiting Paris, and she called me from there saying that the cost of laser rejuvenation there was nearly 5-10 times the charges here, so she booked the procedure on her way back to Mumbai, and then flew onwards.
What are typical costs for these procedures?
The costs vary from Rs.3000 INR (approx. £37) to more than Rs.100000 INR (approx. £1225), depending on the requirement.
What would you say to women who have a dilemma or worry about their genitalia?
I think it is very important for them to consult a doctor. So many times, the thinking may be totally misguided.
For example, a person asking for a Labiaminoraplasty should not be thinking it would improve looseness and orgasms.
Clitoral hood reduction is done for the aesthetic look, whereas clitoral hoodoplasty or un-hooding is for better stimulation and clitoral orgasms.
"So many times the worry is unfounded and implanted by someone else. A clear cobweb removing session to discuss the dilemmas and their correct solutions is absolutely essential."
Dr Sejal Desai is naturally helping women to improve their confidence and their sex lives by providing the support, treatments and care her practice provides.
Her experience and practice are definitely getting known for this specific specialist area of plastic surgery, nationally and internationally. She offers a comprehensive list of both surgical and non-surgical procedures.
Therefore, Desi women can select the treatment they desire and have the assurance that they are dealing with a professional leading in her field.
While many may still consider 'designer vaginas' as a sign of vanity, Dr Sejal shows how the procedures can perform so much more.
Women get their confidence and comfort back. Their relationship and sex life can improve.
You can find out more about Dr Sejal Desi, on her website.