The expression denotes him looking for someone. Who could it be?
January, the first month of the year, sees the official annual release of the Dabbo Ratnani Calendar 2019 created by the visionary Indian photographer Dabboo Ratnani.
Every year his calendar features new and old stars from Bollywood giving their poses to support his creativity for the photo shoot for his calendar.
The 20th edition of the calendar showcases top Bollywood stars including legend Amitabh Bachchan, Baadshah Shahrukh Khan and the talented Alia Bhatt, along with many others.
This year marks the debut of Kartik Aaryan of Sonu Ke Titu Ki Sweety (2018) fame and Lust Stories diva Kiara Advani.
Here are the incredible photos from the official Dabbo Ratnani Calendar 2019 and kudos to Dabboo for once again mesmerising us with his talents as a renowned photographer.
Shraddha Kapoor
Shraddha Kapoor has a very Red Indian look but with a pink theme. Her pinkish blusher, nail varnish and feather match her get up, giving this calendar shot a very colourful mood.
The pink colour compliments her skin tone.
Despite her short black top looking daring, Kapoor is beautiful in the image. Many will never have seen Shraddha like this before.
It seems as if Ratnani did want to capture something different with Kapoor.
The intentional blur effect of the background showing a bamboo stick like fence also works nicely.
This photo did attract some criticism on social media due to the headgear worn by Shraddha as being culturally inappropriate, as it stands for war.
Abhishek Bachchan
Abhishek Bachchan is presented in a very modern look but an unusual location in his photo for the 2019 calendar.
Wearing a three-piece chequered light grey suit, Abhishek poses sitting reverse on a chair but in an empty swimming pool.
The look with shades, brown slips on shoes with no socks is very in vogue and chilled at the same time.
There is no worry about water entering this pool, especially when there is a Bachchan in it!
Great shot and creative vision by Dabboo.
Sunny Leone
Daboo Ratnan shoots Sunny Leone, topless and covered in a red leather bomber jacket. To accent her lush curves. she wears high waist black underwear.
Her clothing and hairstyle give Leone a very glamorous and retro look, which could be akin to even a gorgeous biker chick.
Sunny Leone certainly slays the calendar shoot with her exceptional sex appeal.
Sharing the image on her personal Instagram page, she wrote:
"Here it is everyone!! Love my shot in the 2019 #DabbooRatnaniCalendar@dabbooratnani @manishadratnani makeup and hair by @tomasmoucka styled by @hitendrakapopara"
Not camera shy and with a stunning figure, Sunny definitely knows how to appeal to her fans when it comes to her photo shoots.
Shahrukh Khan
Shahrukh Khan is a favourite of Dabbo Ratnani. His shoots of SRK always show him in a very unique and different pose. 2019 is no different.
Bollywood's Badshah is presented holding a black cup to his eye with the use of a black and white filter for the selected shot.
SRK's one eye looks through the handle of the cup while SRK looks rugged and very manly in the photo.
Great use of creativity with a such a big star to pull off an exceptional shot for the calendar.
Aishwarya Rai Bachchan
One of the most beautiful women from Bollywood has appeared on Dabboo's calendars through the years.
In this shot for 2019, Aishwarya Rai Bachchan sits on a wooden box and styled to the brim.
Wearing a lovely purple and black velvet trouser suit and incredible looking shoes, the actress has a mesmerising look straight at you.
Once again Dabboo has used his creative angles to produce a look with Aishwarya which is unique for the 2019 calendar.
Siddharth Malhotra
The usual loveable Siddharth Malhotra is certainly showing the rewards of working out hard with his muscles on display in the photo selected for the calendar.
In a simple grey vest and a pair of glove liners, Malhotra is ready to hit some powerful blows to the black punch bag.
This picture shows his mature serious side as opposed to being just 'Mr Nice Guy.'
His long hair and beard in the picture present a more alpha male look. Perhaps emphasising his comfort with doing action and sporty roles.
Kriti Sanon
Daboo Ratnani takes a sultry snap of Kriti Sanon wearing a leopard swimsuit in swimming pool in a pose as she leans on an edge.
Sanon went on Instagram, sharing the photograph and captioning it:
"Here's my shot for Dabboo Ratnani's 2019 Calendar!!??"
"Well there are some mornings i wake up at 5am looking like that?? "
Even though Kriti has simple make-up, her semi-wet hair oozes sheer sex appeal.
Her eyes allure you into the mesmerising look created for this photo of Kriti for the Dabboo Ratnani 2019 calendar.
Tiger Shroff
Daboo chooses the beach for the photo shoot with the incredibly toned and muscular Tiger Shroff.
Shroff is lying on a sandy beach in blue jeans showing off his body with a rough and gritty effect.
Exhibiting his six-pack, a necklace around the neck and a tattoo on his right-hand shoulder the photograph selected for the calendar exhibits a great pose.
Shroff certainly has risen into his own in Bollywood and this photograph once again shows Dabboo's vision of him.
Kiara Advani
Kiara Advani also features for the first time in the calendar shoot by Daboo Ratnani.
Sitting on a brown leather box, Advani is wearing a lush blue shirt from famous fashion designer Manish Malhotra's collection.
Kiara known for her bold scene in Lust Stories is no novice to when it comes to sprinkling sex appeal in her appearances.
The pose in this image definitely accentuates her bold persona.
where she appears to be only wearing nothing but a shirt. Giving us glimpses of her delightful figure and seductive eyes.
Advani put the image on her official Instagram handle, along with a caption stating:
"Debuts are always special! Thankyou @dabbooratnani and @manishadratnani for having me on the 20th year of the CALENDAR ?"
Hrithik Roshan
Hrithik Roshan, a regular Bollywood star on Dabboo Ratnani's calendars, is captivating in this shot selected for 2019.
Standing behind a fence in a dark grey vest, Hrithik grabs the fence with his hands, Adonis looks, large biceps and his unusual green eyes pierce through it.
The expression shows him seeing something on the other side as being greener than where he is now.
A great sense of photography and addition to the Dabboo Ratnani calendar 2019.
Vidya Balan
The Vidya Balan photograph for the Daboo Ratnani 2019 calendar is seductively noir. It shows a pose of her looking at her reflection in a mirror.
Wearing black lingerie, accompanied by big earrings and an Indo-Caribbean hairstyle with braids, she looks the complete vixen.
Out of the women featured, Vidya still shows she's got what it takes at over 40, to capture our imagination and take us into her world of those dark and sensual eyes.
In a recent interview describing that women are much naughtier and hotter after the age of 40, she said:
"Yeah, naughtier and hotter too after 40."
"Generally, we're taught to be a little coy and not enjoy sex. But the reason they say women get better with age is because you care less and less, it's more about you.
"It's joyous. When you don't care, you have the most amount of fun."
Kartik Aaryan
Kartik Aaryan makes his debut in the annual photo shoot calendar by Daboo Ratnani.
A wise yet wild Kartik lies on his bed with two cute cats. There is an element of mystery behind the shot with his ruffled up hair.
His cheeky smile shows he has a thing for cats. Sharing the image on Instagram, he has an interesting caption to go with it:
"Mujhe Jungli billiyan bohot pasand hai ?? My Debut in Dabboo Ratnani Calendar ??"
Sonakshi Sinha
Daboo Ratnani zooms in with a close-up shot of Sonakshi Sinha for the photo selected of her.
Slipping her glasses down the bridge of her nose, her smiling eyes capture your attention in the photo.
On the left-hand side of the image, there is a white bulb effect, which also reflects in her glasses, giving a very creative feel and vision to the picture.
Her hair by Madhuri Nakale and make-up from Ritesh are simple yet effective.
The shot depicts her character as being fun loving and easy going captured using a close lens by Dabboo.
Akshay Kumar
There is always a black and white filter in some of the shots chosen by Dabbo for his calendar and for 2019, It's one of Akshay Kumar.
'Akki' sits on top of a Mumbai metro train in a cross-legged pose and winking directly at the camera.
Wearing a casual white shirt, trousers and loafers, he looks completely comfortable sitting on top of the train than inside.
Known for his stunts, Dabboo has had no problem getting Akshay to perform this one for him.
Ranbir Kapoor
Ranbir Kapoor looks the complete Bollywood star in this shot selected by Dabbo for the 2019 calendar.
Walking on a disused rail track, topless but wearing a brown leather jacket, showing a hint of his underwear just above his ripped jeans accompanied by his love for trainers, he looks pretty serious.
The expression denotes him looking for someone. Who could it be? We shall never know but the mystery adds nicely to the composition of the photo.
Super outdoor photography, adding yet another dimension to the calendar.
Alia Bhatt
The second of the close-up shots used for the 2019 calendar, Daboo captures our hearts with this shot of Alia Bhatt.
Looking like a doll, Alia is photographed with a hint of smoke appearing on the bottom right of her.
With simple makeup, Alia looks directly into the lens and pulls you in.
Her very innocent and gorgeous pose is a classic for the calendar shoot.
Her hands come up to her cheeks and fingers spread over them as she holds up her head towards you.
A wonderful photo and selection for the calendar.
Varun Dhawan
Varun Dhawan is one of Bollywood's charming celebrities and this photo by Dabboo really personifies his charm.
Turning up with heart balloons, leaning out of an auto in true Bollywood style captures his characteristics really well!
Wearing a smart pattern casual jacket, blue top and jeans with sneakers, the dress-code matches the sentiment.
Another great photo for the 2019 calendar.
Jacqueline Fernandez
Bollywood starlet Jacqueline Fernandez certainly knows how to pose with that country girl look.
Dabboo has definitely utilised the stunner with a very sexy shot of her wearing a white tee, denim cropped shorts and brown boots.
With a rustic and derelict setting of her sitting on the tracks of a digger, the shot for the 2019 calendar embosses her beauty wonderfully.
Most likely the building site came to a standstill for this photo shoot of Jacqueline! A great selection.
John Abraham
With fitness being a major trend in Bollywood, this shot of John Abraham for the Dabboo Ratnani Calendar 2019 is really full of exuberance and depicts this very well.
John is seen topless and showing off his solid physique as he is seen jumping off one building rooftop on to another.
The post of him jumping is perfectly captured by Dabbo for this selection and John's abs and biceps are all in full display as he produces the desired pose of the energetic jump.
This is probably the most action-packed shot in the 2019 shoot.
Janhvi Kapoor
The late Sridevi's daughter, Janhvi Kapoor makes her debut as well on the Dabbo Ratnani Calendar 2019.
Sitting on the seat of a vintage car in a sideways pose, Janhvi looks gorgeous in a lovely long silver sequined dress, showing off her wonderful legs, finished with silver heels.
Her thoughtful look does attract you to the photo, which is yet another distinct creative shot by Dabboo for the calendar.
Amitabh Bachchan
Daboo Ratnani captures the evergreen Amitabh Bachchan in a classic tweed jacket, along with a trendy white shirt, black trousers and shoes.
The image shows the Big B in a very semi-casual look, standing in a front of a red British telephone booth.
This mix of west and east shows the versatility of a legendary actor like Amitabh who has been in Bollywood for decades.
His smile in the picture selected for the calendar shows he never tires of accommodating what is required of him, photo shoot or film, he will give it his best.
Watch Daboo Ratnani Calendar 2019 Teaser here: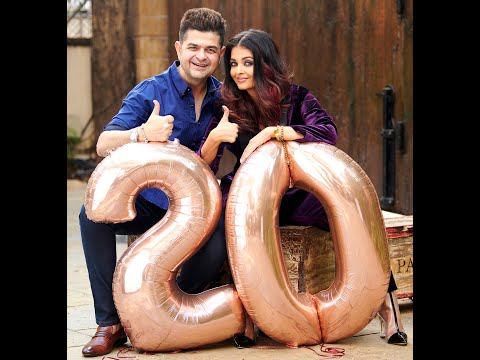 The Daboot Ratnani Calendar 2019 is once again showing it is a major success with yet another collection of visually creative and stunning captures of Bollywood stars by the famous photographer.
Other stars featured included Aishwarya Rai, Jacqueline Fernandez and Anushka Sharma.
So, here's to next year, where we are sure we will see much more of Dabboo Ratnani's wizardry behind the camera lens.