Kolkata style chicken biryani is spiced with nutmeg and rose water
Chicken biryani. It has been a guilty pleasure of our ancestors and now, ours.
You can always find this delectable dish at weddings or at the centre of luxury dinner parties.
We could never imagine a world without biryani. A plateful of goodness available in many non-Desi regions as well, so that wherever you may be; you can have a sneaky helping of chicken biryani.
Ever wondered about the many different ways of cooking chicken biryani? DESIblitz has found 5 mouth-watering chicken biryani recipes from across India. Each cooked to perfection with their own unique twists of herbs and spices.
Hyderabadi Chicken Biryani
It is said that Hyderabadi biryani was inspired by royalty.
This evenly spiced biryani is cooked in marinated pieces of chicken and basmati rice. Made fragrant with saffron, mint leaves and bay leaves.
It is a simple three-part recipe which takes an hour to cook and great for even the most important of dinner parties.
No need to worry about calories, a meal for four people has just 240 calories.
This recipe is adapted from Rehana Khambaty.
Ingredients:
1kg Chicken pieces
1/2 kg Basmati rice
360ml water
1 tsp Ginger paste
1 tsp Garlic paste
3 Large finely chopped onions
3 Chopped green chillies
24g Chopped fresh mint leaves
24g Chopped fresh coriander leaves
1 tsp Red chilli powder
10 strands of Saffron
120ml Milk
500g Yoghurt
2-3 tbsp Lemon juice
7 Cloves
2 Bay leaves
5 Green Cardamom
1 inch Cinnamon stick
2 tbsp Ghee
Oil
Ingredient for Paste:
7 Cloves
4 Cardamoms
1/2 inch Cinnamon Stick
1/2 tsp Whole pepper
Method:
Soak the saffron in milk and then set aside.
Start by frying onions in oil until golden brown in colour. Leave to cool, and then grind coarsely.
Rub ginger and garlic paste all over the chicken.
 Add red chilli powder, salt, half of the mint and coriander, lemon juice, green chillies, ground spices, crushed onions, yoghurt and mix in the oil used to fry the onions.
Marinate for 2 hours.
In a deep cooking pan, cook the marinated chicken on a medium heat until tender and while the liquid is not fully dried.
Boil 1 and a 1/2 glasses of water.
Add the whole cloves, bay leaves, cardamoms and cinnamon to the water.
Add salt to taste and the rice.
Parboil the rice.
 In a separate pan, apply ghee on the bottom, and place half the rice in a layer.
Cover the layer with the cooked chicken, and cover the chicken with the rest of the rice.
Sprinkle the rice with saffron milk along with mint and coriander.
Pour ghee all over.
Seal the pan tightly and cook over a slow fire until the rice is fully cooked.
To accompany this extravagant chicken biryani, you can try a side of salad. A combination of cherry tomatoes, cucumbers, onions and roasted garlic.
If you serve it few hours after cooking, leave it on a low heat for 5-10 minutes so that it'll be nice and hot but also, the aroma of the spices will hypnotise your guests.
Chettinad Chicken Biryani
This Chettinad Chicken Biryani recipe uses a local rice from South India known as seeraga samba rice.
Seeraga rice is slightly brown in colour and a must for this regional speciality. Often used locally in the best of South Indian cuisine.
Not to mention its added hint of Marathi moggu (kapok seeds) and kadal pasi (china grass).
This will make the flavour more intense and delicious.
This recipe is adapted from Hungry Forever.
Ingredients:
1/2 kg Rice
1/2 kg Chicken with bones
1/2 bunch Coriander
1 bunch Mint leaves
4 Green chillies
250g chopped Onion
250g chopped Tomato
50g Ginger garlic paste
125g (1/2 cup) Curd
2 tbsp Oil
2 Cardamom
1/2 tsp Kadal pasi
2 Cinnamon Stick
2 Clove
2 Marathi moggu
2 Star anise
2 tsp Red Chili Powder
1/2 tsp Turmeric powder
4 tsp Coriander powder
Salt to taste
Method:
In a hot pan add 2 tbsp of oil along with cinnamon, cloves, Marathi moggu, star anise, cardamom, and star anise. You can also grind these ingredients together beforehand to make garam masala.
Add chopped onion and fry until it turns a brown colour. Add the ginger and garlic paste and fry. Then add tomato and sauté well.
Add turmeric, chilli powder, coriander powder with a little water and cook, until combined.
 Add coriander and mint leaves and sauté well.
Then add chicken with a little salt and fry until the chicken colour changes.
Once it is half cooked, slit the chillies and mix in.
Finally, add washed rice and mix well. For every 1 cup rice add 1 and 1/2 cups of water.
Seal the lid and let it cook.
Once the rice is 3/4th done, add curd and mix well. You can dum cook the biryani by covering the vessel with a thick kitchen towel (place the kitchen towel over the vessel and place lid on tight).
Reduce the heat to medium and remove the pan.
In a separate pan, heat water on the stove.
Once heated, place the biryani pan onto the water bath and let it cook for 40 minutes on a low heat.
You will smell a nice aroma after 30 -35 minutes. This means the biryani is ready.
You can serve this with a fresh homemade raita.
Simply mix plain yoghurt with mint sauce. Add 1/2 tsp of salt and sugar and chopped pieces of cucumber.
Kolkata Style Chicken Biryani
For a spicy but tangy biryani, look no further than a West Bengal cuisine.
This Kolkata style chicken biryani is spiced with nutmeg and rose water, this recipe is a wonderful treat for those special occasions and celebrations.
With a nice blend of spices dry roasted before cooking and gently marinated pieces of chicken, with each dish layered to complete a Bengal worthy biryani.
This recipe is adapted from Monika Manchanda.
Ingredients:
500 g Boneless pieces of chicken
555g (3 cups) Basmati rice
4 Potatoes
250g Yoghurt
1 tsp Red chilli powder
1 tsp Turmeric powder
2 Finely chopped onions
1 inch Ginger
8 Garlic pods
2 Black cardamom
5 Green chillies
1 Bay leaf
2 Cardamom pods
2 inches Cinnamon stick
5 Cloves
8-10 Black peppercorn
1 tbsp Rosewater
Salt to taste
1 tbsp Ghee
Method:
Marinate the chicken with yoghurt, red chilli powder, turmeric and salt for at least 1 hour.
Partially cook the rice along with black cardamom and bay leaves.
Drain the water and keep the rice aside for later.
Dry roast the peppercorns, cloves, green cardamom and cinnamon for 30 seconds. Let them cool and then grind it into a fine powder.
Heat 2 tbsp of ghee in a deep pan. Add chopped onions and sauté until soft and lightly browned.
Mash the ginger, garlic, and green chillies together using a mortar and pestle.
Add the ginger, garlic and chilli paste to the onions once they are lightly browned. Sauté for 2-3 minutes.
Add 2 tsp of ground spices and cook for another minute.
Add marinated chicken and mix well. Cover and cook for 10-12 minutes on a low flame. Add a little water if required.
Chop the potatoes into four pieces and fry until crisp.
Grease another pot with ghee. Spread one layer of rice and top it with a layer of chicken gravy and 2 potatoes.
Repeat this three times ending with a layer of rice. Heat the rest of the ghee and pour it on the top layer.
Seal the mouth of the pot with wheat flour dough.
Cook this on low heat for 10 to 15 minutes and let it stand for another 30 minutes before opening.
Serve hot with lemon slices and spicy egg curry.
Lucknowi Chicken Biryani
We've all heard of the famous chicken biryani from the city of Lucknow. This exquisite recipe is extremely creamy with its mixture of fresh coconut, yoghurt and poppy seeds. This a recipe fit every occasion.
While a complex dish at heart, this simple step by step guide allows you to cook Lucknowi biryani in a flash and get a taste of true Indian cuisine.
This recipe is adapted from Shaheen Ali.
Ingredients:
500g Basmati rice
1/2kg Chicken, cut into medium pieces
4 Onions
3 tbsp Ginger garlic paste
5 Green Chillies, slit
10g Mint Leaves
5g Poppy seeds/khus-khus
10g Fresh coconut, grated
1 tbsp Fresh cream
190g Hung Yogurt/Curd
2 tbsp Coriander Powder
3/4 tbsp Red chilli powder
1/2 tsp Turmeric powder
Salt to taste
Cooking oil
Ghee
1 Lemon
Saffron strands
1 tbsp Milk
1 tbsp Rosewater
2 Onions, sautéed
Whole Spice Ingredients:
2 Bay leaves
1 Cinnamon stick
4 Cloves
4 Whole black peppercorns
2 Cardamom pods
1 Star anise
2 Black cardamom
1/2 tsp Nutmeg powder
1/2 tsp Mace
1/2 tsp Shahi jeera
Method:
Soak the rice for at least 2 hours before cooking.
Marinate chicken pieces with yoghurt, lemon juice, red chilli powder, turmeric, coriander powder and salt. Leave for 45 minutes before cooking.
In a big pan heat oil and add all the whole spices.
Add chopped onions and fry until soft. Add the ginger garlic paste and fry until golden in colour.
Add the green chillies and mint leaves with coriander and fry well.
Pour in the marinated chicken along with the leftover marinade and stir.
Keep the heat on high. Fry the mixture until the excess water evaporates.
Add grounded coconut, khus-khus paste (soaked khus-khus grounded into a paste) and fresh cream. Mix properly to combine.
Place on a low heat. Once the chicken is fully cooked, turn off the gas and keep the yakhni aside.
In a large pan, heat water for the rice and add 1 teaspoon lemon juice and some oil.
 Once hot, add rice and cook on a high heat. Add salt to the rice and let it cook until three-quarters done.
 Drain water and pass the rice through a colander. Spread on a large tray.
Heat a flat iron tawa on gas and place a large pan on it
Add curd to the base of the pot to stop the chicken from sticking.
Layer the chicken mix (yakhni) equally on the base and spread a spoonful of ghee.
Add rice on top and sprinkle with ghee, saffron soaked milk, mint, coriander, lemon juice, rose water and some nuts if you wish.
Seal the handi with aluminium foil and seal the lid.
 Allow the biryani to be on dum for around 30 minutes.
Remove the foil from one side and mix the biryani carefully.
Serve piping hot, to enhance flavours further you can serve this dish with an onion raita or a lacha onion salad. As well as making complimentary lassi to accompany this stunning biryani.
Assamese Style Chicken Biryani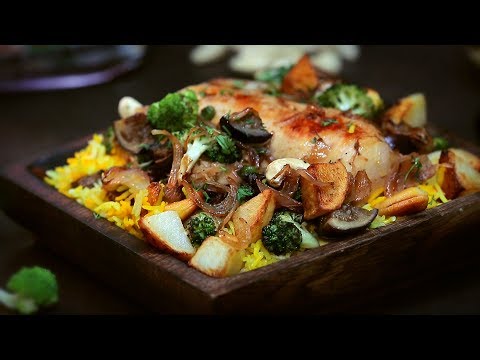 The region of Assam is located in the northeast of India and traditional cuisine involves different meats, fish and various exotic herbs and vegetables.
Assamese style biryani carries a balance of chicken and nutritious vegetables. This recipe uses eggplant and broccoli which are high in fibre and carry vital vitamins. It is also a much simpler recipe and requires fewer ingredients than most biryanis; this will great for a relaxing weekend or for those last-minute guests.
This recipe is adapted from Ananya Banerjee.
Ingredients:
370g (2 cups) Rice
4 Chicken breasts
100g Green peas
1/2 tsp Turmeric powder
6-8 Green cardamom pods
15-20 Whole cashews
4 Black cardamom
10-15 Garlic cloves
4 inch Ginger piece
1 bunch Green coriander
1 Large onion
4-5 small Eggplants
1 Small broccoli head
4 Potatoes
1 Parboiled onion large, sliced lengthwise
Oil
Method:
Cook the rice and set aside.
In a pan, heat oil and add cardamoms and cashews. Add 3/4 of the cooked rice and stir.
In another pan heat oil and add 4 whole cloves. Add the rest of the cooked rice and add turmeric powder and salt.
Mix the two and divide into two portions.
Cut Eggplant and broccoli into bite-sized portions.
Heat oil and fry onion slices, cloves, chopped coriander, 1/2 ginger paste, 1/2 of garlic paste, 1/2 of cardamom powder and fry.
Add the eggplant and broccoli. Stir and cover until done, then remove from heat.
Fry the potatoes in oil and add to the above mixture and stir carefully. Cover for a minute or so on a low flame.
Take a chicken with skin and burn the skin over the flame on all sides.
Cut the chicken into 2-inch pieces.
Cat the chicken with ginger paste, garlic paste and cardamom powder.
Heat oil and add onion with chopped coriander and fry.
Add coated chicken, cloves, salt and cook chicken until done. Add the peas.
Add the vegetables and rice. Slow-cook the biryani for 2 to 3 minutes.
Serve with coriander yoghurt or with a helping of lamb curry. This will make the dish ever so luscious.
These are our selection of five chicken biryani recipes from some of the most popular regions of India.
We hope these breathtakingly scrumptious dishes have given you a few favourites to add to your recipe list.
So, which biryani will you be making first?