flight attendants tried to calm Shazia down
A British Pakistani woman, who was alleged to be mentally challenged, created a ruckus during a PIA flight to Islamabad.
She had boarded the flight from Manchester on Sunday, October 20, 2019, when she began acting strangely. The woman was identified as Shazia.
According to a PIA spokesperson, Shazia acted erratically during the flight, causing disturbance to other passengers.
This prompted some members of the in-flight staff walking to where she was sitting in an attempt to calm her down.
Staff members spoke to her as she sat, arms folded and legs shaking.
While flight attendants tried to calm Shazia down, they struggled.
Other passengers watched the incident unfold as the flight continued.
They then decided to call a doctor to speak to the British Pakistani woman. After talking to her, the doctor gave her an injection in order to calm her down.
Flight staff held her and tried to get her relaxed as the injection was administered. Shazia briefly protested but allowed the doctor to give her the injection.
The injection calmed Shazia down, however, the matter was not over.
A senior PIA employee has filed a complaint against Manchester Airport staff members for issuing a boarding pass to the woman.
The employee went on to say that Manchester Airport staff knew about Shazia's mental illness but still gave her a boarding pass.
This is not the first time that PIA has been in the headlines.
Watch the Matter with the British Pakistani woman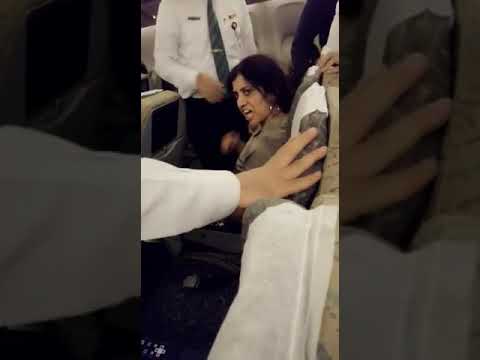 In September 2019, three flight attendants were grounded for sharing "indecent videos" of themselves.
They had made several short clips on the popular social media app TikTok.
In the videos, two female and a male member of staff can be seen singing and bobbing their heads.
While the clips seemed harmless, the Pakistani airline decided to ground them on the basis that they were "indecent". A spokesperson confirmed the news.
The airline stated that staff members are not allowed to do such things while in uniform and on duty.
Mashood Tajwar, the spokesperson for PIA, said:
"Yes, it is true, we have grounded three staffers along with giving them a warning for posting indecent videos which go against our cultural values."
Mr Tajwar went on to explain that PIA flight staff members must not engage in behaviour that will tarnish the airline's image and reputation.
He added: "Look at the kind of music and gestures they were making. We don't want the faces of our airline acting inappropriately."
The airline issued a notice to staff warning them of the consequences should they post such videos on social media.