"Dr. Cabbie is the story of an Indian immigrant and it has an inherent universal appeal."
Big Bang Theory's stargazing super-nerd, Kunal Nayyar plays a taxi driver turned Punjabi-rapper in upcoming English flick, Dr. Cabbie.
The comedy, directed by Canada's Jean-Francois Pouliot is co-produced by Bollywood superstar Salman Khan.
Nayyar is joined by a talented ensemble including, Adrianne Palicki (G.I. Joe: Retaliation), and upcoming actor Vinay Virmani (Breakaway).
Virmani, who plays the titular cabbie, Deepak also co-wrote the movie with Manu Chopra and Ron Kennell.
Fans of Nayyar can also expect a cameo from no other than his BFF, Superwoman herself, Lilly Singh.
The movie follows a young, unemployed Indian doctor who emigrates to Canada to further his profession and to seek opportunities in a new land.
Setbacks and rejections lead to the young doctor becoming a taxi driver (cabbie) where he becomes a local hero when he converts his taxi into an on-the-go clinic.
On his journey of a doctor turned cabbie, he discovers his new purpose and embarks upon a new true love.
Kunal plays an over-sexed cab driver, Tony, who befriends Vinay. Speaking about his role, Kunal says: "It couldn't be more different from 'Raj'.
"It's a lot of fun and very liberating to play a character like that who has no filter. I could hit on women on set, just to be in character. I could get away with a lot of stuff and that's always a lot of fun."
Nayyar's love interest 'Simone', is played by Isabelle Kaif, sister of Bollywood star Katrina Kaif. The young beauty is following the footsteps of her older sister and beginning her acting career under Salman Khan's watchful eye.
Speaking about shooting for the film, Isabelle said: "I was a little nervous coming on set. I'm not going to lie. But everyone was just so sweet, so nice, and showed me the ropes. We all got along amazingly."
Isabelle added that supportive Katrina had also given her some great advice:
"It's just really hard work. You go to school and you think it's so artistic and you're going to work on your craft. You get into the real world and it's hard work and perseverance."
Director Jean-Francois Poulliot comments on the story as well as the cast, saying:
"Dr. Cabbie is a timeless story that audiences will identify with, blending social issues and the journey of finding one's place in the world. We are thrilled to have such a talented cast who will tell this humorous and heartwarming story."
Co-writer and star, Vinay Virmani was happy with the production: "From what I wrote to how it's looking today, the film is a hundred times bigger and better and more beautiful than I could have ever imagined.
"We've been able to put together a very international cast: Kunal Nayyar from Big Bang Theory, Adrianne Palicki, who's just such an amazing actress, a couple of actors from India." said Virmani.
Virmani explains Nayyar's character in contrast to his own: "He's the first friend that I make in Canada. He's nothing like my character Deepak. He's crass, he's loud, he's great with women, and I'm terrible with women in the film. But he teaches me how to loosen up."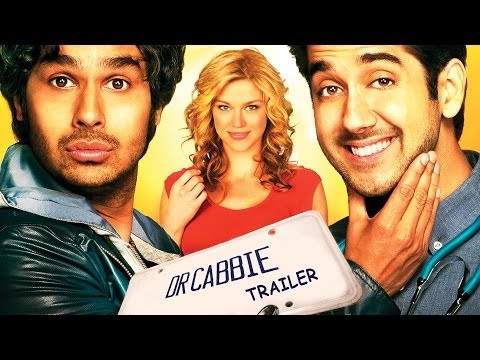 Bollywood superstar, Salman Khan produced the film under his Being Human banner. He admits that he loves the story line and the comedy: "Dr. Cabbie is the story of an Indian immigrant and it has an inherent universal appeal."
"It's a fun film, it's a comedy. It's a love story, it's a beautiful love story, it's got an incredible plot and it's got a lot of sincerity, it's got a good message. I just thought it was a perfect combination for us to be a part of this movie, and to make this movie."
"He's incredible Vinay, in fact I was also telling him that he should try Hindi movies now. He would do really well there too. He's sincere, he's really charming and he's a really good actor. He's got it all to make it as an Indian actor," Salman insists.
Speaking about Kunal, Salman says: "This dude's on a different level of humour. He's big and loud, and a lot of fun."
Dr. Cabbie has already received a lot of support, including from the likes of Air Canada where the trailer is available to watch on flights. Well known Canadian rapper, Drake was also seen promoting Dr. Cabbie at the OVO Fest in Toronto.
Excitement for the comedy is building in Canada and abroad: "Shooting in Toronto has been amazing," Virmani said.
"People are so supportive of film, and every time they see our Dr. Cabbie cab now, which is so outstanding, they cheer for it, and people take pictures of it."
Dr. Cabbie will release from 19th September.