"The film is a laughter riot which can be enjoyed with the entire family."
Singh is King (2008) actor, Akshay Kumar, has turned full Punjabi, co-producing the much awaited Bhaji in Problem along with Ashvini Yardi. The movie hit cinemas on November 15, 2013 bringing laughter, silliness and light humour back on the big screen.
The movie is directed by Smeep Kang and has Gippy Grewal as the main lead. It also features some well-known actors like Om Puri, B. N. Sharma, Rana Jung Bahadur, Rana Ranbir and Gurpreet Ghuggi who have boosted the movie with their brilliant comic timing and strong acting skills.
In the past, Gippy has been seen in movies like Carry on Jatta (2012) and Lucky Di Unlucky Story (2013). In Bhaji in Problem, he plays the character of Jeet, who is in love with Preet (played by Ragini Khanna). However, Ragini's brother Sundeep disapproves of Jeet.
Unlike the typical storyline where there is a struggle with the perfectly cultured heroine's brother, we instead have an equally naughty brother in the form of Sundeep Cheema (played by Gurpreet Ghuggi) who is leading a double life.
Cheema is a bigamist who is married to two different women; Anu (played by Misha Bajwa) and Jasmeet (played by Khushboo Grewal). His wives are completely unaware of the other women's existence in their husband's life.
Sundeep is aware of Jeeta's dishevelled and criminal past, and Jeeta is no stranger to Sundeep's bigamy.
What follows is a series of silly but funny sequences where Jeeta attempts to gain Sundeep's affection and approval. Their battle of wits almost resembles a classic cat and mouse chase with both trying to outsmart each other.
Speaking about the movie, Grewal explains: "The movie is a comical tale of two friends. Sundeep Cheema, played by Ghuggi, is married to two women. Keeping them ignorant of each other's existence has been something of a challenge.
"Now his finely balanced life is thrown into jeopardy with the arrival of old friend Jeeta, played by me, who promptly falls for the lovely Preet, played by Ragini. What follows is total confusion."
We also have our dear Akki in an extended cameo appearance. He has added more weight to the movie and has been very well received by Punjabi audiences.
Well known cricketer Harbajan Singh also makes an appearance in the movie as a police officer who falls in love with Jeet's sister. This movie has been a strong platform for Ragini Khanna to début in, given the calibre of direction, cast and production crew involved.
Gurpeet Ghuggi has been appreciated for his acting and dialogue delivery in the movie. Om Puri never disappoints. Khushboo Grewal and Karamjit Anmol are known to be fantastic in the movie. Misha Bajwa, B.N. Sharma, Rana Jung Bahadur and Avatar Gill all effortlessly bring the story together.
The movie is funny and needs to taken for what it is, which is a light hearted comedy. You could hardly get away for few hours without your wife knowing your whereabouts, but to have two separate families at one time is a magical feat. Nevertheless, you will still end up smiling and laughing while leaving sensibility and practicality at the cinema door.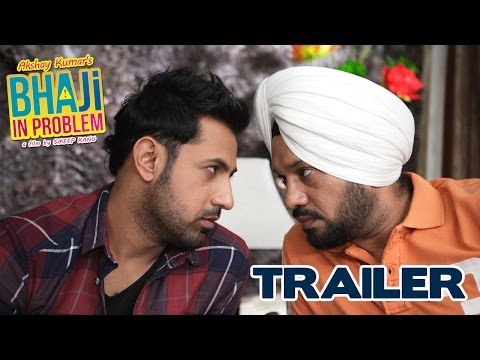 The music is composed by Jatinder Shah and Surinder Rattan and the songs have proved popular with fans so far.
The box office sales have been known to pick up day on day after a decent start overseas. It has been rated at an above average 3.5/5 across the board.
Trade analyst, Taran Adarsh tweeted that Bhaji in Problem fetched Rs. 47.85 lakh in its opening weekend at the UK box office. It raked in Rs. 53.11 lakh from the Australian box office, whereas its first-weekend collections from New Zealand stands at Rs. 15.90 lakh.
The movie released around the same time as Goliyon Ki Raasleela Ram-Leela. Ragini Khanna says that this should not affect the box office statistics as 'the two movies are like chalk and cheese.'
After the screening of the film in Mumbai, Akshay Kumar said:
"This is the first time I'm making a film in Punjabi. I want to invite everyone to come watch the film, with your entire family, your mom and dad, your grandparents, come with everyone and enjoy the film."
This sentiment was reiterated by Ashvini Yardi who said: "The film has turned out really well and is a laughter riot which can be enjoyed with the entire family."
With the Punjabi Sher inviting us with our family, it would be safe to call it a fun filled family movie. Bhaji in Problem is no doubt the first of many Punjabi films that the original 'Khiladi' Akshay will lend a hand in.
What did you think of Bhaji in Problem?
Mind Blowing (79%)
Okay (16%)
Time Pass (5%)
Loading ...