Atul is a man who likes to experiment and challenge the boundaries of modern cooking.
Atul Kochhar is an exciting chef, restaurateur and TV personality based in the United Kingdom. Over the years he has developed and mastered his own fusion of British-Indian food.
Atul was born on 31st January 1969 in the Steel City of Jamshedpur, India. He grew up in a family of incredible cooks. Following his family tradition of quality cooking, Atul puts his heart and soul in the dishes he serves up today. For Atul, cooking is a scientific art, which must be consistent. Knowing how critical South Asian food lovers can be, food historian Pushpesh Pant says:
"People can be very unforgiving when it comes to Indian food. Food is always compared to what a child eats at home. Mums cooking is always the best and the taste one has acquired in the childhood stays with you from childhood."
In 1989 Atul Kochhar began his career at the famous Oberoi Hotel in Delhi under the tutelage of food guru Arun Agarwal. Arun is the man who inspired Atul to become a chef. After studying at a catering college, Atul joined Arun to enhance his cooking skills. Speaking about the development of his protégé, Arun said:
"In the early stages of his career Atul was not focused on Indian food, but wanted to be a continental chef. But with time, experience and maturity this changed."
Another food hero of Atul's is Manjit Singh Gill, famously known for giving a new edge to Indian food. Growing up Atul was inspired by this genius chef and regards him as a true custodian of Indian food. Delhi's famed Bukhara, run by Manjit has been awarded the best Indian restaurant in the world three times.
Famous personalities such as Tony Blair and Bill Gates have enjoyed Bukhara's tandoori cuisine influenced from India's North West Frontier.
During his time at the Oberoi, Atul gained a diploma in Hotel Management. In 1993 he was promoted to the five-star Oberoi deluxe hotel where he worked as a sous chef. Atul who was responsible for managing a team of eighteen people, instantly raised the standards in the kitchen. He also briefly worked at the fine dining restaurant of renowned chef Bernard Kunig.
In an effort to expand his horizons, Atul moved to London in 1994. In 2001 and at the age of thirty-one, Atul was the first Indian chef to receive a Michelin Star during his time at the restaurant Tamarind. Michelin Star is a system of ranking food introduced by brothers André and Édouard Michelin in 1933.
London boasts some of the best restaurants in the world. One of them is Benares, which was established by Atul in 2003. This restaurant is considered as one of the finest restaurants in London. In recognition of his creative talent, the Indian born chef was awarded his second Michelin Star [2007] for Benares.
Atul is a man who likes to experiment and challenge the boundaries of modern cooking. His passion for India's rich and varied food culture combined with a British twist is quite evident at Benares. Speaking about the unique brand he has created, he says:
"When I was designing this restaurant I thought it was very important that I represent what India stands for and what Britain stands for and I was not trying to move away from curries or British cooking, but I was trying amalgamation of the two. And the only way I could think of is giving the true representation of British ingredient in the Indian way."
DESIblitz had the pleasure of catching up with Atul Kochhar to find out what tickles his taste buds: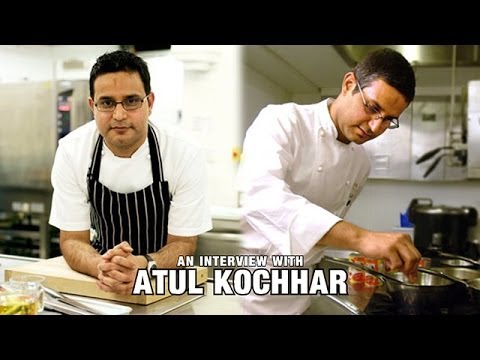 A few years ago, Atul made a trip to India where he cooked a meal for his mentor Arun Agarwal, the man who taught him how to become a competitor. Atul who is always up for a challenge said:
"What I represent is true Indian food, I mix flavours from north to south, east to west and I am not ashamed of that, I'm not scared of that. I just do it boldly and bluntly. Arun taught me to broaden my horizons and let people decide what they want."
His former tutor endorsed his new culinary ideas and was proud of what he had achieved.
Atul always has some useful tips when it comes to Indian food. He advises not to use olive oil, as it will not do justice to Indian spices. Portioning is very important to Atul, as he needs to be sure exactly how much he needs to serve. According to Atul a "man can only take 1 kilo 800 grams of food a day." Rose and Marigold Petals are distinctive ingredients he likes to use in his food.
Atul is a happy-go lucky person who can create a meal in almost every setting. Atul has taken his cooking to the seas, having opened a restaurant called Sindhu on P&O's Azura Cruise Ship. Sindhu, his life long dream project became a reality in 2010. Similar to Benares, Atul has introduced a British-Indian style of cooking aboard the ship and picks his dishes according to his customers.
In 2012, Atul opened his second eatery in London together with Restaurateur Jitindar Singh called Indian Essence. Atul also runs a successful restaurant in Dublin, Ireland called Ananda. Outside of the British Isles, Atul has opened a restaurant [Simply India] at the luxury St Regis Resort in Mauritius.
Atul has featured on numerous television programmes, mostly as a regular guest on BBC's Saturday Kitchen. In 2010 he launched a series in Malaysia called Atul's World of Spice. More recently he has presented a weekly show on the B4U network called Curry on with Atul Kochhar.
Atul's recipes can be found on quite a few online sites, including BBC Food and UKTV's Good Food channel. He has written three books in total, namely Indian Essence [2004], Fish, India Style [2010] and Atul's Curries of the World [2013]. All these books are available online through sites such as Amazon.
In 2010 he received an honorary doctorate degree from Southampton Solent University for his contribution to the 'International Culinary Scene.' Atul has been fortunate enough to cook for members of the British Royal Family, including Prince Charles at St James Palace in April 2010.
Atul is very conscious of the environment and whenever possible likes to source local ingredients. Linking agriculture to his roots, he said: "I've connected to farming for a very long time. I think my forefathers were farmers. And that's still got into me."
In his spare time Atul enjoys mountaineering and watching cricket, mainly matches involving England, India and Pakistan. His favourite players are Master Blaster Sachin Tendulkar and Boom Boom Shahid Afridi.
Atul currently lives in West London with his wife Deepti, daughter Amisha and son Arjun. There's much more to come from this brilliant chef, including the possibility of opening a restaurant in his hometown where it all began.