"For any series, the writing is the soul."
Indian actor Pankaj Tripathi returns as Akhandanand 'Kaleen' Tripathi for Mirzapur 2, releasing on Amazon Prime Video on October 23, 2020.
Ever since, appearing in season 1 of the Amazon Original crime drama, his role as 'Kaleen Bhaiya' has become a "living legend." Season 1, which came out on November 16, 2018, left fans wanting more.
For season 2, Pankaj has yet again a very important role in this increasingly complex, dark and entertaining series.
He is a national award-winning actor, known for his role as Atma Singh in the film Newton (2016).
Viewers can expect to see Pankaj in a thrilling season 2. The sequel focusing on drugs, violence and survival will have many more characters.
Besides Pankaj, many other stars make a return for Mirzapur season 2.
They include Ali Fazal, Divyenndu, Shweta Tripathi Sharma, Rasika Dugal,  Harshita Shekhar Gaur, Amit Sial, Anjum Sharma, Sheeba Chaddha, Manu Rishi Chadha and Rajesh Tailang.
Watch Exclusive Interview with Pankaj Tripathi about Mirzapur 2 here: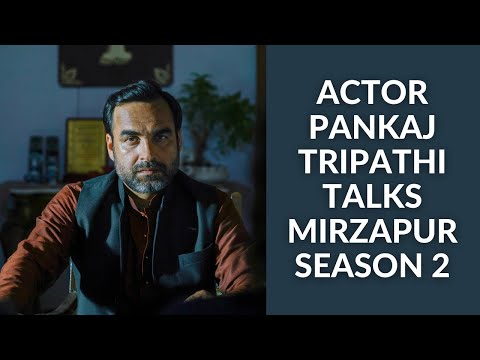 Vijay Varma, Priyanshu Painyuli, and Isha Talwar also feature in the sequel.
DESIblitz presents an exclusive interview with Pankaj Tripath to find out more about the series and his character.
There has been a lot of talk about the web series Mirzapur Season 2 before its release. According to Pankaj Tripathi, season 1 of Mirzapur was a big hit amongst the fans. He said:
"It is a very rare thing that there is a chase on a web show for over two years, in term of when season two is releasing."
Hence, he says there is a lot of "excitement" for Mirzapur 2 both amongst the fans and the cast:
"We know season 2 will gets more interesting, especially as the story becomes more deeper."
Viewers can expect the story of Mirzapur to be much more complex, with the "conflicts and crisis becoming bigger." He continues saying:
"The sub-plots have come together, with additional characters coming through. The story deep down is becoming big. Even the entertainment value has become big."
Pankaj singles out "writing" as a major contributing factor to the success of the series. He feels this stems from the interesting characters written for season one, as well as the great screenplay:
"For any series, the writing is the soul."
He also points out that Rasika Dugal, Al Fazal, Vikrant Massey, Munna Divyendu, along with all the other artists have performed very well in the series.
He expresses further that each role is made for these individuals.
Kaleen Bhaiya
Reportedly life will become tougher for Kaleem Bhaiya in season 2 of Mirzapur.
However, Pankaj believes he is unstoppable, particularly when the going gets tough both on and off-screen. He breathes his way out:
"First of all, I do a lot of deep breathing whenever I face any difficulty in acting or my life. I say to myself, 'stop and take a deep breath.'
"So I think one should take 25-30 deep breaths and then contemplate what next.
"This is life – there is always going to be difficulties. One should never get too upset due to failure. Likewise one should not get big-headed after success."
"I normally adopt this policy. I am a Sufi type of guy."
It is quite evident that the attitude of Pankaj is very positive and strong, both professionally and personally.
Pankaj acknowledges with the series having relevance to the Purvanchal region, it became easier for him to understand his character:
"Yes I a familiar with that area and the mannerisms of the people, especially the 'Bahubali'  (mafia). I know about them, have seen and read about them.
"The landscape and tongue were of my own. Thus, I did not have to work too hard on it."
In fact on set, from a slang or words perspective, I was guiding my co-actors. I was telling them to say it in a certain way and or it has this meaning."
His presence was very useful, for the entire cast and crew of Mirzapur 2.
Similar to all the other artists in India, Pankaj has had time to reflect during the peak of the Coronavirus pandemic:
He concludes that "life" is important Pankaj is fortunate that by living just outside of Mumbai, he has not been as affected by COVID-19.
With time on his hands, Pankaj went for many walks and realised that going forward he will work less.
Ritesh Sidhwani and Farhan Akhtar are the executive producers of Mirzapur 2. The series is a creation and production through their company Excel Entertainment.
Gurmmeet Singh and Mihir Desai are the directors of the series.
Mirzapur season 2 will be available to watch across two hundred countries and territories in various languages of India. This includes Hindu, Telugu and Tamil.
The web show will launch exclusively via Amazon Prime Video on October 23, 2020. Fans can keep updated with Mirzapur on Facebook and Instagram.
Meanwhile, Pankaj Tripathi will also be featuring in a number of exciting projects in the future.