"They have been largely forgotten, both by Britain and India."
Even 100 years after the end of the First World War, Remembrance Sunday remains a consistent annual event that commemorates the deaths of 9 million soldiers across four years of intense conflict.
While memorial services remain a significant reminder for newer generations who were born after the war, very few Britons, especially British Asians, are aware of the contributions made by soldiers from the colonial territories.
In particular, the valiant 1.5 million Indian soldiers that were recruited by the British Raj, and sent to the trenches of the Western Front in France and Belgium.
The Indian contribution was undeniably vital to the war effort. Following the outbreak of war on July 28, 1914, Britain was suffering great casualties as the German offence was stronger and better prepared.
The British Expeditionary Force which was Britain's premier army suffered great casualties at the outbreak of war. The sought reinforcements from their other regular volunteer army, and as a result, the British Indian Army was sent overseas.
Across the 38 to 40 miles of British trenches in France and Belgium, one third was accounted for by Indian soldiers. They showed incredible persistence and loyalty despite the harsh living conditions.
One such soldier who faced the reality of trench warfare was Khudadad Khan, the first Indian soldier to have received a Victoria Cross. His grandson, Abdul Samad mentions how the remembrance of his courage is passed down family generations:
"My grandfather was a machine gunner and all the rest of his group were killed by the German shelling. A shell hit him, but despite this, right to the end he kept trying to stop the Germans so they wouldn't think everyone had died on the other side."
These acts of bravery from Indian soldiers fighting a war that was not theirs is just one small insight into the sense of loyalty they felt to their colonial masters, the British.
The concept of 'izzat' reigned heavily among the soldiers. With 400,000 Muslim soldiers and 130,000 Sikh soldiers from the Punjab, these 'warrior' tribes were hand selected by the British Raj for their fighting agility and strength, and dubbed as the 'martial races'.
Historian Jahan Mahmood explains: "The British martial theory was really very much a concept that certain races were much more warlike and had more stamina on the battlefield than others."
But despite their courage and bravery, the loss of life of these Indian soldiers on the Western Front was considerable. Also conditions in the trenches were ill-suited to the Indians who were not used to the climate and were forced to fight with machinery that they had not come across before.
In many cases, they were forced to improvise, and use their own tactical stamina to hold the line. Examples include jam tins as makeshift grenades, and a tube filled with TNT that was later dubbed the 'Bangalore torpedo'.
The soldiers even raced racism from both sides. One German soldier reportedly wrote in 1915: "At first we spoke of them with contempt. Today we look on them in a different light ….
"In no time they were in our trenches and truly these brown enemies are not to be despised. With butt ends, bayonets, swords and daggers we fought each other and we had bitter hard work."
Eventually, after a year, the British realised their struggles on foreign soil, and sent them instead to the Mediterranean to Mesopotamia and Gallipoli.
Historian Shrabani Basu, who's latest book, For King and Another Country: Indian Soldiers on the Western Front 1914-18, has widely spoken about the lack of awareness of soldiers from the Indian subcontinent:
"Few people are aware that 1.5 million Indians fought alongside the British – that there were men in turbans in the same trenches as the Tommies …
These 'forgotten heroes' formed the largest volunteer army recruited from Britain's colonies:
India: 1,500,000 troops
Canada: 418,000 troops
Australia: 331,781 troops
Ireland: 134,202 troops
South Africa: 74,196 troops
West Indies: 16,000 troops
Newfoundland: 10,610 troops
Other Dominions: 31,000 troops
Watch this Wall Street Journal video highlighting the Indian contribution to World War One: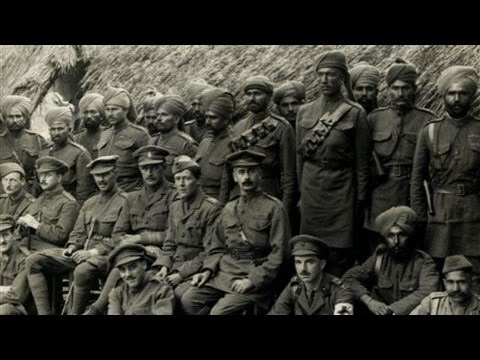 Councillor Chaz Singh from Plymouth has long been raising awareness of Indians in World War One, partaking in many services across the South.
A member of The Royal British Legion along with his wife, he tells DESIblitz:
"It's very important that we learn from our past. You can't change history but you can make it. It's just as important to highlight how diverse the contributions were ranging from Africa, Asia, the West Indies and other Commonwealth countries."
Currently there are very few memorials that signify the Indian soldiers. One memorial stands in Northern France at Neuve Chapelle dedicated the India's dead which was built in the 1920s.
In Pakistan, a WWI cannon has been situated in the rural village of Dulmial, which was home to many Punjabi soldiers.
In Britain, however, there is still very little awareness. At the beginning of November 2015, a local Asian charity commissioned a memorial at the National Memorial Arboretum in Staffordshire to commemorate the 130,000 Sikh men that fought in the war.
Founder of the charity, Jay Singh-Sohal, says: "In the immediate aftermath of the war there was a warmth to the Anglo-Indian relationship which was lost amid the atrocities committed by the British at the end of the colonial era.
"Time has now healed some of those wounds and we can look with fresh eyes at the historic contribution of Sikhs, Hindus and Muslims. It is very important because it also helps British Asians to understand and feel part of Britain."
Chaz Singh tells us: "The memorials have always been there but it's taken a while to get the recognition. It's also technology and how the information is collated through records. It's started and it's important that it doesn't stop."
For British Asians especially, knowledge of their ancestors is a vital thing, especially as it forms a deeper connection between their homes in Britain and roots in India and Pakistan:
"In an ideal world allocated funding for projects to do this around history and education. I applied for a specific project around the contributions from the diverse communities and was unsuccessful. Had I been successful I'd be talking about my project. I wouldn't want it to be separate," Chaz says.
"Incidentally, I approached Plymouth, Bristol, Exeter and Liskeard to lay wreaths at Remembrance Services, only Exeter and Liskeard allowed us that opportunity.
"I arranged for the Nepalese representative to lay a wreath on behalf of the Gurkhas. Organisers and partner agencies of Remembrance Services need to be more accommodating, inclusive and aware."
The Right Worshipful the Lord Mayor of Exeter, Councillor Mrs Olwen Foggin, tells DESIblitz:
"I was delighted to hear that Mr [Chaz] Singh approached my office requesting for him to send a representative to the City's Remembrance Service, and was thrilled when he turned up along with his wife to lay a wreath on behalf of the Sikh Soldiers, who fought in the First and the Second World War.
"It's important that all nationalities are able to have the opportunity to remember those that fought for our freedom regardless of religion or ethnic groups."
Writer, Shrabani Basu adds: "The contribution of Indian and other Commonwealth soldiers should be part of the First World War curriculum in schools, and museums should highlight their stories. That is the only way to ensure that they do not become a footnote in history."
The Great War between 1914 and 1918 was an incredibly significant part of Britain's history, but also Indian history.
If it was not for the valiant bravery of these 1.5 million soldiers, the whole outcome of the war may have been very different, something that should not be forgotten.