The best fish meals are the most simple
Masala Fish is a delicacy enjoyed by many South Asian families.
The great versatility of masala fish means that it can be enjoyed as a midday snack with a dash of lemon; at your favourite takeaway with a side of fries; or at home with a family meal made up of rice and naan.
The humble fish is enjoyed all over the world, and with it being so quick and easy to prepare it is perfect for any kind of occasion.
DESIblitz presents 7 masala fish recipes that are a delight to make and enjoy.
Grilled Masala Fish
For a healthier alternative to frying, try this grilled fish recipe from AllRecipes.co.uk.
The fish is marinated in yoghurt, ground ginger, garlic powder and garam masala for at least an hour.
The fillets are then placed on a charcoal barbeque or in the oven grill for 5-7 minutes on each side.
Serve with roasted vegetables and a salad.
Dry Spiced Fish
Flaky white fish that has been encased in a dry spiced crust is a delicacy of Sindh, Pakistan.
The recipe actually uses the traditional fish of Bangladesh, the Palla fish. Alternatively, you can select a fish that is chunky and will hold its shape like haddock or plaice.
To make the dry crust, crush coriander, fennel and garlic cloves together, Then mix in flour, turmeric, chilli powder and garam masala.
Coat the fillets in the masala mix and fry in vegetable oil.
You can find the full recipe from Hari Ghotra here.
Masala Fish Fry
For a classic masala fish, use this recipe from YummyTummyAarthi.com.
The marination uses chilli powder, Kashmiri chilli powder, ginger garlic paste, garam masala, turmeric, salt and lemon juice.
The fish is then fried in coconut oil with curry leaves, for a crispy and tangy taste.
South Indian Dry Masala Fish Curry
BBC Good Food offers a great South Indian dry masala fish curry courtesy of The Hairy Bikers.
Their curry is served with tomato and coconut chutney.
It involves marinating the fish in a mixture of yoghurt, garam masala, mustard seeds, coriander, cumin, chilli, cardamom pods and salt. This is then cooked in a frying pan until golden in colour.
The chutney is made with ginger, garlic, chilli, curry leaves and coconut, which is cooked until slightly brown. Serve this on top of the fried fish and enjoy a burst of South Indian flavours in your mouth.
Find the full recipe and method here.
Tandoori Fish Salmon
Salmon is a popular choice at restaurants and those looking to maintain a healthy diet.
The sweet-tasting fish can sometimes be difficult to blend with hearty spices, but this tandoori salmon recipe from Yummly offers a nicely seasoned meal perfect for dinner time.
The masala marinade is simply made with yoghurt, garlic tandoori powder, tomato puree and lemon juice.
Once the salmon has been coated skin down, it is grilled for 15-20 minutes.
Find the full recipe here.
Masala Mackerel
The tasty naturally oily mackerel suits Desi flavours and spices well. While ordinarily it is grilled, you can enjoy a Masala-inspired mackerel courtesy of The Pool.
The marinade consists of tomato puree, Kashmiri chilli powder, garlic and cumin seeds. Mackerel fillets are coated in the spicy marinade on both sides for at least 20 minutes.
The fillets are then grilled in a baking tray. To finish, sprinkle with lime juice and red onions and serve with naan or roti.
Here's the full recipe.
Maach Bhaja (Bengali Fried Fish)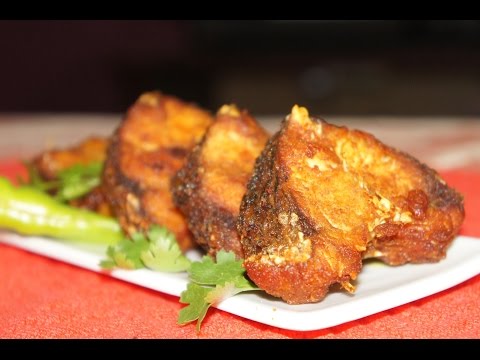 Fish is a staple diet for many Bengali families. The best fish meals are the most simple, like this Maach Baja which uses only red chilli powder, turmeric and salt.
Ingredients:
250g Rohu or Kaatla Fish (Rui or kaatla Maach) – 1-2 per person
2 tbsp. Turmeric Powder
1 tbsp. Red chilli powder
Salt to taste
Mustard Oil
Method:
Wash the pieces of fish thoroughly and pat dry.
Place fish in a bowl and add turmeric, chilli powder and salt.
Gently massage the spices into the fish using your hands.
Cover and let the fish marinate for about 15 minutes.
In a medium frying pan, add oil.
Once hot, gently fry the fish pieces for a few minutes on each side until they are golden brown.
Serve the maach bhaja with dal or white rice.
Spicy, crispy and supremely tasty, masala fish is a wonderful dish. These recipe varieties mix salmon, mackerel and traditional South Asian fish types to satisfy your seafood pangs.