"Music like this would never come back."
Booze with music has had a big impact on Indian cinema. Hence, Bollywood alcohol songs have been somewhat of the norm.
Many of these songs promote and praise alcohol, along with acting as a form of expression, particularly love.
Some of the greatest singers from the past to present have sung many of the successful and award-winning Bollywood alcohol songs.
The two stand out singers of this winning formula includes late Kishore Kumar and Asha Bhosle. Both showcase their full repertoire with songs reflecting an alcohol theme.
On-screen many top stars have featured in Bollywood alcohol songs, acting inebriated. The character of Amitabh Bachchan pretends to be drunk in a song from Namak Halaal (1982).
Here are 10 outstanding old and modern Bollywood alcohol songs, which are very different according to the story and genre.
'Yeh Jo Mohabbat Hai' – Kati Patang  (1971)
'Yeh Jo Mohabbat' is a classic punchy 'daaru' (liquor) song by the marvellous Kishore Kumar from the movie Kati Patang.
Superstar late Rajesh Khanna (Kamal Sinha) is the main focal point of this song as he weeps for his disloyal love.
He somewhat cheerfully takes to drinking and dances inside a club on a thunderous night. Towards the end of the song, he moves outside amongst the storm.
Within the first minute, the video cuts into Asha Parekh (Madhavi) who is standing by the window. Madhavi realises that she is the cause of the underlying sadness and bitterness of Kamal.
Kishore is incredible when he says the line, "Mar Jaye Mit Jaaye, Ho Jaaye Badnaam."
Watch 'Yeh Jo Mohabbat' here (01:35):
'Piya Tu Ab To Aaja' – Caravan (1971)
'Piya Tu Ab To Aaja' is a cabaret-style number that Asha Bhosle and RD Burman had lent their voices to.
The music by Pancham Da goes beautifully with the flow of the song. Actress Helen (Monica) is the showstopper in this famous sizzling drinking track.
The song shows Monica guzzling alcohol at the mini-bar of a club, whilst waiting for her beau to arrive.
When her lover eventually turns up, she springs to life, dancing away with full coordination.
This track will encourage many to get onto the dance floor after having a few rounds of drinks. Asha won 'Best Female Playback' for this song at the 19th Filmfare Awards in 1972.
Watch 'Piya Tu Ab To Aaja' here: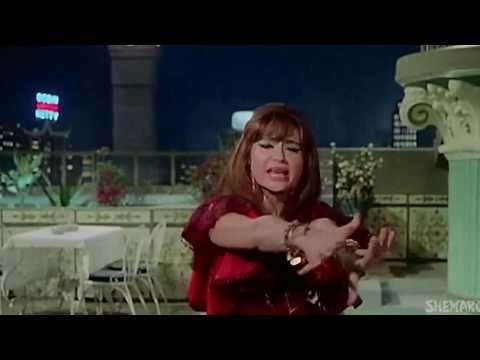 'Salaam-e-Ishq' – Muqaddar Ka Sikandar (1978)
'Salaam-e-Ishq' is a fantastic evergreen duet by Lata Mangeshkar and Kishore Kumar from Muqaddar Ka Sikandar.
Visually, Sikandar (Amitabh Bachchan) visits the kotha (brothel) of Zohra Begum (Rekha) to drown himself with alcohol.
The essence of 'Salaam-e-Ishq' is like singing together in an ocean, with two great voices having a storming effect.
The song begins with Zora Begum dancing and Sikandar comfortably enjoying his bottle. But Sikandar soon gets into the act.
Both actors and the playback singers give their very best for this song. The music by Kalyanji-Anandji and lyrics from director Prakash Mehra are exemplary.
Watch 'Salaam-e-Ishq' here: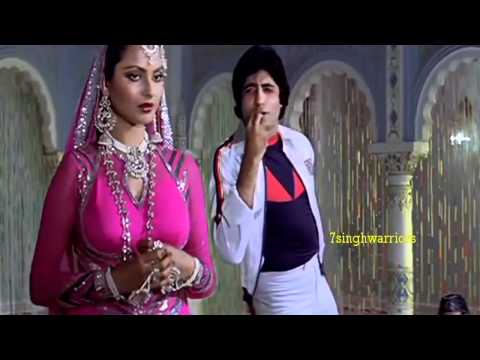 'Thodi Si Jo Peeli' – Namak Halaal (1982)
'Thodi Si Jo Peeli' is a popular track from Namak Halaal sang by Kishore Kumar. The Bappi Lahiri composition features Amitabh Bachchan (Arjun Singh) acting drunk on screen.
The fumbling and stumbling Arjun is surrounded by several women, working as extras and Om Prakash (Dashrath Singh: Arjun's grandfather).
Poonam (Smita Patil), the love interest of Arjun then appears in the song, somewhat shocked of his drunken state.
But Poonam and his Daddu fail to realise that the unapologetic Arjun is faking to be drunk.
This is a hilarious intoxicating song, which is ideal when lounging after a couple of drinks. The yodelling and hiccups from Kishore Da make this a classic song.
Watch 'Thodi Si Jo Peeli' here: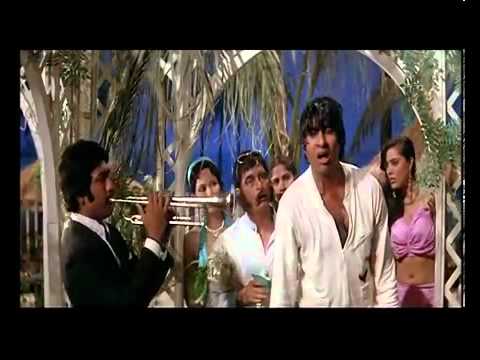 'Jalta Hai Badan' – Razia Sultan (1983)
'Jalta Hai Badan' is a cracking inebriating song from the Kamal Amrohi directorial Razia Sultan.
Even though the song does not feature any top star, it is still very visually appealing.
The track shows the rogue character of Prince Firoz Shah flirting with women and drinking, whilst enjoying a seductive courtesan dance.
The setting of the song is soothing like the music from Khayyam. It is the type of song that one would enjoy listening to in a mehfil (courtly entertainment).
The words 'Jalta Hai Badan' translating to 'My Body Burns of Lust' encourages one to drink as well.
Watch 'Jalta Hai Badan' here: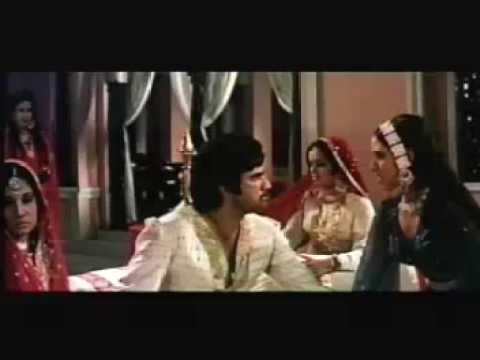 'Raat Bhar Jaam Se' – Tridev (1989)
'Raat Bhar Jaam Se' is a very different kind of song from the action thriller Tridev.
The 'Queen of Indipop' Alisha Chinai sings for this swinging and swaying kind of track. Alisha has that drunken sound in her voice.
Late Anand Bakshi is the writer of the song, which has a very 'shayarana' (poetical) feel to it.
The track is very situational where the character Natasha Tejani (Sangeeta Bijilani) is entertaining the villains in their very own den.
The baddy characters featuring in the song include Bhujang/Bhairav Singh (Amrish Puri) and Don (Dalip Tahil.
Watch 'Raat Bhar Jaam Se' here:
'Barsaat Ke Mausam Mein' – Najaayaz (1995)
'Barsaat Ke Mausam Mein' is a great song courtesy of Kumar Sanu and Roop Kumar Rathod from the film Najaayaz.
Anu Malik is the music director of this track, with Sudarshan Faakir being the lyricist.
The rain sipping song shows Raj Solanki (Naseeruddin Shah) handing gifts to people. He then suddenly notices a musician singing with some people around him.
Raj joins the mini-musical get together, drinking alcohol from a bottle, with everyone dancing away with him.
The song goes well during the rainy season, especially with a drink in hand.
Watch 'Barsaat Ke Mausam Mein' here:
'Zara Sa Jhoom' – Dilwale Dulhania Le Jayenge (1995)
'Zara Sa Jhoom' is from DDLJ, one of the most successful Bollywood films in the modern era.
Leading up to the song, Simran Singh (Kajol) has a few pegs of whiskey whilst hibernating in a beautiful cold Swiss barnyard with Raj Malhotra (Shah Rukh Khan).
This situation goes further into the track, with the voice of Asha Bhosle sounding drunk on Kajol.
It was quite contrasting to see a simple Simran misbehaving and having a good time.
Many young women went alcohol berserk with friends during private parties after watching 'Zara Sa Jhoom.'
Watch 'Zara Sa Jhoom' here:
'Daru Vich Pyar' – Tum Bin (2001)
'Daru Vich Pyar' is a buzzing track sang by and featuring British Asian singer Tarsame Singh Saini.
Known famously as Stereo Nation, Tarsame is also the composer and writer of this song.
British Asian musician Hunterz provides some rapping in the middle of the song as well as starring in it. A fan remembering the song on YouTube writes:
"Music like this would never come back. This will be remembered as golden era by 90s kids."
This track also stars the main characters from the film. 'Daru Vich Pyar' began a big trend for dance songs with specific relevance to alcohol.
Watch 'Daru Vich Pyar' here: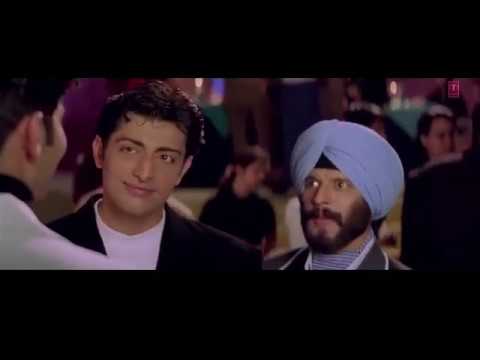 'Chalak Chalak' – Devdas (2002)
'Chalak Chalak' is a fun intoxicating song that serves music and dance, with many vocalists being part of it.
Udit Narayan, Vinod Rathod, Shreya Ghoshal, Nishika, Rani Javed and Ismail Darbar are the singers of this drinking party track.
Ismail is also the music director of 'Chalak Chalak,' with Nusrat Badr penning down the lyrics.
In the film, the song stars all the main characters including Devdas Mukherjee (Shah Rukh Khan), Kummud Mukherjee (Madhuri Dixit) and Chunni Lal (Jackie Shroff).
The song starts with Devdas and Chunni clinking their bottles to the line, "Sheeshe Se Sheesha Takraaye."
This sets the tone for this track, which has become a dancing favourite during family occasions.
Watch 'Chalak Chalak' here:
'Nashe Si Chadh Gayi' – Befikre (2016)
'Nashe Si Chadh Gayi' is a contemporary song from the film Befikre, with some nice beats to it.
Indian vocalists Arijit Singh and Caralisa Monteiro are the playback singers of this urban track. Caralisa Monteiro provides the french vocals to the song.
Featuring Punjabi lyrics, the song has been written by Jaideep Sahni. The musical duo, Vishal and Shekhar are the composers of this track.
Dharam Gulati (Ranveer Singh) and Shyra Gill (Vaani Kapoor) are the two lead characters that star in the film song. There are also a number of extras dancing in it too.
The sensuous 'Nashe Si Chadh Gayi' takes inspiration from the title track of the Japanese animation series, Junjo Romatica (2008).
Listen to 'Nashe Si Chadh Gayi' here: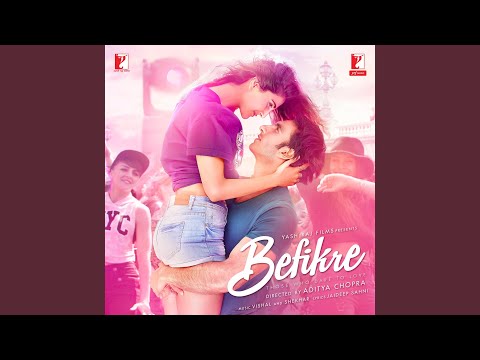 'Chhote Chhote Peg' – Sonu Ke Titu Ki Sweety (2018)
'Chhote Chhote Peg' is a cool drinking song influenced by the Han Raj Hans track 'Dil Tote Tote' from Bichhoo (2000).
It also has a rapping portion, giving it a disco and club feel. The singing trio comprises of Yo Yo Honey Singh, Neha Kakkar and Navraj Hans.
Singh is also the writer and music composer of the track, which has many YouTube hits.
The song features all the main characters in the film including Sonu Sharma (Kartik Aaryan).
This is a catchy number to dance along with some drinking in moderation.
Listen to 'Chhote Chhote Peg' here:
Naturally, there are many other songs relating to alcohol. These include 'Khullam Khulla Pyar Karenge' (Khel Khel Mein: 1975) and 'Mujhe Naulanka Manga De Re' (Shraabi: 1984).
So if you're boozing around or having a party, we recommend listening to some of the aforementioned Bollywood alcohol songs.
The Bollywood tunes will elevate the experience when consuming alcohol and chillaxing as well as prompting many to hit the dance floor.