After nearly five years, Andromeda is quite different to its predecessors.
23rd March 2017 will see the return of Mass Effect to the video gaming world with Mass Effect Andromeda.
After what has been nearly a five-year hiatus, the game is, rightly, quite different to its previous instalments. Most notably, the game emphasises exploration as the key driving force to the game.
With this in mind, let's take a look at some of the best open-world games to have been released since the original Mass Effect trilogy and before it.
Will Mass Effect Andromeda take any influence from these past best-sellers?
The Elder Scrolls V: Skyrim
No list of the best open-world games would be complete without at least one entry from The Elder Scrolls series. Skyrim, so far, remains the undeniable peak.
The game's open world is vast and packed with things to do. There are dungeons to crawl, quests to embark on, and a number of different environments to traverse.
The frosty environment also gives way to numerous splendid vistas for the player to find. And with its Norse setting, the game also deviates from the usual fantasy fare at many points.
Skyrim is often seen as the benchmark for open-world role-playing games. The game even having been remastered twice now.
Mass Effect Andromeda will have no choice but to face comparisons to this pivotal game. Yet from all indications, the game looks to be as vast, if not as well-crafted, as Skyrim's much-hailed open-world.
Fallout: New Vegas
A controversial choice, perhaps – considering that Fallout 4 is the much more up-to-date entry into the franchise. Yet what Fallout New Vegas lacks in graphics and gameplay, it makes up for in its handling of player agency.
Despite being an open-world, the game allows for a considerable degree of player choice. Much more than the likes of Fallout 4.
Game developer Obsidian's take on the franchise allows players to shape the game's narrative in a number of different ways. This is chiefly done by hitching the story on its various factions.
At the same time, though, the game also allows players to carve out their own path if they choose.
The original Mass Effect trilogy has been much praised for its handling of player agency. To this end, Mass Effect Andromeda would do well to take note of Fallout New Vegas's approach to open-world.
If the upcoming game can fit its story to allow for the same amount of player choice as found in Fallout New Vegas's open-world, then it will succeed in doing both its predecessors and its current open-world justice.
Red Dead Redemption
Red Dead Redemption isn't the role-playing game that Mass Effect Andromeda and the previous entries on this list have been. Yet with the latter taking a more action-based approach to gameplay, it could learn much from the former.
It features right controls that allow for sharp, snappy shootouts in true Wild West fashion. And the random events make every journey its own story. Red Dead Redemption actually hails as one of the best open-world gameplay experiences ever seen.
If Mass Effect Andromeda places a greater emphasis on gameplay features as well as the role-playing aspects, then its gameplay could elevate to a whole new level.
Indeed, with the Mass Effect entry supposedly also taking inspiration from Westerns, Red Dead Redemption could be a good thematic influence too.
Batman: Arkham City
Batman Arkham Knight may have brought a much greater level of graphical fidelity to the series. But Batman Arkham City featured a much more reactive world.
What the game lacked in size it made up for in detail. The events of the main storyline often shape the world in tangible ways.
The ice-path created out of the bay after Mr Freeze learns of his wife's location, for example, is just one of the small details that make Batman Arkham City's world feel alive and reacting to the player.
Mass Effect Andromeda may struggle to achieve such reactivity in a world intended to rival the likes of Skyrim. Yet if it can come even close, the game will be a testament to BioWare.
The Witcher 3: Wild Hunt
The most relevant of all the entries on this list. BioWare themselves have said that they took inspiration from The Witcher 3. Yet The Witcher 3: Wild Hunt would be on this list even without that fact.
With an open-world as large as Skyrim's yet one much more reactive to player-choice, The Witcher 3 struck a balance that few have been able to match since.
More than this, its world isn't just filled with checklist tasks. It contains numerous short stories that engage the player in a way a simple tower-climb never can.
If recent interviews are to be believed, Mass Effect Andromeda will be populating its own vast open-world with a similarly large number of small stories.
Hopefully, this will also come with the amount of choice that these stories did too. And in which case, we can expect one of the most involved role-playing games around.
Watch the Mass Effect Andromeda trailer here: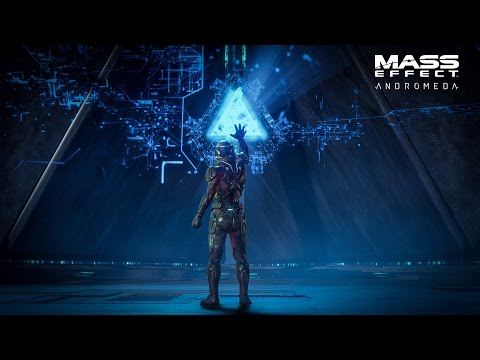 With visceral, kinetic combat; a vast open galaxy to explore and the BioWare pedigree to back up the story, the upcoming Mass Effect game looks like it will be 2017's hallmark game for anyone after a massive single player experience.
Time will tell, however, which of the most recent open-worlds Mass Effect Andromeda will take inspiration. Check out the game when it releases on 23rd March 2017.