"Strengthen and celebrate your breathing and your movement"
Dancing is a great form of exercise and Desi dances are no exception to get you moving and grooving to popular sounds of music and dance forms.
Also, South Asian countries have many specific dances related to festivals, times of the year and celebrations.
For example, dance styles such as the Garba and Bharatanatyam are traditional dances and great examples of showcasing tradition.
Known as one of the world's biggest film industries, Bollywood has always included dance in the majority of its films from classical to modern dance styles.
Desi dances can be performed anywhere. From your living room to your garden, these can be easily practised and learned.
Also, with social media advancing, you can now learn dances through platforms like YouTube, Instagram and Facebook.
So, to help you get dancing in your homes, here are ten popular styles of Desi dances which you can learn and enjoy.
Bollywood Zumba
Bollywood Zumba is a popular Eastern style of dance that you can try at home. Typical routines last between 30 minutes to one hour.
Bollywood Zumba consists of three different styles. These are Merengue, Reggaeton and Salsa.
The Merengue step allows you to step on the beat and move your hips along with it. You can also use hand weights once more confident and burn more calories.
The Reggaeton step is where you include jumps and knee lifts into the routine. However, to make it more of a Bollywood theme, squats are also key. Salsa is the fun part of this style that focuses on the hip and hands motion.
Bollywood Zumba can be practised at your own pace and improves flexibility and balance. It can help improve stamina, aerobics and stretching abilities.
Dance, fitness groups and individuals that have created virtual videos to practice this at home include 'Dil Groove Mare' and 'Dance Fitness with Rahul and Vijaya Tupurani'.
A few popular Bollywood songs you can do Zumba to are 'The Jawani Song' from SOTY 2 (2019), 'First Class' from Kalank (2019) and 'Mungda' from Total Dhamaal (2019).
Urban Bhangra
Urban Bhangra is a dance form that originates from Punjab and also derives from the North Indian Folk dance.
It fuses traditional with modern elements of commercial dance. It is a simplistic style of dance, giving you the benefit of trying it at home in a relaxed setting.
However, if you feel like undertaking more of a challenging routine, there is the option of being more physical with your legs and arms.
Furthermore, depending on the style of song, an upbeat pace will require a strong level of fitness and balance.
The most interesting aspect of this dance form is its versatility. You can create your Urban Bhangra routines with the latest Desi soundtracks and urban remixes.
Examples include dance routines to the Punjabi track 'Aaja Billo Katthe Nachiye' (2019) by Gippy Grewal.
Also, there are online classes which can help you become a better dancer, by Harkiran Virdee from The Bollywood Company.
Jhoom
Jhoom is a mindful dance routine that can be easily followed. It is recommended by Shalini Bhalla- Lucas, a leading mindfulness and meditation teacher.
This can be performed to your favourite pieces of Indian music, as mostly it incorporates hand, eye gestures and yoga postures.
Unlike other forms of dance, Jhoom can be performed whilst standing still.
Jhoom also incorporates elements of squats. Many performers feel that Jhoom can help rebuild a sense of lost confidence.
Aerobics is particularly important in Jhoom. Warming up by stretching from side to side before doing a workout is recommended. This type of dance benefits ones mentally, socially and spiritually.
Bhalla's routine is made up of lots of bending, twisting and hip movements. These are essential in helping to tone the body's core and achieving a flat stomach.
This is extremely useful for those who wish to achieve gym workout results at home.
She regularly posts videos of her 'Just Jhoom' dance routines online to keep everyone moving, whether it's for mobility, pleasure or mindfulness.
Semi-Classical Dance
Semi-Classical dance has a mix of classical dance, however, its simplistic form makes this an easy dance for any Desi dancer. It's an enjoyable and fluid dance to adapt to.
The dance involves simple spins over the left shoulder. Arms and legs are then brought together in beautiful simple postures.
Furthermore, practising the graceful techniques of this dance form at home will help you find your inner spirituality and sense of being.
The spins can be practised in your conservatory or garden or even the comfort of your living room.
Wearing items of clothing such as a long kurta and leggings will allow for a more authentic feel.
Regarding practice or learning the dance yourselves, you can take various lessons and dancing tips from dancer Priyanka Chauhan.
Being an instructor from the Bollywood Company, she offers her dancing expertise through Instagram live videos and her own personal YouTube channel.
She performs predominantly to Bollywood romantic songs, creating her own impressive choreography. For instance, her most notable performances include 'Bol Na Halke Halke' from the film, Jhoom Barabar Jhoom (2007).
Bharatanatyam
Bharatnatyam is a classic style of dance that heavily represents the beauty and magic of Tamil dance. It is a dance that is special for the females and will grace the dancefloor.
In the 21st century, it is an essential dance that lives within a young girl's upbringing in Southern India.
This dance particularly specialises in sweet but delicate leg movements and soft hand gestures, best known as the Mudras.
In traditional circumstances, women were seen to wear brightly, vibrant sarees and costumes made of various silky materials.
Furthermore, it's popular in Bollywood and is a great way for women at home to express their beauty through dance.
Masala Bhangra
'Masala' which defines spicy in Hindi and 'Bhangra' which revolves around traditional folk dance from the northern Indian state, combined together is the ultimate dance form.
This colourful and exotic dance is an energising folk-type dance that blends Bhangra steps with Bollywood dance moves.
Also, this dance form certainly triggers an essential cardiovascular workout. Your body will naturally tone, strengthen your body conditioning, endurance, and balance.
Not to mention, it's simple and easy instructions are modified to the comfort level of the dancer, making it accessible to all fitness levels.
Requiring movement with the legs from jumping and controlled arm movements, it will certainly keep you fit.
Bollywood Dancing
Bollywood Dancing is the most popular and common dance for any Desi dancers out there to undertake.
Whether it's watching many Bollywood song videos, or watching famous iconic dancers, you will always have the freedom to practice.
Whilst there may be fewer men invested in Bollywood dance, it is a great chance for women to get involved.
This is because of famous dancers such as Farah Khan, Hema Malini and Sridevi. In relation to practising at home, actress Madhuri Dixit provides online dance classes.
Her website 'Dance with Madhuri' enables fans to workout from home, and tackle styles like folk dance and tap dancing.
Believing dance is a great way to fight anxiety and to stay in shape, she's accompanied by great choreographers.
These include Terence Lewis, Remo D'Souza, and Saroj Khan bringing you to the best of your ability.
Garba
Garba is a popular Desi dance and folk form which stems from Gujrat. It involves a lot of clapping, twirls and spins.
Garba is usually performed in temples at the time of the Indian festival Navratri. However, it can also be practised at home with your family members.
By moving around in a circle and spinning to your favourite folk track, this style is both meditative and a workout.
Sticks best known as 'dandiya' feature as part of the dance as they clash with the other dancers' sticks.
The repetitive movements and speed can help you achieve a state of trance. As the dance can be performed for between 30-40 minutes, it is good for stimulation.
Garba has a musical range from devotional to philosophical and romantic. The lyrics of Garba often represent a combination of emotions and being energised at the same time.
Kalaripayattu Dance
Kalaripayattu is a unique style of dance consisting of all sorts of physical elements, suiting more to acrobatic dancers.
Exercises such as martial arts, yoga and dance play a huge part in testing your physicality.
Jayachandran Palazy is a contemporary dancer from Bangalore. His project 'Attakkalari Connect' provides online classes that allow plenty of exercise within a small confined space at home.
In addition, his exercises revolve around fusing cardio-vascular moves to an enthusiastic, or slow, rhythm of a song.
Also, he takes a huge interest in our breathing and our hearts through dance. Palazy also recommends using a mat and incorporates styles like Yoga, Kalaripayattu and Bollywood dance.
According to The Hindu publications he speaks about his online dance classes and the importance of the body:
"Focus on your breath, to strengthen and celebrate your breathing and your movement."
"Connect your mind and body by rewiring your body, through sculpting in space and time with your breath."
Ballet and Jazz
Although it is a general style of dance, you can incorporate your own ballet dance styles to any music genre. It can be a tricky style of dance, but practice can always make perfect.
Whilst ballet requires a strong level of balance and control on your feet, mixing it with Jazz music is unique.
Also, the gentle but precise movement of the arms is something to consider when taking on this routine.
Established dancer Auti Kamal specialises in the style of ballet and the Jazz genre.
Along with her popular YouTube channel, she can teach you a range of dancing techniques to practice at home.
For instance, she can teach you how to perfect the act of a Pirouette, Calypso and various other dance steps.
Also, she will sometimes use a dance partner which can allow you and a friend to try dance lifts and duets.
Her style of dance is mostly known as a 'how-to guide', placing more emphasis on individual learning, proving beneficial for novices.
Watch Urban Bhangra dance routine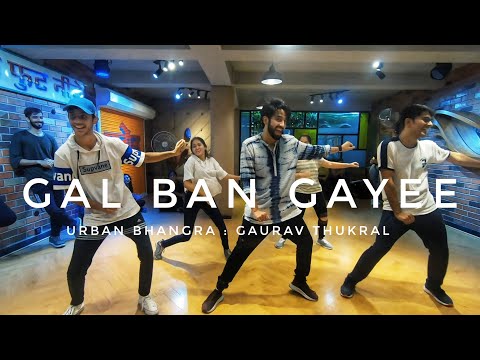 With the aid of online classes and groups, many people are forming a vital form of connection virtually.
From high energy dance forms to more structured ones, there is a huge variety of dance forms that can be practised at home.
Social media platforms that are helping to motivate people to dance include Instagram, Facebook, and Zoom.
However, it is not just Desi styles of dancing that you can learn at home. Other forms of exercise, such as yoga and bodyweight training, can be practised for those wanting something more intense.