"This season is ambitious in attempting to reflect that with a range of astounding young and multi-cultural artists."
The prestigious Symphony Orchestra of India will be arriving to the UK for their very first performance at the Birmingham Symphony Hall.
Part of the Town Hall Symphony Hall's 2018/19 Birmingham Classical season exceptional lineup, the incredible Symphony Orchestra of India (SOI) will be performing Nikolai Rimsky-Korsakov's retelling of the classic Thousand and One Nights (Scheherazade, Op 35, 42').
The SOI will retell the classic Thousand and One Nights, known more colloquially as Arabian Nights. It has influences from Indian, Persian, and Arabic tales. It retells the tale of a wise woman (Scheherazade) who tricks her tyrannical husband. Each night after taking a bride, the Sultan Shahryar would execute his wife at dawn.
Believing no woman could be faithful, the cycle continues until he weds Scheherazade. Each night she tells him a tale but ensures that she never finishes it. Overcome by his desire to know the end of the tale, Shahryar can never execute her.
Nikolai Rimsky-Korsakov took influence from this tale amongst other Arabian Nights tales. The music for SOI's performance in Birmingham is Scheherazade, named after the female character in Thousand and One Nights.
In his review of 1,100 Nights, Calvin Dotsey comments on Rimsky-Korsakov's use of sound:
"Throughout, the music of Scheherazade showcases Rimsky-Korsakov's mastery as an orchestrator; in terms of the pure, sensory pleasure of sound, he is unsurpassed."
Moreover, Rimsky-Korsakov uses growing music to mimic the increasing anger of Shahryar. This comes in contrast to the violin solos that are thought to represent the sweetness of Scheherazade.
Music enthusiasts can expect "glittering splendour and gorgeous colour" led by conductor Zane Dalal. Joining the orchestra on stage is tabla master Zakir Hussain.
Hussain returns to Birmingham following his tabla concerto in 2015 which was commissioned by India's National Centre of Performing Arts.
Founded in 2006, the SOI is the first and only professional symphony orchestra in India. It is founded by both NCPA Chairman Khushroo N. Suntook and Marat Bisengaliev, who is currently working as the orchestra's Music Director.
Since it began, the orchestra has performed in India and internationally.
Furthermore, the SOI can boast that it has worked with over fifteen renowned conductors. This includes Charles Dutoit, Martyn Brabbins, and Carlo Rizzi, to name a few. In the Image below, Charles Dutoit conducts.
Conductor and Violinist, Augustin Dumay, praises the growth of the Symphony Orchestra of India on their website:
"It is wonderful to see the birth of an orchestra of this level in India, to see it grow and develop; to discover, concert after concert, its superb potential; and it is a great personal and musical pleasure to participate in this beautiful adventure."
By lowering ticket prices for them, Town Hall Symphony Hall encourages a younger audience to get involved with classical music. For people under the age of thirty, tickets for the event are just £5.
The importance of connecting with a young and diverse audience is a priority. Head of Artistic Programming at the Town Hall Symphony Hall, Richard Hawley, says:
"Birmingham is the youngest city in Europe and more ethnically diverse than London. This season is ambitious in attempting to reflect that with a range of astounding young and multicultural artists."
His reference here to multicultural artists highlights the importance of the SOI's presence in Birmingham. Their performance is stunning and encourages people of all ethnicities and ages to get involved.
On SOI's website, a fan, Anooshah Golesorkhi, emphasises the orchestra's role as an educator:
"You have begun the great task of education, not only of your audiences, but also of your youth; the musicians, performers and patrons of tomorrow. And most importantly you have lit an everlasting and ever-growing fire, desire and hunger for classical music with the generations to come."
Reigniting the younger generation's love for classical music, it is important to acknowledge the progress that India has made and will continue to make with SOI. They are performing at such a high level, whilst also spreading messages of diversity and music education.
India's professional symphony orchestra will debut in the UK on Tuesday, 19th February 2019. You can purchase tickets for this performance, here.
Watch the Symphony Orchestra of India perform here: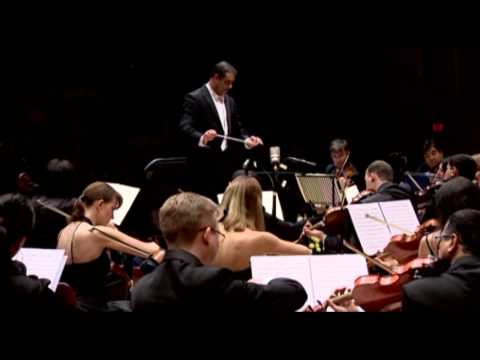 More from THSH's Birmingham Classical Season 2018/19
Events at the Town Hall Symphony Hall in Birmingham go further than just the Symphony Orchestra of India's performance. Their classical showcase begins on 13th October 2018 and continues up until 21st July 2019.
Kicking off the classical season is the Royal Philharmonic Orchestra on the 13th of October. They will be playing Shostakovich's Symphony No.5 from 7:30 pm, alongside Rachmaninoff and Strauss.
On 10th February, the Orchestra of the Royal Opera House performs at Symphony Hall. Considered a highlight of any season, soloist Anita Rachvelishvili will be conducted by the exceptional Sir Antonio Pappano. They will be performing Tchaikovsky's Orchestral Suite No.3 as well as a selection of Rachmaninoff.
A testament to the youth of Great Britain, the National Youth Orchestra of Great Britain will be performing in Birmingham. Conducted by Carlos Miguel Prieto, the young performers start at 4 pm with a vibrant display of their musical talents.
To wrap up the classical season, tenor Mark Padmore and pianist Paul Lewis team up. They take on Schumann's Dichterliebe, a song-cycle also known as a 'Poet's Love'. It focuses on themes of flowers, dreams, and fairy-tales.
Their performance takes place in the Town Hall on 21st July 2019.
Tickets for the Birmingham Classical Season 2018/19 are currently on sale. They have plenty of discounts for students and concert packages. Moreover, under 16's can enter free with an accompanying adult.
Ultimately, the events mentioned here are just a handful of classical music performances that are taking place. To find out more, visit the Town Hall Symphony Hall website here.