"The most brilliant film to have been made in India in decades. Puts all of us to shame."
Ship of Theseus has received nothing but positive reviews since it's general release on July 19, 2013, and has got the whole world buzzing.
The independent drama film, written and directed by Anand Gandhi was initially premiered at the 2012 Toronto International Film Festival.
The film explores 'questions of identity, justice, beauty, meaning and death through the stories of an experimental photographer, an ailing monk and an enterprising stockbroker'; starring Aida El-Kashef, Neeraj Kabi and Sohum Shah.
The first story is about is a visually impaired and celebrated photographer, Aaliya Kamal (played by Aida El-Kashef), who in the process of undergoing a cornea transplant that will restore her vision.
The surgery is success and her vision is restored, however she has trouble adjusting to her new sense of sight and is dissatisfied with her resulting photography.
The second story is based on Maitreya (played by Neeraj Kabi), a monk who runs petitions to ban animal testing in India. When he is diagnosed with liver cirrhosis, his hesitance towards medication is questioned and he must now rely on the people he's been fighting against, which is something he refuses to do.
In order to be able to portray the physical condition of Maitreya, Kabi lost close to 17 kilos over a four month time period. This was achieved through a rigorous diet and exercise routine. Since this took its toll on his body, Kabi was unable to take on any additional acting or theatre work.
The last story portrays a young stockbroker, Navin (played by Sohum Shah), who just had his kidney transplanted. He soon learns of a case of kidney tourism involving an bricklayer, Shankar. His initial fear is that his new kidney originally belonged to this man. He investigates and takes matters into his own hands and confronts the actual recipient in Stockholm.
Ship of Theseus has been screened and film festivals around the world, including Toronto, Tokyo, London, Dubai, Rotterdam, Hong Kong and many more, where it received great critical acclaim and positive reviews from both Indian and international press. It has been hailed as 'the most significant film to come out of India in a very long time.'
Most of the film was shot on location in and around Mumbai, in Jaipur, Chhitkul and Stockholm for a short period of time. When shooting took place outside of Mumbai, the production unit generally consisted of a three people crew, with each multi-tasking in various capacities.
For the Stockholm shoot, Gandhi roped in Rupesh Tillu, a theatre and clown artist based in the city. Tillu handled production and assisted the team, the actors and scout locations. He also had part in the film, playing the role of Ajay, Navin's friend in Stockholm.
Aamir Khan hosted a special screening for this project as well as a celebratory party. Celebrities like Ranbir Kapoor, Priyanka Chopra and Katrina Kaif were among those who attended the special screening of Ship Of Theseus there:
"It was a very wonderful film, very powerful. I don't think any other film has moved me so much as Ship Of Theseus," Ranbir said at the screening.
Among others who were seen at the event were Parineeti Chopra, Kunal Kapoor, Nawazuddin Siddiqui, Aditi Rao Hydari and many more. Aamir's wife Kiran Rao presented the film alongside Aamir.
"Kiran saw this film earlier. She loved it and asked me to see the film. When I saw it, I loved it too. We thought we should promote these kinds of films, so we invited all our friends from the industry for this screening. I wanted them to see the film and meet the star cast," Aamir said.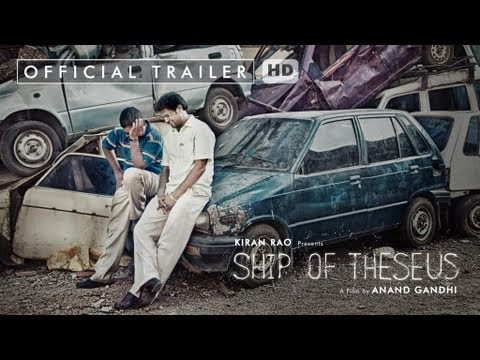 Rumours of a future collaboration between the director and Khan were confirmed by Gandhi himself: "Aamir has shown a lot of enthusiasm, he loved Ship Of Theseus, he said that if you have anything that I could do, he would love to do it.
"I wouldn't mind that either. The thing is the commitment actors in my films make is of a very severe level. The opportunity, costs become greater," he added.
"When Sohum Shah was doing Ship Of Theseus, he put on weight, he became paunchy, he looks very different. Neeraj Kabi lost 17kgs. The commitment was 4 months before the shoot, he started getting rigorously involved with the philosophy of the film."
"He went from being a non-vegetarian to a vegetarian. I'm certain that if Aamir is convinced about the film, he would be willing to give in to that kind of a commitment. So that's a relationship I'm completely open to," Gandhi said.
Everybody from the film industry, critics, actors, directors and the public have nothing but positive things to say about the film.
Anurag Kashyap called it: "The most brilliant film to have been made in India in decades. Puts all of us to shame."
Dibakar Banerjee expressed: "To those who want to experience a vision – that elusive thing every film claims to have but few exhibit – SOT will be water after a long walk in the desert."
"I will see Ship of Theseus many times in my life. To most, I would advise to watch at least twice. Once, to enjoy it. Then once more to cherish it," Banerjee added.
There are many reasons why Ship of Theseus is a film one can't miss. It has won countless awards from film festivals all over the world, which gave it a chance to remain in the news. In addition, intellectually the Indian audiences have grown a lot in recent years, and now it's the time to give them such a film which can compete at international levels.
Sohum Shah, the producer of the film, believes Anand Gandhi's honesty is the Unique Selling Point of the film: "The USP of the film is that it has been made with utmost honesty. It has been made exactly the way the director wanted to make it and there have been no compromises with the story."
Ship of Theseus, released 19th July has touched the hearts of many, with intertwining stories based on realistic events that really connect with India's developing audience. With everyone having praise for the film, including directors wishing they were able to direct such a film themselves, this is a film not to be missed.