"I've realised that being myself is the best bet, that's really the way to success, just being yourself."
Sharon Carpenter is known for hosting live quiz show app phenomena HQ Trivia. Besides the UK, the New York-based beauty has conquered the entertainment industry in America.
Sharon is becoming a household name in the UK, after gaining huge popularity with HQ Trivia.
Carpenter, who is half-Indian, has also made major strides over the years as a successful journalist.
Sharon is a regular on red carpet events, interviewing celebrities from the world of film, music and entertainment.
She has even tried her hand at new endeavours, particularly fashion. Carpenter also appears frequently as a panellist on The Wendy Williams Show (2008).
Carpenter made her acting debut in the second season of FOX's Empire (2015) where she played herself.
DESIblitz met the influential 'female boss' for an exclusive about her career, inspiration, HQ Trivia and how experiences have helped to shape her evolve as a person.
Growing up and Inspiration
She was born Sharon Lee Carpenter in England on March 02, 1992.
She is the daughter and step-daughter of two medical doctors and former professors at Harvard Medical School in Boston, USA. Sharon has 1 brother and 1 sister.
Carpenter grew up in Watford and Guildford in England. Sharon exclusively told DESIblitz that she was not always the confident woman that she is today.
The host explains:
"I was pretty shy when I was a kid and I grew up in Watford at a time where it was quite racist. And so I used to get bullied a lot in school.
"I think that had a pretty big impact on my confidence.
"So in school, I remember I used to know the answers like a lot of the time. But I was too scared to put my hand up in class because I was just super super-duper shy."
Carpenter cites hip-hop music as having a big impact on her life and helping her embrace who she is. Seeing people of colour embrace themselves, helped her come into her own.
She went to New York City in 2000 and attended Pace University, graduating in Magna Cum Laude with a Bachelor of Business Administration (B.B.A) in Business Management.
However, moving from one country to another was not an easy ride.
Sharon spoke to DESIblitz about the struggles of leaving her life behind in the UK. She says:
"I think the hardest thing for me, from moving from the UK to the US, to New York, was leaving my family first of all because I lived with my family full-time."
Carpenter found the move very lonely, calling her mother after the first day, and sobbingly asking to come back home.
Nevertheless, with perseverance, she began to enjoy the experience. Sharon adds:
"I'm the sort of person that throws myself into situations, so I don't think too much about kind of what I'm missing.
"I allow myself to focus on what's going on here in front of me, and that's what I had to do."
Carpenter recalling her influences states Oprah Winfrey as an inspiration.
The journalist has interviewed many celebrities over the years, but Sharon mentions Oprah as one of her favourites saying:
"Oprah Winfrey has definitely been a favourite for me because she's somebody who's inspired me so much. Just seeing Oprah, just against all odds, getting to the point where she's so powerful.
"She's got her own network and she's an amazing journalist, she's an amazing host.
"People want to talk to Oprah so Oprah has always been an idol and a really big inspiration to me."
HQ Trivia
Sharon is the host of live game show app HQ Trivia. She joined the show in October 2017, beginning with a few guest appearances.
After impressing viewers, Carpenter became the main host for the UK version. Sharon also occasionally works on the US version of the app.
Fans of the app affectionately call her 'Shazza,' indicating that Carpenter is a familiar name in the UK.
HQ Trivia is a live quiz, which enables players to go through 12 rounds, going from easy to hard. Players answer questions, and if correct, they proceed to the next round.
Answering all 12 questions correctly allows players to win large sums of money.
She describes:
"There's always something to learn, so people walk away feeling not just that they had a good time. But that they actually learnt some new information."
HQ Trivia has had over 280,000 live players participate in the UK game and around 2.5 million for the US version.
Interacting with the 'HQties' as the players are known, is a great experience for Sharon:
"Meeting our HQties has really been such an incredible experience, it really has.
"I've met so many people on the streets, and all sorts of people that I wouldn't necessarily expect to be huge HQ fans, politicians, all types of people, celebrities, it's been an incredible experience."
Despite spending most of her career in America, Carpenter is presenting herself to a British audience. Sharon highlights this point mentioning:
"Being able to present to my people, the people that I grew up with and tell the jokes that people are actually gonna get, and use some of the slang that people are going to understand, that's been amazing."
During the course of the 12 rounds, Carpenter often cracks jokes to keep it entertaining for the players.
Besides this, shoutouts are given to players. Sharon mentions that it makes her unhappy when she is unable to give everyone a shoutout in the game.
"When I can't squeeze everyone's shoutouts in, that does make me feel guilty. It makes me feel bad, it really does, I try to get in as many as possible."
Career, Quality and Success
Sharon initially wanted to pursue a career in the music business and have her own record label.
However, after interning at a record label, Carpenter thought otherwise.
She was then offered the opportunity to host a public access show. This required her to interview celebrities such as rappers Wyclef and Snoop Dogg.
Consequently, after receiving great feedback from audiences, Sharon's journey in the entertainment industry had begun.
Carpenter has gone on to work for a number of top American networks including CBS, BET, Sean "Puff Daddy" Combs REVOLT TV and VH1.
Sharon is also the red carpet host for BBC America and is a regular panellist on The Wendy Williams Show.
In 2013, Carpenter co-created her first television show The Gossip Game (2013). She also appeared on the series as a main cast member.
The series follows the lives of seven media personalities who cover the urban entertainment industry and live in New York.
Speaking about her career, Carpenter tells DESIblitz that one of her highlights was appearing on FOX's Empire (2015).
Sharon made an appearance in Episode 2, Season 2, playing herself:
"That was just such a surreal experience because I'm playing myself, but I'm acting at the same time, and I don't consider myself as an actress at all.
"But I got through it unscathed and they were really, really happy with my performance so I heard and it was amazing when it was on the air as well."
Adding another feather to her hat, Sharon turned fashion designer in 2018, launching her own fashion range. Carpenter collaborated with brand Ego Soleil for a clothing collection aimed at the modern woman.
With so many vying for the same opportunities as her, Sharon has decided to be herself and stay original:
"I've realised that being myself is the best bet, that's really the way to success, just being yourself. When you're trying to be something else, it's never gonna come across as authentic."
Carpenter also talks about what makes her stand out from competitors:
"Quality is really, really important to me. So with my journalism, with the stuff I produce, with everything I do, I try to make it the best quality, highest quality possible and I think that helps it stand out."
Watch our Exclusive Interview with Sharon Carpenter here: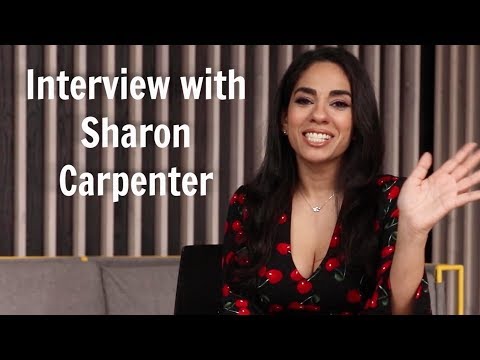 Sharon Carpenter has many accolades to her name. She was featured as one of the most influential people in London by the Evening Standard on their 'Progress 1000 List 2018.'
Through her repertoire of work, Sharon has shown that determination and hard work most certainly pays off.
She has managed to carve a successful career as a journalist and host both in the UK and US, along with delving into the fashion industry.
Coming from humble beginnings, Carpenter has overcome the shy personality she once had, evolving into a confident woman:
"Throughout my career, I've had to put myself in uncomfortable situations. You're certainly going to have those moments that are uncomfortable.
"But the best way to get over that is to keep putting yourself out there and in those uncomfortable situations and facing your fears.
"Once you face your fears, you're unstoppable."
For those people who look up to her and are attempting to pursue a career in the entertainment industry, Sharon's advice is to keep striving:
"Even during those times where things looked bleak, or things were really tough, or it was hard to make ends meet, or you're waiting for that email that you never get, I think just keep on going.
"There is a silver lining if you look deep enough, then you're gonna be like 'now I know why it happened, now I know why I didn't get that job, now I know why that fell through, now I know why that relationship didn't work out.'
"Whatever it is, because there's better out there, that's right for you."
It seems one can learn a lot from the HQ Trivia host and journalist.
Overall Sharon Carpenter will keep marching on positively and doing what she does best. She will hopefully inspire many young people who want to emulate her success in the future.