"I needed the antithesis to the evil Akshay. Imran has a wonderfully honest presence."
The much-awaited sequel to Once Upon A Time In Mumbaai (OUATIM) has officially hit screens and got the crowd buzzing.
Starring Akshay Kumar, Imran Khan and Sonakshi Sinha and directed by Milan Luthria, Once Upon A Time In Mumbaai Dobara (OUATIMD) is a clever balance of the gangster world with a powerful love story.
The prequel, which released in 2010 was a big hit. But whilst that was more about the gangster world, this new film is more focused on the personal issues between the heroes trying to win over their common love interest – Sonakshi, who plays a budding actress in the movie.
Writer, Rajat Arora continues the story on from where we left off in the first film. Shohaib (played by Akshay Kumar), who killed his mentor in the past (OUATIM) is back to gain power and status and is now the ruling mafia don. His influence and power has spread right up to the Middle East.
Despite his far reach, Shohaib's only friends are Javed, who looks after his empire for him, and his former lover Mumtaz (played by Sonali Bendre).
Shoaib often visits the poor areas where he grew up and this is where he meets Aslam (played by Imran Khan). He takes Aslam under his wings and gradually he becomes one of his favourites.
Shohaib then stumbles upon a young actress, Yasmin (played by Sonakshi Sinha). Both him and Aslam are immediately enamoured by her beauty and candour. Slowly his attraction towards Yasmin grows into an obsession. The subsequent love triangle, results in the ultimate showdown between the two friends.
The production house is Balaji Motion Pictures, and the movie is made with a budget of Rs 100 crore and has been released across almost 2,500 cinema screens.
OUATIMD also brings back the beautiful Sonali Bendre on the silver screen after almost a decade. Speaking about her return on the film, Sonali says:
"The film is directed by Milan Lutharia and I have known him since a long time. He used to assist (Mahesh) Bhatt sahib, and my first ever song 'Sambhala hai maine…' was shot by Milan. So the equation and the relationship go very far back."
Fellow actor, Imran Khan is confident that his fans will appreciate his work in the underworld-based romantic drama.
The 31-year-old said: "I am always very nervous before the release of a film, but I saw the film with Akshay sir and Sonakshi and I am feeling very strong. I feel we have managed to make a very good film, I feel very happy with my work and I have a sense that people are going to appreciate my work."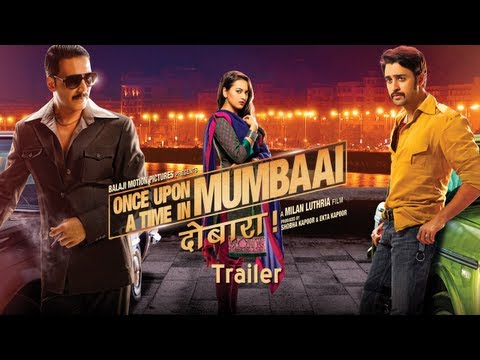 His director, Luthria gave constant praise and compliments for Imran's work:
"The best compliment came from my director Milan sir, who said that he is very pleased with my work. Obviously, as an actor you want the audience to appreciate your work," Imran said.
Producer Ekta Kapoor roped in actress Vidya Balan for a cameo role. Ekta considers Vidya Balan to be her lucky mascot and hence approached the actress for the role. Vidya, who admires Ekta, immediately agreed to make a friendly appearance in a song sequence.
Tanuj Garg from Balaji confirms: "Vidya is like family to us and agreed to making a friendly appearance in OUATIMD immediately when she was approached."
Pritam, who has already taken everyone's hearts with the melodious 'Yeh Tune Kya Kiya' and the remake of 'Tayyab Ali' from Amar Akbar Anthony, has composed the soundtrack.
'Yeh Tune Kya Kiya' is a delightful, romantic qawwali, with vocals by Javed Bashir. The lyrics take you on a dreamy journey and is very pleasing to the ears.
'Tu Hi Khwahish' is sung by Sunidhi Chauhan, who takes a straightforward track and adds her attitude and sass, which suits the music around her. The disco beats gives that extra 80's edge, mixing in essences of cabaret and disco.
'Chugliyaan' is where Javed Ali excels far better in a romantic song that suits his smooth-as-honey-like voice.
This was also the first time Luthria has worked with Akshay, and he had nothing but positive things to say about the actor:
"He is larger than life, yet as disciplined and relaxed as can be. Akshay has a huge appetite for more, and he got that in this film. I could see all through that he was relishing the experience of a film that gave him something different to do."
On casting Imran as a gangster, Milan expressed: "I needed the antithesis to the evil Akshay. Imran has a wonderfully honest presence. Watch for him he's a surprise package!"
This is also a first for Akshay and Imran sharing screen space: "I am in awe of this boy's performance in this film – talk about the Dark Horse coming out to play! Imran has surpassed himself."
"He has held on to his character with both hands and gritted his teeth through some of the toughest of shots. I love his role. More so, I love our bond in this," Akshay said on working with Imran.
Film critic Taran Adarsh announced his verdict of the film, saying:
"While the prequel held the spectators by its ears and eyes, OUATIMD suffers because the grip is absent from the very start itself. Also, the villain is just not authoritative or commanding enough here."
However he then went on to say: "On the whole, OUATIMD has a powerful second half and the drama/conflict helps the film regain ground, after a shaky first hour."
Komal Nahta also came to a similar conclusion in his review of the sequel:
"On the whole, Once Upon A Time In Mumbai Dobaara is an average film with dialogues and performances as its big plus points, and the burden of Once Upon A Time In Mumbaai and limited action as it minus points. Considering all the pros and cons, it will barely be able to recover its heavy cost."
Once Upon A Time In Mumbaai Dobara is the one to watch if you love a film with all the spirits of crime, drama, love and romance.
What did you think of Once Upon A Time in Mumbaai Dobara?
Mind Blowing (55%)
Time Pass (32%)
Okay (13%)
Loading ...