"I had to push myself as far as I could to portray this role"
Following the controversially lauded Udta Punjab, Anurag Kashyap takes a seat in the director's chairs for the thriller, Raman Raghav 2.0.
The edge of seat drama stars the talented actor Nawazuddin Siddiqui in the lead, who portrays the psychopathic serial killer, Raman, on screen.
Giving the infamous wanderings of the 1960 Mumbai serial killer a modern day twist, director Anurag Kashyap presents a dark and gritty film.
Raman Raghav 2.0 follows the story of two major characters, a serial killer Raman (played by Nawazuddin Siddiqui) and a young cop Raghavan (played by Vicky Kaushal) having their own demons to deal with the two anti heroes are forced to cross paths and find themselves in a fast paced thrilling cat and mouse chase.
Will Raman ever be caught? Or will Raghavan's personal demons get the better of him? Watch Raman Raghav 2.0 to find out.
After his 2015 debacle Bombay Velvet, director Anurag Kashyap was criticised and questioned on whether or not he has lost his touch as a creative filmmaker.
However, with reports suggesting that Raman Raghav 2.0 is his 'comeback' to prove he still has the talent, Anurag has been denying all the reports and is calming that that the film is just another project he wants to add his in filmography and has no intention of proving anyone right or wrong:
"I only make films that I actually believe in and I did not make a small budget movie like Raman Raghav 2.0 to compensate for the loss of Bombay Velvet. It isn't possible."
He also went on to explain his experience with working with Nawazuddin once again, saying: "Nawazuddin and I have come a long way since Dev D and our equation has only gotten better over the years.
"I am not harsh on my actors but yes, I expect dedication and when the actor has to go through difficult roles they get involved with the character personally which takes a toll on them."
Moreover, known for his diverse roles, Nawazuddin has once again surprised us by playing a psychopath on screen.
However, known for his introvert personality in a recent interview Nawazuddin explained what the experience was like to play a serial killer. He says: "It was very difficult, because he has a very different kind of philosophy and logic to a normal person.
"He could give a justification for these murders. I don't believe his rationalisation but in order to play the part I had to believe him through that process of portraying him on screen. I felt disturbed at the time and it had an effect on my mind because I'm not like that. When you play these kinds of roles of course it will affect your mind," he explains.
The film also stars Vicky Kaushal playing a troubled cop. A stark contrast from his usual romantic hero next-door roles, Vicky says he was conscious to not be typecast:
"That is a deliberate effort from my end. Whatever I do should surprise me and the audience and I want that with every film people should feel 'What is he upto now?'"
"I feel very fortunate that in my third film, I am playing a character like this and a director like Anurag Kashyap has shown trust in me. It means a huge deal. I also had to push myself as far as I could to portray this role," said Vicky.
However, getting under the skin of the character did require Vicky to detach himself from his friends and family and lock himself in his room for days:
"The film was shot in 21 days. The schedule was tight and we would finish a massive chunk everyday. The hectic schedule and the intense space of the character started affecting my sleep, and in a few days into the shoot I was functioning on very less sleep.
"With a character like Raghav, it's so complex that you don't enjoy being in that space. It takes a toll on you because it's not you. You want to get out of it."
Also joining the lead actors is new actress, Shobhita Dhulipala who also found it a challenge to get into the head of her character:
"When I auditioned for [Raman Raghav 2.0], I had no idea it was for an Anurag Kashyap film. Also, I was given the scene on the spot and it was very intense and hardcore.
"It was a lot for someone like me, who is 22-23 and has to portray emotions that have so many layers and are deep," she explains.
Presenting a serious topic within the movie, it was important as to how the music compliments the subject of the movie rather then mock the seriousness of it.
Music director Ram Sampath has made sure to create a good mixture of tracks. 'Qatl-E-Aam' has two differing versions expressing the two sides of the story: one being fast paced and one being slow and slightly horrific.
The tracks 'Paani Ka Raasta' and 'Behooda' present the desperation of the both characters who are stuck in this cat and mouse chase. Overall, it is a good album, and a perfect match for the thrilling backdrop of the movie.
Watch the trailer for Raman Raghav 2.0 here: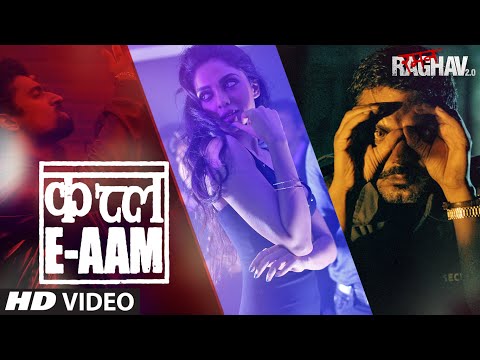 Already been showcased in Cannes International Film Festival, Raman Raghav 2.0 has received mixed reviews from the international market.
Some critics have said it lacks wit, while the other half appreciate the dark subject and have given a thumbs up to Nawazuddin's acting, who was given a standing ovation at Cannes.
However, it is newbie Vicky Kaushal who has made his presence felt with an incredibly believable portrayal of the misguided police officer.
While Udta Punjab currently dominates the box office, it'll be exciting to see how well Raman Raghav 2.0 pans out at the ticket counters.
So would you like to be part of this cat and mouse chase? Raman Raghav 2.0 releases from June 24, 2016.