"Nowadays tattoos are very popular in Punjab compared to a few years back"
Kamz is a talented tattoo artist based in Jalandhar.
Founder and owner of his own tattoo parlour, Kamz Inkzone, the artist enjoys a celebrity clientele, who come to him for intricately created bespoke designs.
Kamz was first inspired by the art while he was at school after watching a friend draw a tattoo design on his wrist with a pen. Since then, Kamz became hooked and turned his drawing passion into a profession.
He convinced his parents to send him to Ludhiana, where he learned the craft from tattoo expert Nick Sharma.
After a few more years of studying and travelling across India and Nepal, Kamz has now become one of the finest tattoo artists in Punjab.
In an exclusive Gupshup with DESIblitz, Kamz talks about his passion for tattoos, his famous clients and more.
What made you choose this career as a Tattoo Artist?
Tattooing is my passion and I wanted to do something different. Also, I love to draw that's why I chose this field.
How do people react to you when you tell them what you do?
Some people get excited that wow you're an artist and they appreciate it. And some take it in a negative way, they think I am wasting my life.
Who are the stars or celebrities you have inked?
I have inked many stars like Sukhemuzical Doctorz, Akay, Master Saleem, Anadi Mishra, Zora Randhawa, Jashan Nanarh (video director), Manpreet Singh Ghony (cricketer), Mr. Vgroovs (music director) and many more.
What is the hardest part of tattooing for you?
To ink someone in the crowd under pressure and inking someone who is confused about the selection of tattoo makes my job hard.
How popular are tattoos in Punjab? What designs do people most want?
Nowadays tattoos are very popular in Punjab compared to a few years back. Mostly people want names, khanda, lion etc. These are very common tattoos.
How old are your clients?
From youngsters to 50+ aged people get tattoos from me. I don't remember the oldest customer.
Watch Kamz ink popular music artist A-Kay here: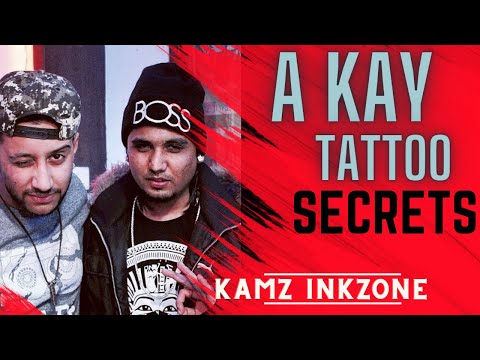 Do many girls come to you compared to guys? If so, what kind of designs do they like?
"Yeah, girls get tattoos from me. I would say out of 10 clients, 7 are girls. Mostly they want small tattoos like names, birds, butterfly, feathers. Some girls get big tattoos."
What has been the most strange request ever?
Once a girl called to get a tattoo from me. But her requirements was to shut the shutter down and she didn't want anyone in the whole studio except me.
I refused to do that tattoo because I have my own rules. I do work with all artists and I believe in learning. If a tattoo artist is working on someone, others can learn a lot of things from that.
Are there things you would not do? Why not?
Yeah, of course, there are so many things I would never do in my life as a tattooist. First, no cheap tattoos and second, I don't ink drunk people.
What kind of bad tattoos have you had to remove, or change and cover up?
These are mostly cheap tattoos which I have to cover up. People also like to cover their ex-girlfriend or ex-boyfriend's name.
Who would you like to ink? Any celebs or singers?
Akshay Kumar.
Watch Kamz ink the cricketer Manpreet Gony here: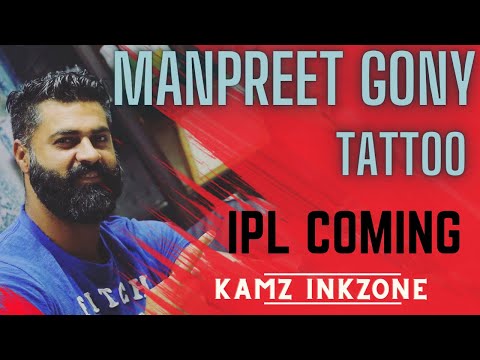 How many tattoos is too many? Is there a limit you would not go past?
No there is no limit of tattoos. It's all about passion.
What keeps you fresh as an artist?
New work. A work to learn new things. Every day I start my work to learn something new and do something creative.
What do your parents think of your job?
They are proud of me.
What would you say to someone who wants a tattoo for the first time?
Be prepared for it. Get it with a story. Tattoos are your story.
Tattoos are a hugely popular trend in the west, but now Punjab and the rest of India are also catching up.
The rise of these talented tattoo artists are adding a whole new level of intricacy and cultural influences to the craft.
To see more of Kamz's work, visit his Facebook page here.