The dancers open and close their arms repeatedly, just above the breast, for that sensual effect.
Kalbelia tribe have had a history of charming snakes and catching them too.
That's right. The Kalbelia tribe members have always had a spiritual connection with snakes.
Ultimately, this history and connection paved way for the Kalbelia cultural dance.
Snake dancing, culture and eroticism are entrancing elements of the Kalbelia dance. Wonder no more, as DESIblitz unravels the curtains to present this sensuous dance.
Origins of Kalbelia Dance
Kalbelia is performed mainly in Rajasthan in India within the tribe of the same name.
The sapera or snake charmer represents this tribe.
This is because traditionally, Kalbelia men would trade snake venom across homes. Women, on the other hand, would dance on the street to receive extra money.
Kalbelia members were known to remove unwanted snakes from people's homes without killing them.
People would call upon them to perform this dangerous act!
During the royal period, Rajasthani Maharaja's would call Kalbelia folks to perform dances or snake charming acts.
The Maharajas would pay them bountifully and hire them for festive occasions.
With the loss of royalty in Rajasthan, today, Kalbelia people perform on streets or at shows.
Being a form of cultural depiction, Kalbelia members truly represent the serpent.
They depict the snake in a positive manner, linking it to Indian tradition.
Due to this 'charming' history, the Kalbelia dance with its sensual moves is therefore known as the 'snake charmer dance'.
What makes Kalbelia so Sensuous?
Harmonising music, clothing and dance all combine to make the Kalbelia dance very sensuous and even erotic, if you observe the suggestive movements in detail.
Dancers perform the Kalbelia dance mainly during joyous celebrations.
Uniquely, women are the only ones who perform this folk dance. Men on the other hand play khanjari, a percussion instrument, and poongi, a wind instrument.
These instruments release exquisite and poetic music.
But, the dance doesn't have a fixed pattern. All solo dancers usually improvise their dance from set dance moves.
Gulabo, a professional Kalbelia dancer from Jaipur says:
"Sapera dance has no calculated steps, like Kathak etc. It is wild and free. It has a beginning but no end."
So, a dancer will first incorporate rhythmic swaying to the tempo of the music.
Swirling and twirling sensually, dancers would imitate movements of a snake.
The dancers open and close their arms repeatedly, just above the breast, for that sensual effect.
Finger grasping gestures highlight on the hand and is the main dance move.
Amongst all these features comes the recurring foot stamping and acrobatic bending actions.
Hip movements have to be subtle but noticeable, to tease the viewers.
These dances are sure to leave you mesmerised.
Here is a video of a popular performer of this famous Kalbelia dance: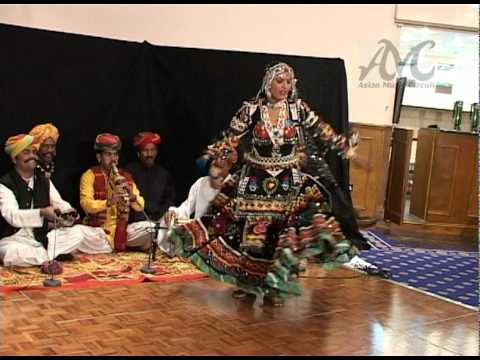 Kalbelia is known as "one of the most sensuous Rajasthani folk dances."
Aside from sensuality and eroticism, the dance is a symbol of a rich Rajasthani culture which includes pride and identity.
Ethnic Kalbelia Outfits
The outfits will make viewers hypnotised! They play a great role in giving the dance its cultural and erotic touch as well.
Where minimal clothing in the West is essential for a dance to be erotic and sensual, Rajasthani dressing covers up everything.
The dancers wear angrakha a full-length top and on the lower body a beautiful lehnga skirt.
When they perform a twirl, their long lehnga skirt is vividly accentuated.
Reflecting the mystifying aura of a snake, the entire outfit consists of black and red shades.
Silver embroidery or jewellery resembles the white spots of a snake.
Kalbelia dancers can also wear a head cloth as well, known as odhani.
Thick ghungrus or anklets are worn to provide a tinkling sound when the feet move.
All in all, the elements of this dance play a great role in creating its sensuous nature.
But, many people argue that Kalbelia is not an erotic dance.
A contemporary dancer, Sheetal comments:
"Although the dance may be erotic to some, it definitely seems more like a traditional and pure dance."
But others like professional classical dancer Javin, describes it as "a new variant to erotic dance."
It is possible that due to Western influence, erotic dance forms are displayed as simply sultry. But Kalbelia has redefined that image with a more cultural take.
The dance is truly a combination of great skill and utmost creativity finely intertwined together.
Everything else is left to the viewer's imagination.