"They're barely able to keep up right now. It's part of the reason they asked me to help."
While covering the devastating earthquake in Nepal, a CNN reporter stopped to perform surgery to save two young girls' lives.
Dr Sanjay Gupta is CNN's chief medical correspondent and a neurosurgeon. During his visit at Bir Hospital in Kathmandu, Sanjay was asked to help the doctors.
His first patient was a 15-year-old girl named Sandhya Chalise, who suffered from head injuries after being struck by a wall of her family's home.
After treating Sandhya, Sanjay continued to offer his support to the hospital, overloaded with injured victims of the 7.8-magnitude quake.
His next patient was an 8-year-old girl with a similar head injury to Sandhya. Selena Dohal arrived at the hospital with a bloodied bandage wrapped around her head.
Her grandfather who brought her to the hospital from Panchkhal said: "She went to get some water, and a house collapsed on her head."
According to CNN's report, her skull 'was fractured when a massive earthquake shook her neighbourhood, two and a half hours from the Nepalese capital, to the ground'.
Sanjay helped the medical team perform a craniotomy to remove the blood clots that had formed in the right frontal area of Selena's brain.
The condition of the operating room was very poor, as Bir Hospital struggled to provide medical care for hundreds of thousands of victims suffering from multiple injuries.
But Sanjay, having covered natural disasters such as Hurricane Katrina and Haiti earthquake for CNN, was not deterred by the tough situation.
CNN reported: "Gupta washes up using sterile water and iodine poured from a bottle rather than hot water from a scrub sink.
"Instead of electric drills, he relies on saws of the variety usually only used in war zones and natural disasters due to the lack of electricity."
The operation was a success and Sanjay was happy to report that Selena's prognosis was optimistic.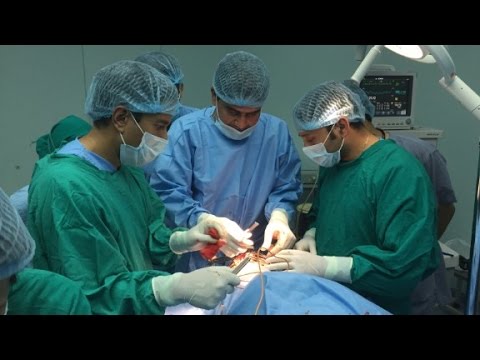 However, Selena's story is hardly representative of the dire situation in Kathmandu.
Sanjay said: "I've seen a lot of situations around the world, and this is as bad as I've ever seen it.
"They need more resources, they need more personnel here right now, and they're expecting many more patients as these rescue operations go on."
The multiple Emmy award-winning reporter added: "They're barely able to keep up right now. It's part of the reason they asked me [to help]; I think they're asking anybody to try to pitch in."
some of the most common injuries are crush injuries, fractures & brain/spine injuries. #nepalquake @cnn #kathmandu pic.twitter.com/cp9g8dm0OZ

— Dr. Sanjay Gupta (@drsanjaygupta) April 27, 2015
It is not the first time Sanjay finds himself scrubbing up while reporting for the US network. He performed surgery on US soldiers and Iraqi civilians during the invasion of Iraq in 2003.
The surgeon at Emory University School of Medicine also helped remove concrete debris from a 12-year-old Haitian girl's skull on a US aircraft carrier after the Haiti earthquake in 2010.
Nepal was hit by a deadly earthquake Nepal on April 25, 2015. It has killed 4,800 people and injured 9,200 to date.
While millions have lost their homes and families across the nation, neighbouring countries including India and China have also reported casualties.
International aid has been pouring in, but severely damaged public infrastructure has hampered rescue missions.