"Warm hearts of the people of pind still remain stronger than ever."
Photographer Hark1karan has bridged the gap for people who are unable to connect with there native villages through his photobook, PIND: Portrait of a Village in Rural Punjab (2020).
PIND: Portrait of a Village in Rural Punjab (2020) was created over three dedicated trips made by Hark1karan to his ancestral village Bir Kalan, in Punjab, India.
This fascinating photobook captures the true essence of everyday life in rural Punjab, allowing viewers a first-ever up-close experience through an intimately human lens.
Interestingly, the array of photographs cover a range of themes in village life. These include showing how people live, work, socialise, learn and go about their daily rituals.
Self-published, self-funded and self-distributed, PIND was officially launched on 1 June 2020.
Speaking exclusively to DESIblitz, Hark1karan reveals his inspiration behind his book, PIND, the changes he has witnessed in Punjab over the last three decades and much more.
Background
To truly understand the magic created by Hark1karan, he gives us a brief outline of who he is. He says:
"I am Hark1karan a Punjabi South Londoner, born and raised. I am a photographer and all-round creative.
"Much of my work involves community, storytelling and challenging narratives.
"I document Punjabis and Sikhs in the UK and aspects of London culture. I shoot using 35mm film which is the old style before photography went digital."
When asked about when he first started taking photos, Hark1karan disclosed:
"I've always taken photos from a young age and began taking photos for fun in my late teens.
"Then in my mid-twenties is when I started to take it more seriously by exploring different types of photography and searching for my purpose.
"Documenting people and life is what I have settled with as this complements my personality and love of meeting new people."
It is amazing how he went from enjoying taking photographs to become serious about it.

Inspiration behind PIND
Interestingly, Hark1karan's journey started over thirty years ago as he regularly visited his mother's pind (village). This enables him to form a deeper and closer bond with his motherland.
Speaking about the inspiration behind the photobook, PIND, Hark1karan explains:
"Looking for this book I realised that no one had documented pind life in the form of a photobook.
"There was no photographic documentation of our people widely available or accessible.
"And much of the time historical photographs were not captured by our own community.
"With I, in my set, took on the challenge and gave back to the community who hold pind so dearly to their hearts."
Wanting to bridge the gap for people who are not fortunate enough to visit their pind, Hark1karan uses photos in his book to do this.
The photos also give the people in Hark1karan's village "a voice and a face." He added:
"The entire project was shot using a point-and-shoot 35mm camera. Those small old cameras your parents had when you went on holidays in the 80s and 90s.
"Why 35mm film? The feel and look captured the essence of pind and earthy colours brought everything to life.
"In total, I took around 1,300 photos and narrowed it down to 139 over 192 pages."
"I combined documentary, street and portraiture photography to bring the story to life and take the viewer on an intimate journey."
Understandably this process was time-consuming. Talking about how long it took to produce the photobook, Hark1karan said:
"The first of three trips I went to shoot on was in March 2017 and the book was released this year in May (2020).
"So, you can say the entire project took me three years. Why so long? I funded the entire book and self-published it.
"I am also distributing and marketing the book myself. I chose this path as I would not have to comprise on quality and story.
"There is no way better way of doing it than yourselves and supporting our community. The project has always been about the story of our people."
The pind is certainly a place which holds utmost importance in the life of Hark1karan. He reveals how PIND has influenced his daily life.
"Pind has shown me how we can support one another as a community. How to be open and share with others.
"It has shown me the connection we have with the earth and how to respect it.
"Pind has definitely influenced the food that I eat. Who doesn't look forward to pronteh on a Saturday morning?"
In reply to a question about how have people reacted to his photobook, Hark1karan divulges:
"The aim of the book was always to connect the diaspora and provide the people of pind with a voice and a face.
"The combination resulted in an emotional book which has been received across three generations.
"Children, parents and grandparents have been able to enjoy this experience together. I have received messages from around the globe at how much the book has touched them.
"This is special, especially during Covid-19 as we are not able to visit home."
It a great achievement by Hark1karan to document the life of rural Punjab through PIND during such unprecedented times.
Changes in Punjab
Asking Hark1karan about the changes he has witnessed in Punjab over the last thirty years, he explained technology is the root cause for change. He mentions:
"Access to technology has changed the way the land is farmed and also the information people gain through their phones.
"Many people leave Punjab for foreign lands seeking a better life. Such changes have left the poorest further behind the most privileged in Punjab.
"That being said the spirit and warm hearts of the people of pind still remain stronger than ever."
Unfortunately, change can impact how one connects with their heritage. Hark1karan continues to explain why UK Punjabis are losing touch with their roots. He states:
"I feel there is a lack of diverse expression within our own outlets and communities.
"There needs to be more access to an array of past stories, histories and present-day narratives."
"It's important for all of us to know where we have come from and be informed about the many different paths which are open to us.
"From there we are free to choose how we adopt our roots. How we manage them and choose to continue them is up to each individual."
Touching upon, Desi things about himself and the importance of faith, Hark1karan revealed:
"Has to be Punjabi food. I cook and eat the same food I grew up with. This is something that will never change. You can't forget being a good host making sure everyone has enough food and drink.
"Secondly, I'd say is the sense of community and going out of our way to support each other. This spirit is extended outwards to all those that I encounter in my life.
"Thirdly, not Desi but a Sikhi influence of seva which is a big part of my photograph in giving back and more generally in life."
PIND: Portrait of a Village in Rural Punjab (2020) is an ideal photobook for those who wish to relate to home. It is is also a fantastic human story for all.
There are 600 copies of PIND available. To buy the photobook and see the portfolio of work, click here.
Watch the video of PIND: Portrait of a Village in Rural Punjab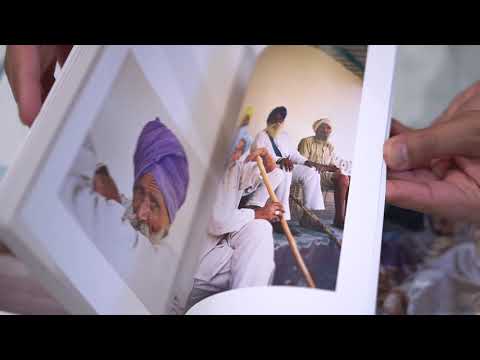 While stock lasts, if anyone wants to buy the book they can add the code: DESI in the 'Apply Coupon' box for an exclusive 10% off.