"We've taken out things like cream, butter, eggs, gelatine and gluten from chocolate"
London was host to The Chocolate Show 2016 which took place at Olympia National Hall in Kensington between 14th October to 16th October.
The show featured many things connected with chocolate in some way or other. From chocolate to tea to chocolate drinks to chocolate to fashion, there were many exhibits featuring chocolate which were very extraordinary.
DESIblitz went along to the event to see and taste some of the sweet delights of the show.
As you entered the hall, the buzz of people visiting the various exhibitors, trying, tasting and buying products on display is what you saw from the stairway.
Never would you see so much chocolate and use of cacao under one roof as you would witness at this unique event.
In addition to exhibitors, there were mini-conferences, cookery demonstrations at the chocolate theatre and a variety of entertainment on the stage area of the show.
The show had exhibitors from various countries from Europe and the Far East.
We spoke to both British Asian visitors and exhibitors at the chocolate show to find out more about their individual products and the inspirations behind their businesses.
Amber from Little Black Cat Gourmet, told us that her products were a combination of her Pakistani roots and her passion for chocolate. Including making jewellery inspired from the Mughal era for the Chocolate Fashion Show. She said:
"We use very Asian and Persian flavours in our chocolate and we mix them together."
Her chocolate ingredients ensured that her products were halal and vegetarian-friendly. Her chocolate jams were very popular amongst visitors.
Taiwanese Yu Chocolatier, introduced the fusion of traditional and local ingredients with chocolate. Resulting in a very flavoursome and unique product. He told us:
"You don't usually find these ingredients in chocolate such as Oolong tea, Black Sesame oil, Aged plum and ginger etc.
"There is a philosophy of Chinese medicine in the chocolate as well."
Reflecting her visit to the show, one visitor told us: "There's been a lot of nice things. There's a lot of more options besides chocolate. There's brownies, fudge and things like that which I didn't think there was going to be."
Meeting up with Aneesh Popat an established British Asian chocolatier gave us a great insight into his creations produced by his company The Chocolatier. Revealing how he made his pure chocolate products, he told us:
"We've taken out things like cream, butter, eggs, gelatine and gluten from chocolate focusing on the core elements of what chocolate's about."
Speaking about the popularity of chocolate at Asian weddings, Aneesh said:
"Yes, people are beginning to warm up. The current trend is blending chocolate with mithai's and barfis together [Asian sweets]. I think the Indian palette's still too sugar based. I think we need to snap out of that and get into the really intricate flavours of chocolate. "
Aneesh also designed one of the dresses for the fashion show which used a Red Indian theme. A leather effect dress had its neck arms and lower trim all decorated with a garland of chocolate tassels, together with a feather for the headpiece.
Watch our full highlights and interviews of The Chocolate Show: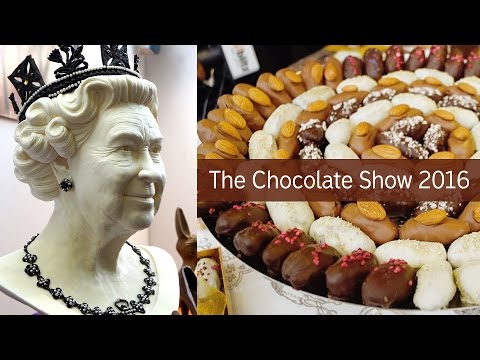 Azra Chocolates owned by Azra, was a very eye-catching use of chocolate – shoes and handbags. Her company produced incredibly detailed shoe and handbag designs all made from chocolate. On display were women's shoes, men's shoes and even baby shoes. She told us:
"I love chocolate, I love shoes. So I decided to combine the two together and create a niche business for myself."
The Datery presented a gorgeous and interesting take on the use of dates with delightful different chocolate coverings and toppings at the chocolate show. Mohammad, one of the founders, told us: "A big part of our market is from the Desi world as well, which is really cool."
Au Palais De Gourmets was a French company exhibiting gingerbread and its amazing traditional French nougat, which Younus told us was "made from the white of the eggs, almonds, honey and sugar."
Bad Brownie introduced us to brownies with a very tasty difference and some very attractive looking brownie flavours with salted caramel being their most popular.
R Chocolate London had a wonderful display of sculptures completely created with chocolate and a purpose. Elephants were created with organic and ethically sourced chocolate to protect elephants in Tanzania from being poached.
Akessons as Swedish brand told us about their popular dark chocolate. They do "two 100% chocolates and a whole variety including black and red pepper" infused versions. In addition, they sell the ingredients themselves too.
Established Pastry Chef, Hideko Kawa of SweetArt Lab, enlightened us about her career to date with celebrity chefs Gordon Ramsey and Heston Blumenthal and how now she has created a unique product – very realistic cigars made from chocolate with no tobacco in them.
Stage shows included South American dancers wearing traditional costumes doing moves to their music and a band which provided the South American flavour
Rococo Chocolates created a special workshop area for children with classes inspired by Roald Dahl.
ChocoPassion UK a company which produces very realistic looking chocolate tools, cameras and guns, were a very popular stand at the show. The tools are actually made in Italy and produced using high-grade Madagascar cocoa beans.
There were many other activities at the show including the Tasting Room, Cocoa Show and the Hotel Chocolat's School of Chocolate.
The finale for the event was the Chocolate Fashion Show. Featuring models wearing chocolate accessorised and inspired dresses and jewellery.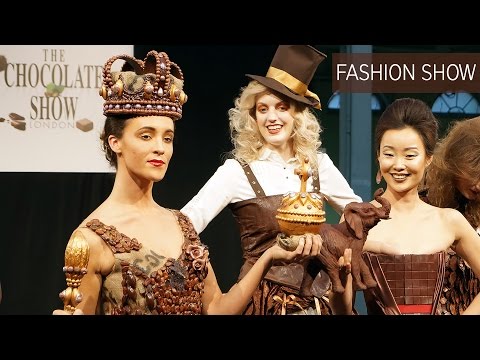 Two designs by Anita Thakkar were showcased by models. Others were by Casa Luker Cacao and Emmanuel Hamon, Mark Tilling and a male costume by Friederike Gower, called Chocolate Tree Scotland.
The Chocolate Show 2016 definitely inspired people attending to look at chocolate in so many different ways and appreciate how chocolatiers are pushing boundaries by experimenting with flavours and tastes, to create new forms of chocolate. It also gave an insight into how the use of chocolate was not just restricted to a bar or a bag but tea, champagne, actual objects and incredible fashion.
The event is a must see show and is a must for chocolate lovers everywhere.