"I love to mix, measure, chop, and even clean up afterwards."
A nine-year-old Desi American chef has brought a taste of India to the White House!
Shreya Patel from Illinois, Chicago, enjoyed a VIP reception at the White House on July 10, 2015 after winning the Healthy Lunchtime Challenge in her local competition.
She won over the hearts of the Obamas with an original recipe for 'Garam Masala Quinoa Burger with Raita' and was invited to attend the fourth annual Kids' 'State Dinner'.
Together with 54 other young talented cooks from across America, Shreya shared a fun-filled lunch with the First Lady, Michelle Obama, where a selection of winning recipes were served.
The big moment came for Shreya – the only Desi at the long table – when President Barack Obama crashed the party with a surprise appearance.
Though he could not stay for lunch, the President took time to meet and shake hands with his young guests. He even revealed broccoli is his favourite vegetable and asked everyone to save him a few bites!
He said: "I particularly am impressed with the Barack-amole. So I'm expecting people to save me a little sampling of the Barack-amole."
Shreya is a first generation Desi American. She explained Desi food has always been a big part of her life and how she enjoys being in the kitchen, saying:
"I have watched my mom and grandma make all sorts of delicious food in the kitchen with an Indian twist since I was born."
She added: "I have been helping them cook since I was three. I love to mix, measure, chop, and even clean up afterwards."
The budding chef also gave credit to her grandmother who helped her with the winning recipe – among 1,000 submitted entries.
Shreya said: "My grandma and I came up with this recipe together because we both love sandwiches. We make this recipe often to take to school for lunch or even on picnics with friends."
To complete her White House experience, Shreya and other winners were treated to a special performance by the Broadway cast of the Disney musical Aladdin after dessert.
Their final stop was the the White House Kitchen Garden and Beehive on the South Lawn, where the top chefs at the Presidential Residence harvest organic ingredients to serve the Kids 'State Dinner'.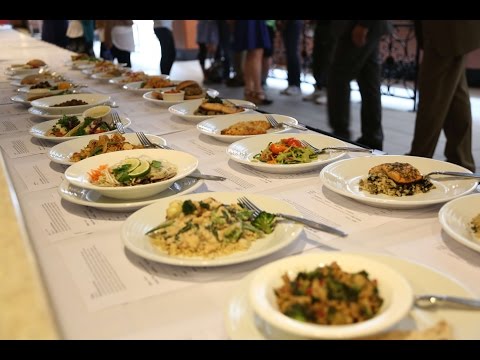 The Kids' 'State Dinner' is part of Michelle Obama's 'Let's Move' initiative to promote healthy eating and reduce obesity-related health problems.
Since 2012, children aged 8-12 are invited to take part in the Healthy Lunchtime Challenge to create 'an original recipe that is healthy, affordable, and delicious'.
One winner from each state, joined by a parent or guardian, will secure their seats at the Kids' 'State Dinner' held at the White House.
Here is Shreya's delicious fusion recipe for her 'Garam Masala Quinoa Burger with Raita', as published on 'Let's Move' blog:
Ingredients (serves 4)
1 cup cooked garbanzo beans
½ cup cooked quinoa
¼ cup chopped kale
¼ cup peeled and chopped onion
1 small boiled potato
½ teaspoon garam masala
½ teaspoon ground cumin
¼ teaspoon peeled and grated fresh ginger
1 garlic clove, peeled and minced
¼ teaspoon grated serrano chile pepper
¼ cup panko breadcrumbs
Salt and pepper to taste
2 tablespoons olive oil
½ cup Greek yogurt
¼ cup grated cucumber
4 whole-wheat buns
Sliced tomatoes
Baby spinach leaves
Method
Coarsely chop the garbanzo beans in a food processor or by hand.
In a large bowl, combine the chopped garbanzo beans with the quinoa, kale, onion, potato, garam masala, cumin, ginger, garlic, serrano chile pepper, and breadcrumbs.
Season to taste with salt and pepper. Stir the mixture thoroughly and form into 4 round patties.
In a large sauté pan, heat the olive oil over medium heat.
Add the patties and cook, flipping once, 5 minutes per side, or until brown and crispy.
In a small bowl, combine the yogurt and cucumber. Season to taste with salt and pepper.
To assemble the sandwiches, place the patties on the whole-wheat buns, and top with the raita, tomato, and spinach leaves.
We are so proud to see Shreya embrace her origin and express her creativity through cooking. Congratulations to her win and spending a wonderful day at the White House!