"This part is not just about fun and frolic, which the first two parts were known for. It's more intense."
Directed and written by Vijay Krishna Acharya, Dhoom 3 is an action-packed thriller produced by Aditya Chopra.
This is the third movie of the popular Dhoom series. The movie stars some regular cast who have repeatedly starred in all the Dhoom films, including the much-loved duo of Abhishek Bachchan and Uday Chopra.
To add to this we have one of the most enigmatic and talented actors of India, Aamir Khan, playing the villain along with the very beautiful Katrina Kaif.
The film has been dubbed in Telgu, Tamil and Arabic. Producers have thus opened the possibility to gain a substantial share with the entire Indian subcontinent and hopefully secure a good opening for the film.
Interestingly, the film has also been reportedly cleared to be shown in Pakistan.
This will be the first film to release following Pakistan's 'ban' on Indian films.
Avtar Singh, from Yash Raj Films said: "We wish to extend our gratitude to the authorities for their support to ensure that business for producers as well as the local Pakistani distributors and exhibitors is protected."
New to the Dhoom series, lead antagonist Aamir Khan and Katrina Kaif have had to prepare intensively for their roles. This is the first time you will see Aamir Khan in a negative role.
Interestingly, Khan had to learn acrobatics and ballet for the movie and had to prepare for his role of a gymnast. It is no secret that Aamir believes in thorough preparation and he has trained for this role with the same enthusiasm. He has mentioned that this has been one of the toughest role of his career so far:
"I think for me every film is important. All the films I do are equally important to me. I treat all my films equally and I really love my work. When I do a film I join the process which is as important to me as the outcome," Khan says.
Katrina also had to learn acrobatics and paragliding. The behind the scenes released footage shows Katrina performing acrobatics with much grace and ease during her training.
Abhishek Bachchan is reported to have lost nine kilos for the preparation of the film as well.
The plot of Dhoom 3 revolves around Sahir who is trained as a circus gymnast by his father (played by Jackie Shroff), the adult Sahir (Aamir Khan) co-stars in a circus alongside the gymnast Aaliya (played by Katrina Kaif). He is out to seek revenge by robbing the shows' owners who he believes are responsible for his father's death.
The tailors show that a joker's mask is left at each site of the heist. We really hope this does not imitate Heath Ledger's famous role as the Joker in Hollywood's The Dark Knight (2008). But Abisheik Bachchan insists this film will have a lot to offer audiences:
"Dhoom 3, I feel, is the most different Dhoom from the previous two outings. With the third part, we pushed the ante, thus making it edgier. This part is not just about fun and frolic, which the first two parts were known for. It's more intense," he says.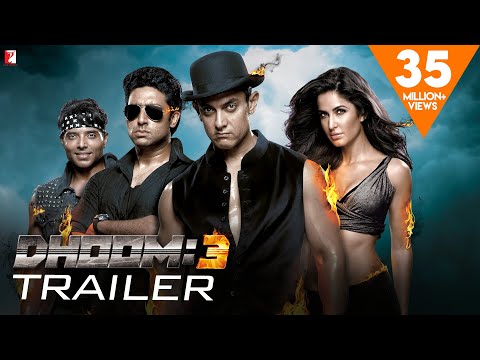 The production and marketing team have been experimenting with the promos of the film. As the series has already built a strong credibility over the years, they have been teasing the audience by giving them small doses of looks into the film.
Very wisely, they have released the motion poster in mid-2013. This was followed by a teaser in September. They followed this by launching a game based on the film on Windows. This game has a Chicago background with a heist by the character played by Aamir Khan.
The game was released for different versions of phones including Android, BlackBerry and iOS in November and then followed it with an official trailer for the film.
Rohith Bhat, CEO of 99Games Online, Animation Xpress said:
"We took 6 months to complete the game, with 18 people working on it. We take pride in the fact that the game has been completely made in India, from ideation to execution."
"By the time the Dhoom 3 movie releases on 20 December, we are hopeful to cross the 1 crore downloads mark."
The game was given a 4.2/5 rating by Google Play and it passed 1 million downloads in the first 3 weeks of release.
The publicity campaign has tie-ups with further leading brands. There are about 200 varieties of movie products ranging from toys to figurines that have been launched. The merchandise is available in many stores in India.
The music soundtrack for the film has already had rave reviews.
Aamir Khan has been said to say that the title track 'Dhoom Machale' is dedicated to Sachin Tendulkar who was then playing his final test match. The song's video features Katrina and is sung by Aditi Singh Sharma.
'Kamili' which features Katrina and is sung by Sunidhi Chauhan is an intense track and you can't miss Katrina's effort in it.
With Katrina being Bollywood's number one for item songs these days, she does her best to carry on the mantle of classically trained Aishwariya Rai Bachchan whose Dhoom 2 number is still a favourite.
Katrina herself has given a spell-binding performance for the title song. There is an Arabic version to the title song which has been sung by a Lebanese singer called Nava.
The film is said to be set as one of the biggest releases this year. Tickets have already been pre-booked and it is predicted to tower over all other Box Office collections from 2013. Producers are said to be releasing the movie in the maximum number of screens in India compared to all the movies released this year in Bollywood.
Trade analyst Taran Adarsh tweeted and wrote an article stating: "Biz Talk: Lull before the storm… sorry, hurricane."
According to him: "The expectations as well as audience anxiety has reached a crescendo."
Rajesh Thadani of Multimedia Combines says: "There is a possibility of the film crossing the Rs 300 crore mark. But we will have to wait and watch."
Some members of the media are repeatedly looking to get some masala gossip and with that in mind, rifts and dissatisfaction between Aamir and Abhishek have been spread around.
But the very humble Junior Bachchan and genuinely real Khan have nothing but good vibes and respect for each other, putting these negative reports straight.
The Dhoom series has already successfully used John Abraham and Hrithik Roshan as antagonists in the past.
But now, with the highly talented Aamir Khan, Abhishek and Uday's comic antics (today's Jai and Veeru) and Katrina whose smile speaks volumes, accompanied with complex stunts and mind-blowing action sequences, Dhoom 3 is not be missed this December 2013.