"It was a fun experience that allowed us to bond with their family."
A beautifully intimate Asian wedding took place at a majestic banqueting wedding hall in Aston, Birmingham.
Ridwana and Nahid tied the knot in the presence of a staggering 1,000 people, including British Asian photographer Masum Ahmed.
Many guests had travelled far from across different parts of the country to take part in their special day.
Ridwana comes from a very traditional and family orientated background, which gives Masum of Veroda Photography the chance to capture a traditional event.
From the wedding attire worn by the bride and groom to the style of the ceremony, traditional culture oozed from the stunning photography.
The wedding was described by Masum as 'simple, yet elegant'.
Every moment tells the story of the happy couple, and every photo displays their happiness to the brim.
Masum, speaking exclusively to DESIblitz, recalls his favourite moment of the shoot:
"My most memorable moment from the shoot was when we took Ridwana and her close family to Aston Park before the start of their wedding to capture some family photos.
"It was a fun and enjoyable experience and also allowed us to bond with their family.
"It made us more than just photographers and cinematographers at their wedding but also part of their family."
Watch the wedding trailer here: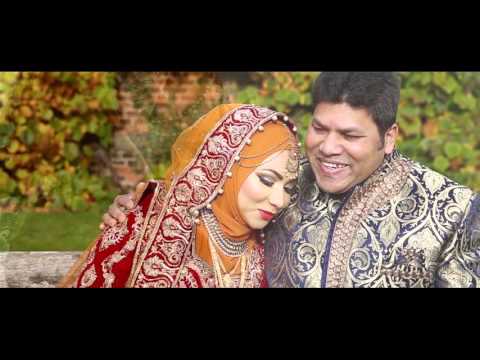 When describing the biggest challenge during the shoot, Masum says:
"The biggest challenge was organising the guests due to the high number of people attending the event.
"It allowed us to get better experience in crowd control. As a photographer and cinematographer, we not only shoot the event but go out our way to organise, when needed in order to be able to capture our shots in a proper and elegant way."
From family snaps outside the beautiful banqueting hall, to an intimate insight into the couple's relationship, Veroda photography had it covered.
The beautiful red sari worn by the bride was beautifully complimented by her husband, sporting a red and gold sherwani with matching turban.
The bride's makeup was also delicately applied, showing the true beauty of Ridwana.
Masum continues: "This wedding was a very typical Asian wedding, however we always look to create something different for each client.
"My favourite wedding destination would be in Dubai and we are working ever so hard to keep improving to reach that goal."
Take a look at Ridwana and Nahid's wedding in our gallery below: