"I felt that I needed to be raw with my role as Veera and so not be over-prepared."
Imtiaz Ali directs a thrilling drama starring a vulnerable Alia Bhatt and intimidating Randeep Hooda.
Highway is about a young affluent city girl, Veera (played by Alia Bhatt), who goes to the highway at night with her fiancé. Her life takes a twisted turn as she is abducted by a group of rustic criminals.
But as the days pass, and the tempo runs and miles turn, and after the initial horror of dealing with her rustic captors, Veera realises that she has changed.
A strange bond begins to form between her and the oppressor, Mahabir (played by Randeep Hooda). Veera starts to feel free in this captivity and wishes that this journey would never end.
Highway is like a breath of fresh air for Imitiaz Ali as he prances through unexplored terrains in his film making.
Until now, Imtiaz's films have been very mainstream with major stars, foreign locales and a focus on romance. Highway defies this. Interestingly, Imtiaz adds he did not want the film to be fully scripted:
"I wanted to keep it open so that new things that we encounter in the journey can be included, like the Kashmiri woman that were met. Such aspects of the film were those that could not be planned or anticipated when I was writing the script before actually shooting the film and embarking on the journey," says Imtiaz.
What stands out the most for in Highway is Alia Bhatt. She manages to surprise through her performance, which contrasts greatly from the negative media conjecture that arose after her début in Student of the Year (2012).
Her acting is raw and instinctive where celebrity fame is left behind all that is left is her character Veera. In fact, it is more interesting to see Alia as the natural Veera than the glamorous Shenaya in Student of the Year.
When asked about how she had prepared for her role as Veera, Alia reveals: "Veera and I actually led very similar lives – we both have lived in very protective environments growing up and haven't really experienced much of an adventure.
"I felt that as new the journey was for my character, it was as new to me, as I had never visited these locations. I felt that I needed to be raw with my role as Veera and so not be over-prepared."
Also on the cast is Randeep Hooda. Imtiaz mentions he could only see Randeep playing the role of Mahabir, and from the rural accent to the array of emotions displayed, Randeep is extremely convincing in the film.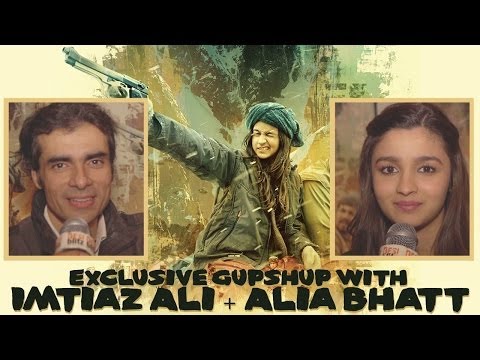 The filmed involved extensive travelling across 6 states whilst shooting for Highway. For Alia, the journey was 'extremely profound':
"I did not understand why this was but I think the experience of shooting for Highway has allowed me to learn more about myself and has changed me a lot."
Every location of shooting for Alia was special, but she felt that a turning point occurred in Sambhar, Rajashtan where she physically ran for 6 hours! Nurmahal in Punjab was the favourite location for Imtiaz Ali.
Imtiaz added that the best scenes were those that were spontaneous: "There was a particular scene where we were shooting in the rivers of Kashmir and I said to Alia, you can just do whatever you want because we may or may not, probably more likely the latter, keep it in the film.
"Alia then did whatever she felt was natural to her and it was such a beautiful moment that I kept it in the film," he says.
Throughout the journey when shooting, Alia liked to sit on the window seat and used to notice looking outside the window that it was usually the women that would be working on the fields or on the road.
As the journey progressed, she came across stronger and more stronger women – this was internally as well as physically.
Alia particularly loved being with the women in Kashmir who were so warm and epitomised female strength: "The most touching were those when Alia had embarked on new experiences that were so hatke.
"From the shooting of Highway, she can say she's been to different places like Mangar Village, Kaza and that she's done stuff like staying a night in a village without any water or electricity and that she's sat in the middle of the road eating noodles," says Imtiaz.
Music suits the tone and is as rustic as is the locales. Although the songs of Highway had not built much hype before the film had released, you find yourself humming the songs like a lullaby after you watch the film.
It is the soul of the movie and the moments associated with the song remain with you rather than the song in isolation. The music of Highway is different and we expect nothing less from the musical maestro, A. R. Rahman.
'Pataka guddi' is a definite favourite from the soundtrack. Imtiaz Ali mentions that A. R. Rahman was very excited to have the opportunity to sing a Punjabi folk song and has been inspired by Nusrat Fateh Ali Khan. Alia Bhatt also lends her vocals for the song, 'Sooha Saha', and mentions that she wouldn't mind singing again in her future films if the opportunity arises.
Praising the lead character, film critic, Taran Adarsh insists: "Highway is a triumph for Alia Bhatt, who delivers a marvelous performance. Also, what you carry home, besides Alia's winning performance, are the stunning visuals, especially towards the second hour."
Highway is a film that tells you that the journey one travels can be more valuable than the final destination. Highway is not just a story about the journey of a rich girl being abducted but the journey of discovering your true self. The film releases from February 21.