"The story of 'Baby' is inspired by various real life incidents."
"History is made by those who give a damn." That is the tagline for the new action packed thriller starring Akshay Kumar, Rana Daggubati, Taapsee Pannu and Anupam Kher.
Following the brilliant Special 26, the powerhouse duo Neeraj Pandey and Akshay Kumar unite once again to bring audiences a fresh espionage thriller. Special 26 accumulated not only commercial but critical success as well.
The trailer for Baby has garnered almost 6 million hits on YouTube, and it seems fans of the Khiladi action hero are really taking to the mysterious espionage feel of the film.
Neeraj Pandey, who also wrote and directed the thriller drama A Wednesday, has once again bought an unconventional idea to this saturated market of commercial and masala films with Baby.
The filmmaker also ropes in superstar Akshay Kumar and a talented ensemble cast including Anupam Kher, Rana Daggubati, Danny Denzongpa, Kay Kay Menon, Rashid Naz, Taapsee Pannu, Sushant Singh, Madhurima Tulli, Mikaal Patras, Aziz Zulfiqar and Hasan Noman.
Just like all of Neeraj Pandey's films, each cast member has a pivotal role in the film and narrative. As Anupam Kher says: "There are no hero's in a Neeraj Pandey film there are characters, everyone is a hero in their own field and it's the greatest ensemble cast."
Baby is a patriotic action and suspense film. It is set in the backdrop of international terrorism. The no-nonsense thriller follows the events 'Ajay' (Akshay Kumar), who is part of an exclusive covert counter intelligence unit.
The bravehearted agent discovers a major terror attack that is going to take place.
The delirious leader 'Maulana Rehman' has masterminded the plot to cause havoc and strike fear within civilisation through his network spread across the world.
It is up to Ajay and his elite team of agents to stop this from happening. Time is ticking and at every corner Ajay and his team have to go through many obstacles and challenges in order to safeguard society and its existence.
Will Maulana Rehman succeed in his evil intentions? Will Ajay and his team be able to stop Rehman and his network? To find out, catch Baby from January 23, 2015.
Baby overall has stayed away from controversy and has mostly been in the news for its exciting new narrative. As Akshay says:
"Baby is a well-carved film. It talks about terrorism, which is a big consideration in today's world. Terrorism, as a topic, can be seen in every newspaper. So we thought of making people aware about it. The film talks very openly about it. The story of Baby is inspired by various real life incidents."
In Pakistan however, the film has been banned from cinema halls due to its religious take, but filmmakers are hopeful that the film will still be a big success.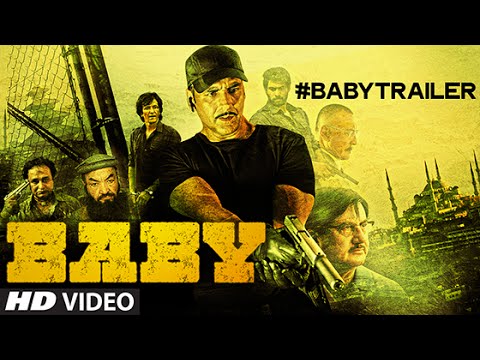 When it comes to the behind the scenes gossip, the film was shot in various locations such as Kathmandu, Istanbul, Abu Dhabi, Delhi and Mumbai. It was also shot in a tightly scheduled 45 days.
On set, Sushant Singh mentioned Akshay was very friendly when it comes to interacting with his fans: "Akshay doesn't even behave like a superstar."
Sushant adds that on one occasion, Akshay even sang for the crowd while on set.
Anupam Kher also added how Akshay is a huge prankster on set and spoke about an incident while shooting a scene in the Lalit hotel in Mumbai.
Akshay played a prank with Tapsee, where he put the entire set of hotel cutlery in her handbag without her knowing and asked the security guy to check her bag.
In order to get the real raw feel of this high-octane thriller, chart busters Meet Bros Anjjan were roped in to do the soundtrack for the movie.
Previously, having worked with Akshay in Boss, Baby was a completely different film for the musical duo. And they have risen up to the challenge of producing high quality music for the story driven film.
Baby features around four songs. As co-producer of the film, Bhushan Kumar mentions:
"When I heard this script, which had action from start to end, there was no need for songs."
However even with the lack of songs, one song in particular is getting everyone's attention – 'Beparwah' sung by Apeksha Dandekar.
The song captures the soul of the film brilliantly, describing in the lyrics the fear and events that happen around. The video also features the glamorous and sexy Esha Gupta.
So how will the film fare at the box office? With the first big release of 2015, Tevar, having bombed at the box office, all eyes are now on Baby.
But with the positive buzz surrounding Baby, the future of the box office does look positive and the opening figures for the weekend are sure be high. Baby releases from January 23, 2015.