"Let us educate, empower and celebrate our daughters"
Truck Art is a cultural and colourful phenomenon across the streets of Pakistan, which has had a major impact on female rights in the country.
Besides the bold and vibrant colourful features appealing to many, works of art portraying powerful themes on these trucks are empowering women and young girls of the country.
Messages relating to life values, particularly from a female perspective, which are often in the limelight have been displayed positively on these trucks.
Truck art is particularly addressing significant themes such as education, child marriage, domestic violence and child labour.
With this form of creative art, even truck drivers are supporting to raising awareness about such important issues. The male truck drivers are taking inspiration from the women members in their family.
Wanting to help the women in Pakistan, there has also been a rise in truck artists. They also strive to make a difference for women in society.
Furthermore, the work of Anthropologist Samar Minallah Khan is worth mentioning. She has been responsible for establishing organisations to help women empowerment through truck art.
These organisations include campaigns for creating awareness revolving around female rights and being the force behind using trucks to promote stunning art.
Additionally, Samar has had a major influence in uniting a community that normally distances itself from the wider issues that affect females in Pakistan.
Actress Mehwish Hayat has also been at the forefront, campaigning for female rights and education.
Design and Powerful Messages
Many trucks in Pakistan now showcase floral patterns with bright colours, poetry lines, and women empowerment messages. Truck Art in Pakistan is notorious for its traditional patterns and colours.
With truck art being a popular artistic in Pakistan, the messages they convey heavily reflect important social issues.
Human rights activist Samar Minallah Khan specialises in highlighting social issues of Pakistan. She is a pioneer when it comes to developing truck art projects and campaigns.
A concept that she developed for a project in Khyber Pakhtunkhwa (KPK) saw trucks being decorated with culturally delicate pro-women messages.
In October 2018, this campaign addressed issues such as preferring sons over daughters, wealth and compensation marriages. UNESCO reports of what inspired Samar:
"My visit to Kohistan further reinforced my belief in using art and traditional motifs and designs for raising awareness".
One of the painting portraits as part of this project shows a young woman holding a blackboard, with a mountain backdrop. The writing symbolises female rights to have an education.
Various truck art will display heartfelt and inspirational messages relating to education, such as:
"Baba, mujhay sona aur chaandi nahin, kitaab aur qalam la kar do". [Father, don't bring me silver or gold, but bring me a book and a pen].
"Ilm taqat hai, Ilm roshni hai". [Knowledge is power, knowledge is light]. "Kitabain ghar ka chiraag hai". [Books are the lamps that light up a house].
These portraits of young girls and women reflect powerful social messages, which give them hope.
Truck Drivers and Artists
Whilst women have been a strong force behind raising awareness, male truck drivers and artists have made an impact.
Hayat Khan is a Pakistani artist who aspires of making the nation proud. He painted for the KPK project by Samar Minallah Khan in October 2018.
His painting on trucks, particularly consists of schoolgirls, illustrating strong messages about child marriages.
One image on a truck shows a young modest girl with a book in her hand, indicating that she wants to study. The message states:
"Kam umri aur zabardasti ki shadi kabil saza jurm hai." [This mean young and forced marriages are punishable crimes].
Having spent thirty years painting portraits, truck art has become his hobby.
Hayat told Dawn the difficulties of being granted permission to decorate trucks:
"It took a long time to convince a few drivers initially but with the passage of time, I am happy to say, drivers from areas such as Kohistan and Multan also ask me to paint."
Some truck drivers also view this movement as inspiring. Driver Abdul Manan believes these messages will grasp the public and influence other truck drivers to get similar paintings painted on their vehicles. Conforming to Dawn, he says:
"A daughter is a blessing, not a burden and she has all the rights which a son enjoys."
"I saw a truck on a route from Lahore to Multan which had this message and I wanted to get it on my truck as well."
Haji Khan is another driver who felt that painting indicating a social message would benefit females. His truck bears paintings of young minor girls smiling, holding school books.
These particular art trucks have travelled through cities such as Peshawar and Karachi, as well as many other small towns and villages.
Girls Education
In April 2019, UNESCO (United Nations Educational, Scientific and Cultural Organization) a specialised agency, were particularly advocating for girls education.
The Girls' Right to Education Programme (GREP) is helping to ensure that girls receive education across   Pakistan.
The local community have welcomed the use of local art forms, adopted by the Girls' Right to Education Programme (GREP). This has made an impact, supporting girls' education in local communities.
Furthermore, she believes that educating a boy helped only one individual. However, educating a girl aided the entire society.
Samar Minallah Khan has also been very influential in generating awareness for the education of young girls.
Interestingly, she has interviewed people locally in Pakistan about their opinions on this matter, along with collecting local embroidery decorations made by village women.
She used these decorations, as an early approach to research for a project, and incorporate them for truck paintings focusing on education.
Talking to TNS, Samar explains this approach was to celebrate local-based arts and crafts, encouraging the community members to take ownership of them.
"The aim was to not only raise awareness about the importance of education for girls but also to honour local arts and crafts."
"It was to develop a sense of ownership for the local community members."
This campaign also reached out to existing schools, aiming to raise awareness about the lack of education for girls.
Girl Child Awareness, Rights and Empowerment
In October 2019, MoHR (Ministry of Human Rights) started an awareness campaign, reflecting the rights of young girls. The initiative was launched on 'International Day of Girl Child' as part of Lok Virsa, Pakistan.
Mehwish Hayat, actress and Goodwill Ambassador for Girls Rights, Shireen Mazari, Federal Minister for Human Rights, Rabiya Javeri Agha, Secretary Ministry Human Rights, Samar Minallah Khan were in attendance.
HE EU Ambassador, Androulla Kaminara was also at the launch of this initiative.
They chose truck art to reach out to people living in rural areas.
Mehwish who is very passionate when it comes to female rights spoke to GEO TV, expressing the importance of girls education:
"This is to create awareness for girls rights. Education and protection are necessary and key issues and there needs to be work done in that regard."
Speaking to The Express Tribune, Mehwish mentioned that she was hoping to make a change by empowering girls:
"When girls go to school, they become empowered. They learn to stand on their own feet. They not only empower themselves but they empower an entire family, community and generation."
According to Pakistan Today, Samar is who working closely with this campaign, discussed the importance of travelling to certain areas:
"Truck art is a big source of publicity as the vehicle roams from Khyber to Karachi and its target audience is a rural population where most of these evil practices prevail."
The campaign also involved using twenty trucks with positive messages on the rights of young girls. These include the right to play sports, the right to freedom, education and the prevention of child labour.
Tribune reports that Rabiya Javeri Agha demands an emphatic turnaround in relation to girl child rights:
"Up to 22.8 million children are out of school and 56% of these are girls."
"Let's change the statistics, let us educate, empower and celebrate our daughters to be the best of everything they were born to be."
Truck art is seen as a crucial asset to confront patriarchal stereotypes and break the divide between males and females. Not forgetting, the uproar over violence against women has also been concerning.
Truck art has swiftly become a popular method of moving 'billboards' in Pakistan. It has been a useful process of spreading awareness of Pakistani culture.
Watch video on Truck Art promoting females rights here: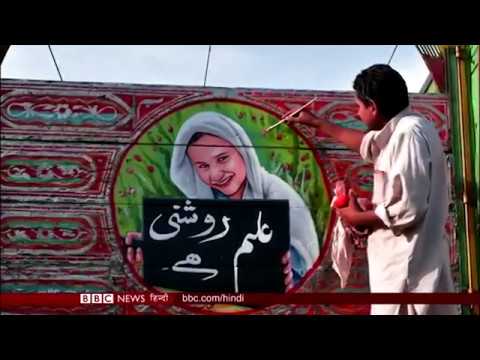 Through influential and gradual changes in society, the use of truck art has become a successful platform to address female rights in the country.
Whilst solidifying itself into Pakistani culture, society has also become more aware of the underlying problems surrounding women and young girls.
Samar Minallah Khan has certainly had a major contribution in bring drivers and artists to support her cause.
She gravitates to the thought that the "biggest achievement of these interventions is that Truck owners, Truck drivers and Truck artists own this initiative."