This dish was invented by Kundan Lal Gujral
Indeed! With festivities galore in a Punjabi household, it is inevitable that the Punjabi cuisine is simply flavourless without the sumptuous Tandoori Chicken. Whether as a starter or as a part of the main meal, this Punjabi dish has an invincible position.
The chicken is marinated and traditionally cooked in a very hot clay oven called a 'Tandoor,' hence, the name 'Tandoori' chicken .
Tandoori Chicken as a dish, has originated in the Punjab region of India/Pakistan, though tandoor cooked chicken dates back to as early as the Mughal era. This dish was invented by  Kundan Lal Gujral, a man who ran a restaurant Moti Mahal in Peshawar. The tandoor in the restaurant was initially used to cook the Indian bread (Naan, Tandoori Roti). Gujral introduced the marriage of the Tandoor with the chicken, which was royally enjoyed by personalities  like Sh. Jawaharlal Nehru, the King of Nepal and American presidents Richard Dixon and John Kennedy.
The chicken is marinated with yoghurt and a mixture of spices that form the tandoori masala. Apart from that, a mixture of ginger/garlic/green chillies paste and lemon juice is also applied. The marinated chicken is kept for 6 to 8 hours to get a long lasting flavour and taste. It is then ideally cooked in a tandoor but nowadays, it is even cooked on traditional grill or oven roasted as well.
Tandoori Chicken is best enjoyed with lemon wedges, fresh cut salad and mint chutney. It can be eaten with Indian bread like Naan or served with the aromatic Basmati rice. However, the advantage of this dish is that it can easily go as an accompaniment with any other dish to create another yummy recipe!
When the recipe is cooked with boneless chicken in smaller chunks, it is called Chicken Tikka. Tandoori Chicken pieces can be used to form other main dishes, such as using it in a rich butter flavoured tomato sauce, to get a delightful dish called Butter Chicken.
Apart from this, Tandoori Chicken has also been used as a filling for burgers, wraps, topping for pizzas and in salads. Thus, the dish has got itself a global acceptance. It is now enjoyed by chicken lovers all over the world.
In the UK, Tandoori Chicken is one of the most ordered dishes in Asian restaurants and takeaways. It is a popular choice on the menu for its strong flavour, spice and taste. Either as a starter or a main meal as a balti dish. Served as a sizzling starter or as a main dish, it is definitely a style of chicken that is very well known amongst all chicken lovers, desi or non-desi.
For home cooking, Tandoori Chicken is very popular too. You can get Tandoori pastes and powders from stores to help you with the ingredients. You can do it easily using our quick recipe for Tandoori Chicken.
In fact, if you are careful of your calories, Tandoori Chicken is the best option compared to its high fat counterpart Butter Chicken. For dieters, it is best to skin the chicken before marinating it.
Here is a video tandoori chicken being made by one of London's top chefs at the Gay Lord restaurant.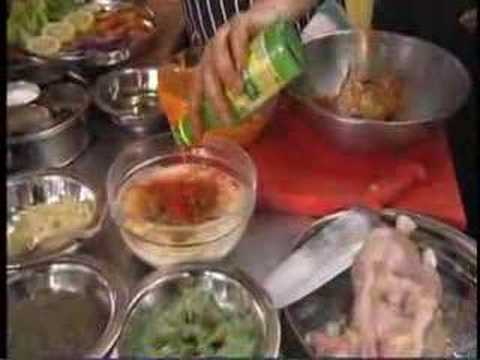 So, go enjoy your Tandoori chicken, a dish that makes you feel balle balle everytime!