"Sadly Sunny Leone and I don't have any suggestive moves to make. It's not a sexy song. It's a party song."
Like most of Yo Yo Honey Singh's songs, 'Chaar Bottle Vodka' is as racy as its name promises. The song has all the 'it' factors for it to be a hit among Bollywood hip-hop lovers.
Honey Singh has yet again produced a song that has taken over the airwaves, and on top of that, Sunny Leone has delivered the visual effects for the video.
Honey Singh has been a tremendous hit in Bollywood. His hit Hindi songs have made him as much of a big superstar in Bollywood as much in Punjabi movies. For the last few years he has delivered one hit after another including 'Angreji Beat' with Gippy Grewal; 'High Heels' with Jaz Dhami; and 'Lungi Dance', the list goes on.
Featuring a music video by Honey Singh has become the new tradition of B-town that seems to be working. He has already worked with names like Shahrukh Khan and even the likes of Amitabh Bachchan on his upcoming film, Bhoothnath Returns.
Talking about the video, Honey could not help but gush about how much he enjoyed working with Sunny Leone, subtly mentioning that he thinks Sunny is 'very cute'.
He also explained that they shot for the video separately for two days and then finished it off together at the end. While describing the song he said it was 'mainstream hip hop'.
The hot chemistry between the two superstars is quite sizzling, but Honey Singh has stopped the imaginary gossip flow by saying: "Sunny and I won't be doing anything naughty." But rumours in B-town have reported that Honey went as far as saying that he did not do this song for Sunny Leone but for producer Ekta Kapoor, 'for being established as what she is'.
'Chaar Bottle Vodka' is featured in Ragini MMS 2 a horror-thriller movie, starring Sunny Leone. This movie is directed by Bhushan Patel and co-produced by Ekta Kapoor and Sobha Kapoor.
Like most of the sequels this movie starts where its prequel was left off. Ragini and Uday went to a remote place for a getaway weekend and the story unfolds as their visit takes a scary turn. Sunny has described this movie to be 'more commercial' than its prequel.
Bhushan Patel said of Sunny's performance in the movie: "Sunny has acted very well in my film. She has done a lot of action scenes. We have tried to present Sunny in a new avatar and we hope we are successful."
Sunny Leone has successfully turned her adult film industry stardom into a Bollywood career. An Indo-Canadian, Sunny made her Hindi movie debut with Jism 2 (2012). From the very beginning she has received a lot of attention because of her past line of work.
Now with her hit song, 'Baby Doll' and 'Char Bottle Vodka' she has created a new label for herself. Only time will tell what this new 'baby doll' title will bring to her Bollywood career.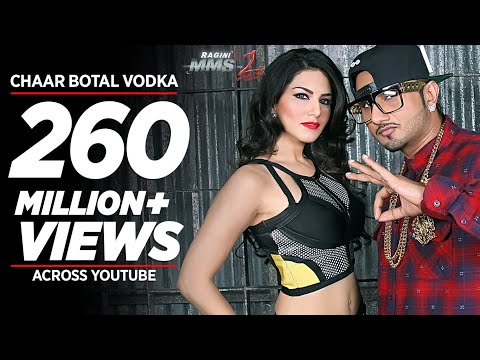 No Bollywood movie can be successful without a hit number that makes audiences curious about the movie. For Ragini MMS, it is 'Char Bottle Vodka'. The lyrics of the song and music video delivers exactly what you expect. The catchy tune is matched with entertaining lyrics resulting a song in which Honey Singh has yet again delivered an instant hit.
Of course, the hip hop style choreography of the music video takes the cake in this case. Honey Singh's freestyle dancing moves with Sunny Leone looking gorgeous produces a hit music video.
Sunny Leone who's only contribution in the video is to provide the audience with eye candy is no less of an attraction of the song. The chemistry between the two gets fiercer with every scene.
The music video has been an instant internet hit like so many of other Honey Singh's songs. 'Chaar Bottle Vodka' has already gained 9 million-plus hits on YouTube. It is pretty clear that no matter whether people like it or not, they certainly cannot stop watching the video. This song has also attracted attention because of the chemistry between the two stars.
Even with all the gossip flying around about this video, Honey admitted: "Sadly Sunny Leone and I don't have any suggestive moves to make. It's not a sexy song. It's a party song. There are 400 dancers with us. What can we do with 400 people around?"
'Char Bottle Vodka' is certain to be one of the big club hits of 2014. With the sultry Sunny Leone on his arm, Yo Yo Honey Singh has once again proved that he is one of the leading music singers and producers in India.