He is also 16.66% Hindu, 16.66% Christain and 16.66% Buddhist.
If you have spent your mornings being curious about the DNA testing TV commercial thrown at us in between Good Morning Britain, you'd be interested to know that one Bollywood actor just recently gave into the temptation. And the results are astounding. It's none other than Bollywood actor Nawazuddin Siddiqui.
Nawazuddin took to Twitter on Monday 24th April 2017 to share a video labelled 'Sixteen Point Six Six'. The number refers to the numerical break-up of his diverse ancestry.
It turns out that Bollywood actor Nawazuddin Siddiqui, a popularly known Muslim actor, is only 16.66% Muslim.
He is also 16.66% Hindu, 16.66% Christian and 16.66% Buddhist. The remaining is a mix of other religions in the world.
Watch Bollywood actor Nawazuddin Siddiqui's full video here: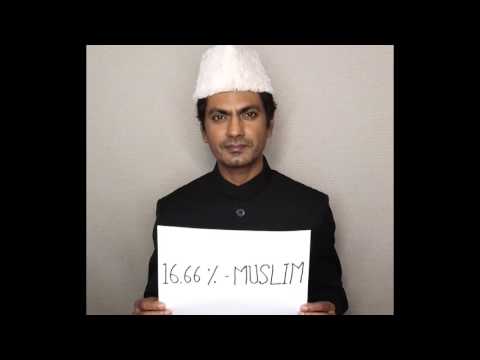 But the best part is that The Lunchbox actor is 100% artist, which he stresses on at the end of the video.
At a time when racial discrimination in the world of acting is a hot debate, Nawazuddin sends a powerful message shutting down all forms of discrimination and prejudice in his 56-second video.
The video is of particular importance as 'secularism' is a raging topic in India at the moment.
Made in collaboration with Magic If Films, the video serves as Bollywood actor Nawazuddin Siddiqui's own little way of saying that art trumps any human classification and that whatever his identity may be, his soul is that of an artist.
One of Bollywood's finest actors, Nawazuddin is busy with four different projects and each of them will see him in a completely different avatar than the other.
In fact his transformation for the four films – Manto, Munna Michael, Mom and Babumoshai Bandookbaaz – is eye-popping! It's interesting how the actor completely changes into the character like a chameleon.
Let's Drive to the next Ride… pic.twitter.com/16Lo78k5Zy

— Nawazuddin Siddiqui (@Nawazuddin_S) April 21, 2017
Rumour also has it that Bollywood actor Nawazuddin Siddiqui was approached for a role in Salman Khan and Katrina Kaif starrer Tiger Zinda Hai. But he has turned the role because of date issues.
Which movie of his are you looking forward to the most? Our bet is on Manto!